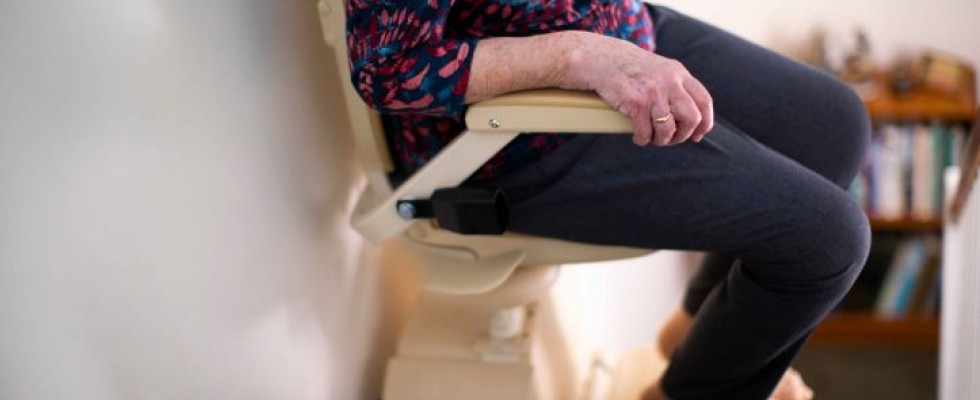 Supporting fall prevention measures and safety in the home
During the past 25 years, population trends and customer demand created a new business opportunity: providing home accessibility modifications. But home medical equipment (HME) dealers—who are positioned perfectly to meet these needs—missed the boat. It's not too late to get on board as a provider of home modification services. There are barriers, but they're worth overcoming to tap this growing market. Providing the services to help clients live safely at home and avoid falls is a great way to take the first steps.
Dealers already serve customers requiring mobility equipment, many of whom also often need home modifications. These customers turn to contractors to build and install ramps and widen doorways. In some cases, manufacturers of accessibility and home safety products are called into the assessment and installation business when an HME dealer can't be found to do these tasks.
Dealers are great at matching a client's physical limitations to the right wheelchair, scooter or walker, and they know how to navigate complex billing systems to get paid by insurance companies and Medicare for providing these products and services. But providing home accessibility modifications requires a different set of skills than is found in the traditional HME organization.
To meet customers' home modification needs, HME dealers must learn construction skills so that newly acquired mobility products can easily move in and out of the home and function within it. They need to work with the customer to control costs, guiding them through options to find a design that suits their needs and their budget. Finally, the home modification must fit the . home and the community.
No one wants their home to advertise the fact that they are getting older or that someone in the home has a disability. The best modifications meet all of the functional requirements but are virtually invisible. These skill requirements and changes in the buying process serve as barriers to entry for HME dealers interested in exploring home modification.
Growing Opportunities
Demographics and the market opportunity make a very compelling case for adding home modification services.
Since 1990, the number of people over age 65 has grown by 23 million. And the senior population will grow at an even faster pace during the next 30 years, reaching almost 90 million people by 2050. Of course, seniors are not the only people who need home modification, but they are a large part of the target market.
The changing demographics and the aging of America have also created another opportunity for HME dealers: providing home safety and fall prevention services. What makes this opportunity especially attractive is that it is a first step towards the home modification business without requiring the construction, engineering and landscaping skills required to do many home modification projects.
Home Safety & Fall Prevention
Fall injuries are a growing problem, killing seven times more people than the flu and three times more people than gun violence every year nationwide.
There are two misconceptions around fall prevention. The first is that falls are only a problem for the elderly. In fact, one-third of all emergency room visits for falls are for people under the age of 21, and another third are for people between the ages of 21 and 65. That means only one-third of ER-related fall injuries, or about 3 million per year, happen to people over the age of 65. It is true that hospital stays and death rates from fall injuries are much higher for seniors than for any other group. When people are younger and fall, they bounce back; when people are older, they tend to break. Nonetheless, while the focus on fall prevention centers on seniors, it is a need for everyone.
The second misconception is that fall injuries cannot be prevented. And this is where opportunity lies. Over the last 16 years, deaths from motor vehicles and heart disease have declined by more 10%, yet deaths from falls have increased by 150%. Why? Because there has been focused attention on preventing heart disease and auto accidents. Society should take the same proactive stance on preventing fall injuries.
Know the Statistics
The extent of the fall injury problem is staggering. According to the Centers for Disease Control:
Every year, falls are the No. 1 cause of emergency room visits with over 9 million injuries.
 
Fall injuries are the 14th leading cause of death in the U.S. among all ages.
 
Falls are the No. 1 cause of traumatic brain injury (TBI), causing over 40% of all TBIs.
 
The cost of lost wages and medical services associated with fall injuries exceeds $150 billion every year.
Generating Revenue
Turning the fall injury problem into a revenue-generating opportunity for the homecare provider and the HME dealer requires three things:
Help individuals grasp that they are at risk for a fall injury. Most people have an optimism bias; while they may understand that fall injuries happen, they believe they will happen to someone else. A short discussion can usually change a customer's perspective.
 
Become an expert on fall prevention. Many simple solutions are either free or carry minimal expense compared to the cost of a fall injury. Conveying the message that fall injuries are preventable also positions the provider as the go-to expert for fixing the problem. Falls happen, but they happen in conjunction with other circumstances. Offering a home assessment for fall risks—either as a free or paid service—is a great selling tool.
 
Convince customers to take action. A fall risk needs to be fixed right away. Waiting only increases the opportunity for injury. The best way to connect with a customer is to do an assessment and provide a list of fall prevention solutions that include free advice, paid repairs and installation services. Also include long-term safety recommendations, such as improving balance with exercise programs like yoga or tai chi.
 
Become the Expert
Your home assessment should include free advice such as reducing clutter and keeping stairs free of items that are waiting to be moved up or down the stairs. It should identify places where you can install products to reduce the risk of a fall, like a nonslip tread on hardwood stairs and grab bars in bathtubs. This is also great opportunity to discuss making repairs to floors, stairs and handrails to improve safety. One way to identify high-risk areas is to ask customers if there is a place in the home where they have slipped or tripped even if it didn't result in a fall. Yesterday's slip location may be tomorrow's fall injury.
Being the fall prevention expert in your community requires an investment in education and inventory, but it creates a new revenue stream and expands your connection to a large and rapidly growing customer base that will need the other services you provide in the future.
The Three F's
How do customers buy? In a very simple model, customers balance the three F's when making any purchase. The importance of each of the F's will vary based upon the customer's situation at the time:
Function—What will the product do?
 
Form—How will the product look?
 
Finances—What will the product cost and how will I pay for it?
 
When buying mobility products, function is usually the primary focus. The customer is buying the product to replace or maintain a mobility function. When making home modifications, the priorities are different. At the top of the list is finding the money to pay for the modifications. Unlike mobility equipment, home modifications are paid for out of the customer's pocket. Form is also a competing priority. With home accessibility modifications, the look of a customer's home is changed, and the appearance of their home says a lot about them.