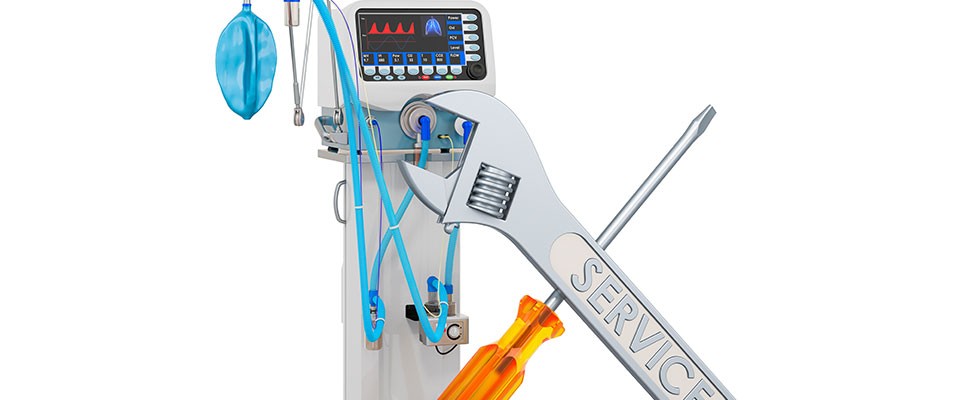 The top 3 things to consider when choosing a service provider
The COVID-19 pandemic stretched supply chains thin. One of the biggest areas affected has been oxygen products, many of which are waiting for semiconductor chips necessary for full functioning—making devices hard to obtain. One solution is the regular service and repair of existing oxygen equipment. This can keep units in the field longer and help patients receive their needed equipment faster.    
But if a home medical equipment (HME) provider isn't an authorized service provider, what should they look for in a partner in repair? There are three top areas to focus on.
1. Authorization
One of the most important things to keep in mind is the difference between service providers that are "factory authorized" and those that are "factory trained."
A "factory authorized" service center is a company that a manufacturer has designated to provide service on their equipment; however, there is an abundance of companies masquerading as such. While these nonauthorized companies are technically allowed to service equipment, there is a vast difference between being "trained" and being "authorized." Authorized providers go through strict audits, consistent reviews and monitoring by the manufacturer to ensure national quality standards are followed. Companies that aren't factory authorized are not obligated to report failure rates, parts usage or customer satisfaction rates, and are more likely to take questionable approaches to repairs.
Many of these companies that profess to be authorized repair companies engage outside technicians that work on a contract basis in order to avoid payroll expenses and legal liability for the repaired equipment. These outside technicians may or may not hold the proper manufacturer credentials, may or may not have liability insurance, and are not responsible to any manufacturer. They also do not have any fiduciary obligation regarding the quality of repair services they provide to the owner of the equipment or entity that engage their services. Additionally, many of these operations use courier services instead of company-owned vehicles. These courier companies typically do not insure the equipment that is entrusted to them and are not trained or qualified to handle fragile medical equipment.
These companies claim to offer lower cost for repairs, but what they are really offering is unacceptably higher risk—risk that the equipment will be mishandled, risk that an unqualified person will be permitted to make a repair, and risk that in the event a patient is harmed and legal action is taken, the HME provider will be left without any defense.
What does this mean to you as an HME provider? By having a poor-quality repair, you not only could be in jeopardy on a compliance and accreditation level, but you have also raised the risk of field failures for your equipment and patients.
2. Years of Operation/Experience
It is not always the case that the longest-running business is the best, but companies with more experience typically have better operational practices. The equipment repair network has had to deal with various changes over the years that directly affected their profitability. Being able to survive these changes tells you that these companies have found ways to maintain their customer base. So, what does experience bring to the table?
Turnaround time for repairs is key to both the service provider's and your business, as reimbursement only works when the units are in the field and not down for repair. Inventory understanding and forecasting plays a big part of being able to provide adequate turn-around times for equipment. The pandemic has shown just how fragile supply chains are, and a better understanding of these chains can lessen the blow of scarce supply. Additionally, this understanding can assist the repair network in keeping parts cost down, lowering your total cost of operations for your assets.
Keeping with the theme of turn-around time, companies with more experience often have structured and routine routes to be able to offer internal pickup and delivery to your facilities. If a company can drastically reduce the transit time of equipment, that allows that equipment to be back with patients as soon as possible. Being able to shave three days could be mean faster reimbursement in an already slow process.
Lastly, most companies with depth in the field have grown to a size that allows for diverse lines of products serviced and geographical reach. Being able to use a repair company as a "one stop shop" for any equipment you offer is a valuable piece for your business. Whether you provide basic respiratory services or a more complex line, a service provider of size will be able to handle 90% of equipment types from various manufacturers. If a service provider can reduce your time handling equipment, tracking and finding a local shop, you can spend more time focused on patient care.
3. Advancements in Technology
Change can be hard, but technological advancement can make your life simpler. Have you ever had an auditor ask about a specific serial number's maintenance history and suddenly had to frantically search through paperwork? For compliance reasons alone, companies that offer some sort of customer portal or real-time tracking can satisfy auditors faster and more completely. How much time would you save if you could pull out your phone, scan a bar code on the equipment and pull up its entire service history? These kinds of advancements can touch numerous categories, including compliance, purchasing decisions, preventative maintenance forecasts, total cost of operations per equipment and more.
Also, companies that offer these technological options work as partners to your business. They assist in making smart future purchases, identifying problematic equipment and planning for proper preventive maintenance and distribution. All these items will inevitably lower your cost to keep units in the field. Companies with better equipment data become 65% more efficient and reduce risks of field failures and out of compliance units.
If you are in the market for a good service provider, do your research. See what manufacturers have given their stamp of approval for a company and go from there.