Run your business from your mobile device
Wednesday, April 30, 2014
Billed as the number one choice of top entrepreneurs and professionals, Grasshopper (grasshopper.com) gives business owners the ability to run operations from their mobile phones—including managing calls through toll-free numbers, conference calling and sending and receiving faxes.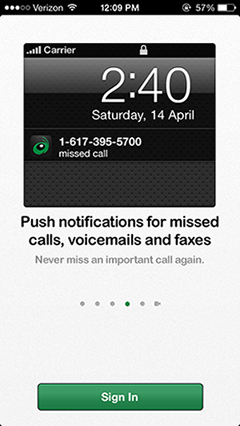 Toll-free numbers are typically used for customer service lines, offering a big benefit to clients because they aren't charged for calls—this is especially important for lengthy conversations involving equipment use or other issues providers may need to discuss in detail with customers. Grasshopper offers an abundance of other helpful features to make professional lives easier, especially if you're running a business remotely or from multiple locations. Your iPhone (an Android version is being tested) becomes a feature-loaded phone system without giving away your direct mobile number.
Features
Create customized extensions to forward calls to your home, office or cell. Options include one-digit department extensions and three-digit employee extensions, an employee name directory and hold music. Tailor your greeting to give store hours and locations.
Utilize both toll-free and local numbers for a geographically diverse presence.
When making outgoing calls to customers or vendors, the app will show your Grasshopper caller ID—not your personal mobile phone number. No one will know you are calling from your mobile phone instead of your business landline.
Grasshopper works with existing mobile and home or office phones. You don't have to purchase additional hardware.
For incoming calls, simply press 1 to accept, 2 to send to voicemail or 3 to hear the caller's phone number.
Voicemails and faxes are delivered via e-mail, so you can open the MP3 or PDF attachement to listen or view.
The Read Your Voicemail feature supplies a transcript of each voicemail via e-mail notifications so you know the purpose of the message.
Grasshopper Monthly Pricing
Max ($199/month)
10,000 minutes
3 toll-free/local numbers
Unlimited extensions
Unlimited voice studio
Every feature included
Complimentary activation
Grow ($49/month)
2,000 minutes
2 toll-free/local numbers
Unlimited extensions
Every feature included
Complimentary activation
Ramp ($24/month)
500 minutes
1 toll-free/local number
Unlimited extensions
Every feature included
Complimentary activation
Pay as you grow ($12/month)
$0.06
1 toll-free/local number
Unlimited extensions
Every feature included
Complimentary activation