Overall, HME operators seem to have acknowledged their politically insecure future. Revenues and new market potentials remain strong. Last year 55 percent of companies, large and small, reported increased sales. But as Washington continues to implement competitive bidding—nationwide in 2016—and further reimbursement cuts appear likely, the positive outlook is not universal. While demographics and other indicators remain favorable, many HME businesses will have to retool and retrain to deal with the challenges providers are facing in every direction. In 2014 and beyond, who will survive? Who will thrive? Far too many HME providers are reporting audits, competitive bidding and other payment delays of the state and federal programs that have resulted in staff layoffs. Providers are dropping unprofitable product lines and generally scrambling to secure more alternative revenue sources. They recognize the importance of crunching data and establishing benchmarks, and utilizing best practices to identify and measure business metrics to maximize profitability and cash flow. HME providers need to regularly monitor their operations to prepare and react to unanticipated market shifts to fare well in 2014 and beyond.
Key Factors
At Medtrade Spring in Las Vegas, I asked attendees, "What is the primary responsibility of a home medical equipment company?" The most common answer was, "to provide quality care to our patients." While I would never argue about the importance of quality patient care, we need to think about its placement in the scale of priorities. In the world according to this author, profitability is the most important responsibility of an HME company. An HME is a business. What separates us from a convenience store, a dry cleaner or a car dealership is the selection of products and services we sell. This is not often a popular analogy within the industry, because it does not factor in your work as a provider. However, there are economic realities of a business that need to be considered. Unless you are the federal government, you can only operate at a deficit for so long before your company closes and creates a huge hole in your community. The biggest constraint is that we operate within a complex environment. The principal component of a complex system is that there are many interdependencies. One of those is the third-party payer market. With the exception of deductible and copay amounts (which can be a nightmare to calculate/collect), the bulk of your payments comes from a third party—arguably, from insurance companies and public payers that do not have your best interest at heart. Consider this: The primary role of your HME business is to get paid a reasonable amount for providing your patients with quality health care products and services. The primary role of the payer—while Medicare/Medicaid will disagree—is to pay you the least possible amount for these same quality services you have delivered. And according to my research, six percent of the time the insurer pays nothing to the HME provider, and, in the remaining claims, nearly one out of five is paid in error (that is, less than billed). As long as you maintain a high dependence on third-party payers, your ability to affect your revenue is diminished.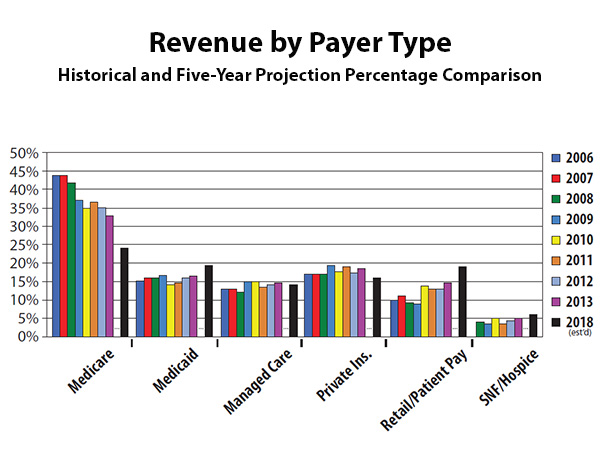 Revenue by Payer Type
Growing Power
Payers are consolidating networks and repositioning in larger markets. These moves have impacted hundreds of HME providers and their patients, and this trend will not fade any time soon. Today, a single insurer has at least half of the individual market in 30 states; 45 states have two health insurers with a combined commercial market share of 50 percent or more. Health insurance carriers are continuing their private implementation of competitive bidding, resulting in lower reimbursement per unit and winnowing the panel of eligible providers. The ability to participate is becoming a key element in the viability of HME providers. Without diversification, access to contracts and networks is an increasingly critical asset.
Revenue by Payer Type
In the 1990s and early 2000s, it was common to observe HME providers with a 70/30 Medi-Medi split of funding with all other sources. Since then, the Medicare slice has decreased rather dramatically. According to the annual polls compiled by Stephen Richards and Associates, Inc., Medicare reimbursement now makes up about one-third of revenue for a typical HME business. On the other side of the spectrum, the retail/patient pay share has grown from less than 5 percent in the late-1990s to 15 percent today. Below is my five-year estimate of the new mix—the Medicare share drops dramatically; Medicaid and retail/patient pay increase substantially. Starting with the insurance exchanges and Medicaid expansion, let's discuss what it means to your HME business. The saying, "all politics is local," also applies to the impact of these new health care insurance exchanges and expanded Medicaid eligibility that are part of the Affordable Care Act (ACA). Depending on where you are located, the effects of these developments will range from negligible to profound, although most HME providers will be affected at least indirectly. The exchanges and Medicaid expansion are intended to provide health care insurance to a large portion of the approximately 50 million Americans who currently lack insurance. The exchanges, which have started, let customers shop for and compare health insurance plans in four broad price ranges. The ACA also includes subsidies in the form of tax credits to help make the plans more affordable. The ACA originally broadened Medicaid eligibility nationwide to people with income up to 138 percent of the federal poverty level—about $32,500 for a family of four. The U.S. Supreme Court later ruled, however, that states could decide for themselves whether to expand Medicaid eligibility. Twenty-six states and the District of Columbia have chosen to do so. If you are in one of the 20 or more states that have not expanded Medicaid, obviously that part of the legislation will not affect you. The same holds true for HME providers who choose not to contract with certain low reimbursed exchange plans or accept new patients who enroll through the exchanges. On the other hand, if you are in a state that has expanded Medicaid eligibility, and/or your HME business will likely accept most patients from the insurance exchanges, then you could be in for some significant changes—starting with the makeup of your patient population. Almost by definition, many of these new patients will not have had access to regular health care previously. Consequently, they are more likely to have chronic conditions, including obesity, diabetes, asthma, et al, for which they may have received little or no previous treatment. In any case, as the insurance exchange enrollment closed at the end of March, we'll soon have a barometer to gauge how many newly insured Americans entered the market. With the implementation of the ACA, Medicaid, as a percentage of HME overall revenue, is estimated to increase by four to five percent within five years.
Out of Pocket/Retail
Many speakers at Medtrade Spring delivered a renewed focus on cash sales. This is because the overall growth rate of this category, according to National Health Expenditure (NHE) data, is the highest since the recession began in 2007. Out-of-pocket spending growth is projected to grow even faster through the remainder of the decade, reaching a peak of six percent annually in 2020. Estimates of cash sales as a percentage of overall revenue are at an increase of five percent. To put this in perspective, it is an estimated $3.5 billion market potential.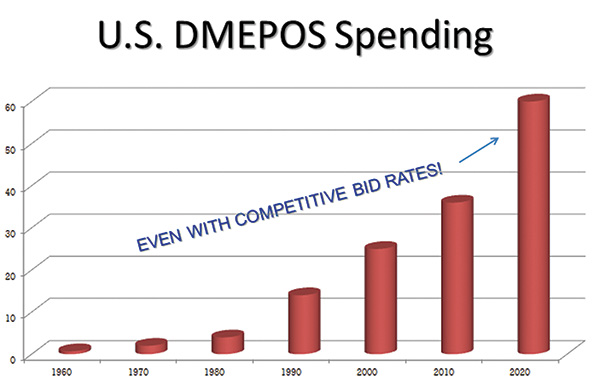 U.S. DMEPOS Spending
Unprecedented Demand
The growth in the number and proportion of older adults is unprecedented in the history of the United States. Two factors—longer life spans and aging baby boomers—will combine to double the population of Americans aged 65 years or older during the next 25 years to about 72 million. By 2030, older adults will account for roughly 20 percent of the U.S. population. More than a quarter of all Americans and two out of every three older Americans have multiple chronic conditions, and treatment for this population accounts for 66 percent of the country's health care budget. The bottom line: demographic changes, an aging population and chronic conditions are creating an urgent need for HME. Let's look at some more numbers. Nationwide, NHE data projects the average annual projected growth of all DME spending is almost six percent per year for 2015 through 2022, largely as a result of faster projected economic growth, the aging of the population and chronic care diseases such as heart disease, COPD, diabetes and arthritis. The overall DME spending by 2020 will approximate $60 billion. Current growth in the number of older adults in the United States is unprecedented in our nation's history. By 2050, it is anticipated that Americans aged 65 or older will number nearly 89 million people, or more than double the number of older adults in the United States in 2010. The aging of our population has wide-ranging implications for every home medical equipment company.
The Future
In 2014 and beyond, the focus will be more about cost control and an eventual transformation from traditional fee-for-service toward a payment structured leaning toward compensation based on outcomes. The Affordable Care Act (ACA) includes several programs designed to drive the cost of health care down by paying providers based on outcomes, quality of care, patient satisfaction and reduced utilization of the Medicare Trust Fund. The intent is to find a long-term, sustainable model that moves health care away from the current volume-driven model. These include the Hospital Readmission Reduction Program, the Medicare Shared Savings Program (Accountable Care Organizations), the Medicare Bundled Payments Program and the Community-based Care Transitions Program. The industry has contended for years that HME, when administered properly, saves hospitals, insurers and government entities money. Now that hospitals and physicians are being incentivized to reduce length of stay and readmissions and improve outcomes, the stakes have officially increased for HME providers to deliver on the claims they make. Strategic partnerships are key. HME providers are encouraged to first establish a patient engagement follow-up process and begin collecting data relative to the outcomes, compliance and readmission rates of these patients. This data can then be used to leverage strategic partnerships at the CFO/CEO level of the hospital. Hospital financial decision makers, discharge planners and physicians will undoubtedly respond positively to HME suppliers who can prove their ability to improve these numbers. Some HME providers may use Collaborative Practice Agreements to develop contractual relationships, while others opt for a less aggressive approach, using outcomes data for marketing purposes to garner higher referral rates. Whichever approach you choose, it is clear that the innovators in the HME industry have begun making their way. You have the opportunity to be early adopter and lead in your marketplace. While competitive bidding, audit madness and other predictions sound a bit dire, plenty of opportunities for HME providers remain to support your company's bottom line. The HME business will need to reinvent its services to patients and engage patients in new ways. Success in the future requires change. There will be an enormous amount of medical equipment, devices sold and health care services directed at home-based care. The future is bright, but very different.