These customers can benefit from the use of lifts and ramps
It's a no-brainer. If you're buying a wheelchair or scooter, it's 99 percent likely that you will need a ramp or lift, whether to get into your home, to accommodate a step down into a room, or even to transition across a threshold. Yet, how many HME/DME dealers let owners of brand new mobility devices leave their stores without addressing the issue of ramps or lifts? Many people don't know where to go for ramps or lifts, and HME/DME dealers are on the front line of solving this problem. "When a dealer sells a wheelchair, the next step is to ask the client if he or she can get the chair into their vehicle and into their home," says Doug Cannon, sales manager of AlumiRamp. "Making people aware is the first step." AlumiRamp offers point-of-sale hang tags that can go on wheelchairs as a reminder to customers (and dealers) that they will need a ramp to get the wheelchair into their home. Fred Jensen, vice president of sales and business development for Prairie View Industries (PVI), suggests going a step further. PVI recommends dealers use a mandatory access questionnaire inside the store and whenever a mobility device is delivered to the home. Anyone who comes in contact with the customer—delivery people, assistive technology personnel (ATPs), customer service representatives (CSRs), etc.—should use the questionnaire to determine a customer's need for a ramping system. One large dealer implemented the questionnaire and increased ramp sales from a few add-on sales to one out of 10 customers buying a ramp, says Jensen. "Providers who don't talk 'access' leave the door open to lose a customer to a competitor who offers a holistic approach from power chairs to ramps," he says. "If you aren't a complete supplier to all your customer's needs, you will lose the customer to someone who is."
Don't Be Intimidated
Many dealers find installing ramps intimidating, but they shouldn't. There was a time when assembling a ramp was a little like building a giant Erector Set, says Jensen. Dealers who have not tried to install a ramp since those old days will be pleasantly surprised to learn how much the process has improved. Assembling ramp systems today no longer takes hours. Now, it takes about 30 minutes to assemble 10 linear feet of ramping in the field, down significantly from before, says Jensen. PVI has YouTube videos that explain assembly. Assessing a customer's need for a ramp is easier now, too—PVI has reduced the process down to two easy-to-follow pages. Because ramp systems are portable and reusable, they do not fall under state building codes, which can restrict the construction of wood ramps. "The only reason today to use wood is that it's less expensive, but aluminum is getting more competitive, and a building permit is not needed," says Jensen. Prairie View Industries (PVI) is a manufacturer and distributor of aluminum wheelchair ramps for homes, businesses and mobile applications and invented the multi-fold ramp in 1991. The company's XP Ramping System is its fastest-growing product line, which has been improved significantly as of Feb. 1, 2014. Improvements include lowering installation time in the field and less packaging to reduce shipping costs by 25 percent or more. Ramp system components are now shipped in boxes (instead of on pallets), and the individually boxed components can be easily stored to be available for rental business. Ramps are also now knurled from side to side and front to back to provide dual anti-slip benefits. Knurling is a manufacturing process that involves cutting crisscross patterns into metal. When searching for ramp business, Cannon of AlumiRamp says dealers should look to rehab centers, housing authorities, insurance companies and associations on aging. Many dealers also work with the Veterans Administration (VA) to supply ramps, he says.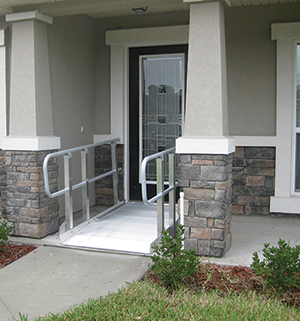 The PVI Modular Ramp can be easily moved or reconfigured, offering multiple options.
AlumiRamp started in the ramp business in the mid-1980s and was actually an offshoot of the company's dock ramp business. Almost 30 years ago, a local school district needed a ramp for a child in a wheelchair, and the new business was born. The family-run business includes three different types of modular ramping; the Armada all-aluminum system (the largest); the Quick Ramp system combining aluminum and wood; and the ACOM commercial ramp line. The company's AlumiLite Landscape collection includes powder-coated ramps in various colors to complement landscaping. Colors include sage, slate, terra-cotta and sand. AlumiRamp also sells its Mini Ramp line through HME/DME dealers, serving the needs of wheelchair users for threshold ramps. AlumiRamp's Ready Ramp multi-folding ramp has a one-piece design and is one of the lightest on the market, which serves older clientele well.
Keep In Touch With Organizations
Providers should make themselves known in the community as a knowledgeable provider of—and expert on—ramps. "When something puts someone in a wheelchair, they have never, in most situations, thought about needing a ramp," says Dave Henderson, senior sales analyst and program manager, EZ-ACCESS. "When they get the mobility device, that's when they recognize they need the ramp." Providers should connect with discharge planners, occupational (OTs) and physical therapists (PTs) and physicians, Henderson says. Sometimes hospitals or therapists offices might allow providers to come in and give a 45-minute presentation on equipment they have available. Providers can leave behind brochures and business cards. It's also helpful to connect with groups that have a large number of the aging population—fraternal organizations, senior centers, etc. Henderson speaks of one dealer who rented space in a mall and displayed ramp equipment as an unattended mini-showroom. Seniors often go to malls to exercise, and can inspect the equipment on display at their leisure. It's also helpful to connect with organizations, such as charities, that could provide financial help to persons who need ramp products but cannot afford them. There are organizations specific to certain diseases, and broader organizations such as the Bill & Melinda Gates Foundation, for example, which looks for ways to help people with polio. EZ-ACCESS offers ramps ranging from smaller, portable folding ramps to larger modular ramping systems. The Transitions line is designed for threshold-type obstacles such as a front door, sliding glass door or changing levels in a home, which can be a big cause of falls. EZ-ACCESS' Pathway line is a modular ramp series than can be as small as a single-piece ramp going up one step—with or without handrails. Larger ramp systems, manufactured in long-lasting aluminum, can be configured for any situation without the need for major construction. The system doesn't require a change in landscape, and is easy to remove if a user moves residences or no longer requires the ramp. It can also be resold, or even recycled at end-of-life, in contrast to a wood ramp that is costly to remove and dispose of. EZ-ACCESS' newest series is the Passport vertical platform lifts, which are especially useful in older homes or municipal areas that don't provide enough room for a ramp. The lightest vertical platform lift in the industry (made mostly of aluminum), the lift is easy to install, runs quietly and doesn't waste energy, according to Henderson.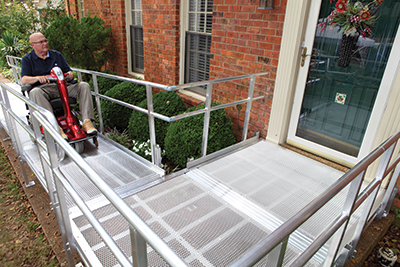 American Access ramps are easily configured to fit specific needs and install in hours.
Henderson says HME/DMEs shouldn't be intimidated by the concept of aging in place and accessible design construction. They should depend on manufacturers, who have the tools to help them. Once a quarter, EZ-ACCESS holds a certification course on the Passport line, for example.
Expanding to Home Accessibility
Price is often a concern when selling ramps, and many consumers think modular ramps are very expensive, compared to having a ramp built by an average contractor, says Garth Walker, managing director of National Ramp. However, National Ramp's three different price points enable ramp dealers to overcome price objections. "There is a tremendous opportunity for HME providers in the home accessibility arena," says Walker. "The cost of adding a ramp to a home is far less than the expense of selling a home and relocating." For dealers, Walker says, there are low startup costs associated with the home accessibility business, with very reasonable inventory requirements. Ramps are also easy to install. "The best news about ramps is that they are not subject to competitive bidding," he says. Walker suggests HME/DME providers visit the local hospital to let discharge planners know that they install ramps. "Network with local retirement groups, spend money advertising and tell every handicapped patient with difficulty walking that you sell ramps," he advises. To succeed, HME/DME providers should partner with a ramp manufacturer that will support them in every aspect with marketing and training, Walker says. National Ramp manufactures three types of modular ramps—aluminum, steel and wood—sold through HME/DME dealers nationwide, featuring an open mesh ramp surface that allows rain and melting snow to pass through. The company's modular all-wood ramp series is designed to provide a cost-effective solution to ramp dealers.
An In-and-Out, Turnkey Sale
American Access has manufactured modular wheelchair ramps since 1997. The complete line enables HME/DME providers to offer multiple options to each customer, including ramps with a variety of decking surfaces. Options include the Classic system with a solid, non-skid surface made of 100 percent aluminum; the XM system that allows drainage in inclement weather; and the Hybrid system that allows installers to use pre-cut wood to provide decking as the ramp is assembled. The Hybrid option is a way providers can "keep the sale alive" in the event a customer opts to build a do-it-yourself ramp. The company also offers powder coating, either on the rail or on the entire ramp, and picket railing that may be required because of the rise of a ramp, or in any case is ornamental. American Access now offers the three new lines, introduced in October 2013 at Medtrade in Orlando, in addition to the company's popular Legacy system. "Dealers know they have every possible option they could want," says Karen Riker, marketing director of American Access. The company also has the Entrada series commercial line. "Some dealers have done well in the commercial market," says Riker, especially at churches, schools, universities and museums. Riker says HME/DME providers should not be intimidated by the idea of installing ramps, which they perceive as large and bulky, with lots of parts needing measurements, etc. "I remind them that every successful ramp dealer started at zero," she says. "Their product knowledge was zero, and they decided to step in. It just looks intimidating. Growth doesn't have to happen overnight. Let the market know you are in business."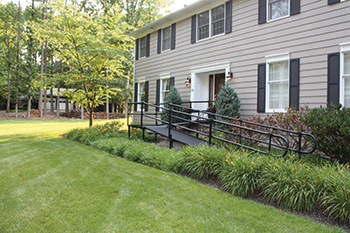 National Ramp products are powder-coated with a textured finish for slip resistance.
Advantages of the ramp business are that it is a cash business with good margins and is an "in-and-out, turnkey sale," says Riker. There are no expensive service calls or follow-up needed. American Access offers sales tools to help HME/DME providers grow their business and be confident in their sales tactics, says Riker. "There's nothing like knowing you have allowed someone to get out of their home where they were trapped," says Riker. Ramps allow an HME/DME to start a home accessibility business without making a lot of up-front investment. "It's a growing market, a solid market, and we all want to age in place—and that's where accessibility happens," says Riker. It is estimated that 10,000 baby boomers reach age 65 every day, according to the Pew Research Center, and most of them prefer to age in place. As the accessibility business grows, the HME/DME provider should develop a team to focus on the category. Riker says it's important that the employee who goes to a home and meets with the homeowner should also be the person who installs the ramp. The homeowner has shared private information, and dealers should make sure details don't get lost in the shuffle, which can happen if two different sets of people are involved. "Develop a specialized accessibility team that stays focused on that business, and the innovation happening in that business," says Riker.
Expanding Into Commercial Business
Paul Johnson, Harmar's vice president, sales and service, advises HME/DME providers to become more open to broadening their reach into commercial jobs as well as focusing on residential. Although there are more compliance, building and safety code issues involved in commercial jobs, HME/DMEs can easily overcome the hurdles with the help of Harmar's full-time code and compliance administrator, who can explain the rules around various applications based on state and municipal codes. There's another benefit in addition to the additional business, he says, "If you can sell in commercial, you appear stronger to a potential residential client." "If you can install a vertical lift in a house, you can do it for commercial," Johnson adds. "Knowledge and experience can help. We have someone who knows the rules and can address questions from DME providers." "I've talked to a half dozen dealers who say they have many more commercial bids," says Johnson. "It's a stronger economy, and everybody has confidence in deciding it's time to invest." Harmar offers a range of residential and commercial accessibility solutions, from straight and curved stair lifts to residential and commercial vertical platform lifts. Harmar's new modular hydraulic vertical platform lift has a smaller hydraulic drive and can be brought indoors and installed more easily in an internal shaft way. Also, Harmar's new Helix Curved narrow-profile stair lift takes less space and can be installed by any HME/DME provider. Johnson sees many dealers maturing and progressing in their move into home accessibility. Many more are earning credentials by getting Certified Aging-in-Place Specialist (CAPS) certified. While some dealers used to focus on a single-thread product line, they are now expanding into new areas and cross-selling. There is growing awareness of opportunities. "HME/DME providers have already found the customer. Now, they are spending more time to understand and satisfy that customer's needs. That's the big opportunity." He says Harmar is focused on being a good partner to HME/DME providers in the new cash areas.