From the latest on the Durable Medical Equipment Prosthetics Orthotics and Supplies Competitive Bidding changes, to the Patient-Driven Groupings Model, to legislation affecting how providers do business, HomeCare is here to keep you informed. Find news and articles from our experts to guide you as you navigate the policies that affect your business.
Understanding reimbursement before change comes
How 3 major providers are approaching the new care model
WASHINGTON, D.C. (June 20, 2019)—New bipartisan legislation has been introduced in both the United States Senate and House of Representatives that would grant occupational therapists the authority to open home health cases. Under current law, only nurses, physical therapists and speech language pathologists can open a home health case by performing the patient assessment.
3 major Q2 updates changing provider behavior
AAHomecare is tackling new challenges and looking forward in mid-2019
Reimbursements withheld due to physician errors harm oxygen providers
Recent gains won't slow down industry leaders
Concentrating on High-Value Alzheimer's Needs to Get to an End
WASHINGTON, D.C. (August 20, 2018)—The American Association for Homecare (AAHomecare) submitted comments on the ESRD/DMEPOS Proposed Rule that CMS released in mid-July.
WASHINGTON, D.C. (July 11, 2018)—The Centers for Medicare & Medicaid Services (CMS) took steps toward changing Medicare's DME fee schedule payments, proposing market-oriented reforms to the durable medical equipment prosthetics, orthotics and supplies (DMEPOS) competitive bidding program (CBP).
Governor Malloy signed SB 243 into law on June 1.
HARTFORD, Conn. (June 6, 2018)—On Friday, June 1, 2018, Connecticut Gov. Dannel Malloy signed SB 243, "An Act Concerning Audits of Medical Assistance Providers," into law, effective July 1, 2018. For claims on or after July 1, 2018, Connecticut Medicaid providers will no longer be required to retain the original signature on prescriptions and proof of delivery.
Providers speak up during Washington Legislative Conference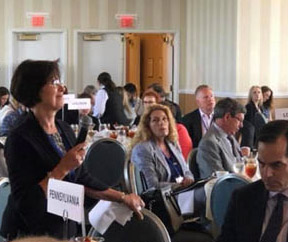 Providers shared their thoughts during AAHomecare's Wednesday luncheon.
By Liz Carey