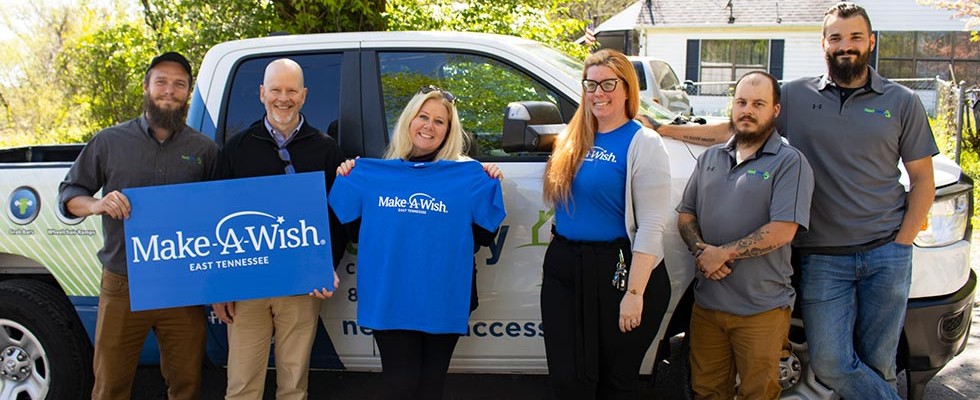 A Tennessee teen can now navigate her home with greater ease, thanks to a partnership between Next Day Access Knoxville, Harmar Mobility and Make-A-Wish East Tennessee.
Madison Peak, 15, wished for a stair lift to help her be more independent at home. Previously, her father or brother had to carry her up and down the stairs when she wanted to leave her room.
She submitted her request to Make-A-Wish, a nonprofit organization that fulfills the wishes of children and teens diagnosed with critical illnesses. Make-A-Wish reached out to Harmar, which makes stair lifts, vehicle lifts and platform lifts. Harmar stepped up to make it happen.
"I'm thrilled this was able to come together so this family can have more freedom in their home. It really shows how much Harmar—and our partners—make sure they go above and beyond to lift lives," said Brigid Sheridan, Harmar territory business manager.
Harmar worked with its local dealer, Next Day Access Knoxville, to evaluate the home and perform the installation. After evaluations, it was determined that the home would need a Helix curved stair lift, which can be more expensive than simpler lifts due to necessary customizations for size and fit.
The two companies decided to donate the lift and installation, freeing up budget for Make-A-Wish to grant future wishes from other children. According to Make-A-Wish's website, the average cost of fulfilling a wish is around $11,000. Make-A-Wish relies on cash and in-kind donations to grant wishes, with no expectation that the family contribute anything.
"All of us at Make-A-Wish East Tennessee are so glad and grateful for the partnership between Harmar, Next Day Access and our chapter to provide a life-changing wish to Madison and her family," said Christina Sayer, director of Wish Granting for Make-A-Wish East Tennessee.
"We are so glad to partner with Harmar and Make-A-Wish East Tennessee to provide this family with a safe and custom solution to help get Madison up and down the stairs," said Josiah Tillett, Next Day Access Knoxville branch manager. "It's always heartwarming to see how accessible solutions can impact a family's day-to-day life."