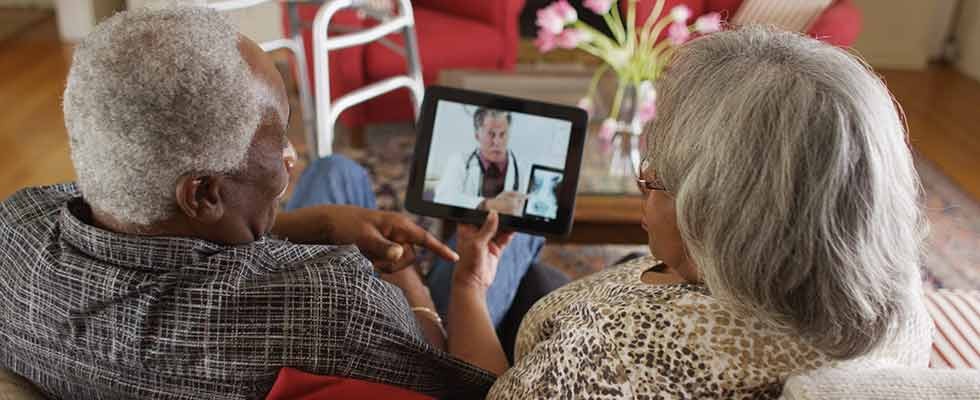 After a year of change, how will homecare adapt online?
In the earliest days of the emerging COVID-19 pandemic—in a news story published on March 16, 2020, to be exact—we reported that homecare companies were facing a new problem: denials of service. Patients and customers were increasingly refusing to let providers into their homes out of fear of infection, and professionals were declining to go out into the field for the same reason.
"Patients are increasingly hesitant to let nurses into their homes for in-person visits," Synzi CEO Lee Horner said at the time in an interview that ran on homecaremag.com.
There was an easy solution, however. The past year saw a massive application of telehealth, something homecare had been slowly working toward for decades. Suddenly, virtual visits weren't just a nice add-on, they were the only way to reach some patients.
That's been a catalyst for long-term change, says Horner, who has been in the telehealth industry for about a dozen years, at Synzi and elsewhere.
"With COVID-19 hitting us, health care delivery has changed, especially on the post-acute side, forever," he said in a recent interview. "I think there was a lot of uncertainty about how video and telehealth would be delivered but I think over the last year it's been proven to be wildly successful."
Speedy Adoption
It's rare in health care to be able to pinpoint the adoption of a new practice to a single year, much less to a single week. But according to the Centers for Disease Control and Prevention, telehealth visits took off during the last week of March 2020, jumping 154% compared to the same week in 2019. Those virtual visits were mostly patients seeking care for something other than COVID-19.
That was just the beginning. Telehealth services grew by more than 1,000% in March of 2020 and more than 4,000% in April of that year, according to a study of almost 7 million privately insured people that was published in JAMA Network Open.
However, a recent report from the nonprofit Fair Health found that telehealth usage dipped 16% from January 2021 to Febraury 2021, indicating a possible slowdown in demand for virtual care as vaccinations increase and health practices reopen.
That doesn't worry Janet Dillione, CEO of Connect America, which recently doubled down on connected health with its purchase of Philips' Lifeline business.
"I have been in healthcare IT my whole career," Dillione said. "The past year has done for this pre-hospital virtual care space what the HITECH Act did for electronic medical records."
"The pendulum has swung," she continued. "It perhaps won't stay this far, but it's not going back."
On the broader spectrum of health care, Dillione said, much of the systemic change was driven not just by the existence of the coronavirus pandemic but also by the fact that clinicians were suddenly able to be reimbursed for virtual visits in a way they hadn't before. In-home care providers, however, have been partly or entirely left out of that—and the pandemic-spurred waivers allowing broader use of telehealth will likely expire along with the public health emergency.
There are three main bills in Washington at press time that would permanently remove the paused restrictions that keep most Medicare patients from using telehealth services from their home or outside rural areas; one of them would require rulemaking to establish other originating sites, another would also give the Centers for Medicare & Medicaid Services (CMS) the authority to establish newly eligible sites, such as a community center or clinic.
There's still an incentive to adopt, however, Horner said, if only to keep up with the competition.
One Case Study
Before the pandemic hit, the seven adult day centers run by Element Care PACE in Massachusetts were full each day with seniors visiting their doctors, nurses, physical therapists and other clinicians or enjoying enrichment activities. Then, in March, it all shut down.
"We closed and we had to pivot very quickly," said Dr. Joanna Duby, medical director at Element Care PACE, which serves about 1,000 older adults. "Our nurses had to go out even before we had personal protective equipment; we would go do home visits but we would screen people first. We would call people on a daily or weekly basis to see if they were okay or if we needed to go out and see them."
That wasn't a sustainable system, so the organization provided tablets designed for senior engagement and used it for connected activities as well as for virtual care. Element Care is currently testing a pilot that connects the tablet to a scale so patients' weight can be tracked, and they're looking at other things it might expand to, including measuring blood pressure, oxygen saturation and body temperature.
Right now, about 350 of the group's clients are using the tablets and spend an average of three hours a day on them.
PACE organizations like Element might provide an example of what telehealth could look like in the future. Because PACE acts as both caregiver and payer, the programs tend to take a holistic view of care management for participants, who are usually dual eligible for Medicaid and Medicare. Rather than going into institutional care, they stay home, visiting a PACE day center to get care from an interdisciplinary team including proactive physical therapy, a dietician and behavioral health. There's even a driver that takes them to the center if needed.
Duby said they were surprised to discover that appointment compliance—especially in behavioral health—actually increased with the switch to virtual, so they expect to continue with a hybrid model.
It's an investment, she said, but it's worth it if keeping better in touch with a member keeps them active and avoids a life-threatening fall, or if someone's not feeling up to traveling to the center, even with transportation provided.
"We don't see this going away now that we've started it," Duby said. "We also are using for enrollment purposes to communicate with potential enrollees."
What Patients Want
As the push for consumers to age in place increases—another trend that's been catapulted into overdrive by the pandemic—so, too, will connected health care in all its forms. After all, telehealth can include telemedicine (that is, clinician visits performed by video or by phone); remotely monitoring patients' vital signs, activity levels and medication usage; and personal emergency response systems, which signal when something has gone wrong.
"If you think about some of the trends the pandemic ended up accelerating, a lot of us stayed home and ended up ordering groceries from Amazon or whoever and you could see the status of your order," said Nick Knowlton, vice president of strategic  initiatives for ResMed. Telehealth encounters were similar—an encounter with a primary care provider via a video app could lead to a prescribed medicine, a then to a notification from a pharmacy app when it's ready. Going forward, consumers will want the same ease of use for all their care.
Virtual care and remote monitoring can also be a boon to providers, especially as demand for already-scarce skilled caregivers continues to grow. Virtual visits don't just save the patients time and hassle, they save companies staff travel time and expense and can also protect vulnerable employees from exposure to contagious disease in someone's home or threats of violence in the field.
"People are going to stay at home, but there aren't enough caregivers," Dillione said. "How do you deliver virtual care? How do you provide that 24/7 stewardship in terms of safety?"
Nevertheless, the experts say, it's best not to approach telehealth as a replacement for in-person care.
"That's the wrong mindset," said Dr. Kurt Merkelz, senior vice president and medical officer at Compassus. "Telehealth should be an additive service—and this is the case with all of health care. Say they're recovering from a hip fracture and we come into their home and they have chronic diseases, then we look at how we deal with their COPD and their cognitive impairment."
Rather than try to fix everything at once—or entirely virtually—Merkelz said care teams should develop a new, post-acute focused methodology that blends hands-on and telehealth. A home check would be face to face, but a medication reconciliation meeting can be virtual, as can wound review. And then clinicians can send clients reminders or even interactive video tutorials to educate them on their condition.
"This is how we can leverage telehealth," Merkelz said. "This is where telehealth has such an opportunity, not as a replacement, but as an additive service. That's what I'm excited about."
And Duby said providers should remember one important thing even as the technology accelerates, especially when working with an older population.
"There is still some use in picking up the phone," she said.