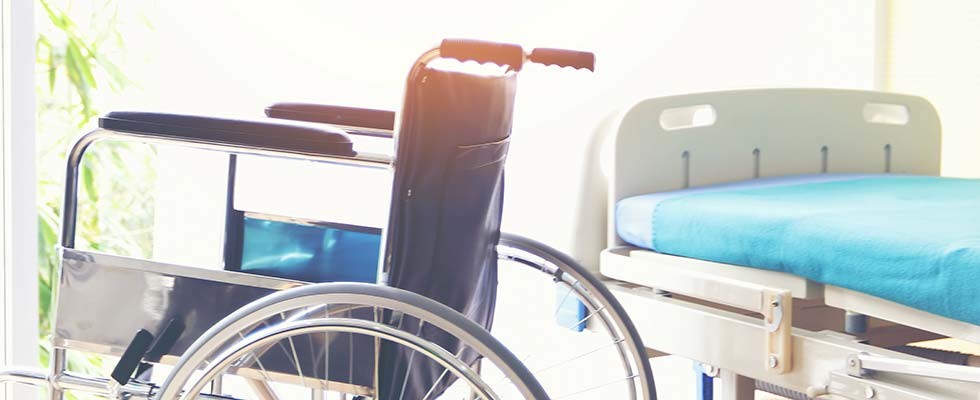 AAHomecare advocates for HME industry
Home medical equipment (HME) providers are on the front lines of providing care during the coronavirus crisis. While some people may be delaying the purchase of mobility devices, lift chairs, or other retail items, others cannot live their daily lives without this equipment. The Centers for Medicare & Medicaid Services (CMS) has lifted many restrictions on HME providers to make supplying Medicare patients easier during the public health emergency, including not requiring certificates of medical necessity for oxygen devices.   
Now Laura Williard and David Chandler of the AAHomecare Payer Relations team want state Medicaid agencies and commercial payers to follow suit.
They've been poring over documents from states and from private insurers and working closely with AAHomecare's Payer Relations Council—a committee of providers, vendors and other stakeholders—to get a clear view of the COVID-19 landscape and determine next steps.
"It's been a whirlwind," Williard, vice president of payer relations, told HomeCare. "We've been busy trying to understand everything published by the payers and the state Medicaid programs."
The Payer Relations Council created a list of requests for the commercial payers, including a template that providers can send to their payer partners. As of press time, the council had contacted at least 33 different payers, said Williard.
Other things on the wish list include common-sense decisions on proof of delivery such as waiving signature on delivery, flexibility on medical documentation, flexibility around prior approval documentation when physicians aren't available, and coverage of short-term oxygen.
Most private plans and Medicaid programs cover oxygen for chronic conditions, Williard said—but right now, there is also a need for oxygen for many of the acute conditions that stem from coronavirus infection.
The virus is also causing concern around supply chain management and a shortage of needed supplies, said Williard. State Medicaid agencies indicated they would allow 60 to 90 days worth of supplies, but it is possible those supplies wouldn't be available in those quantities. AAHomecare put together a letter for governors asking them to refrain from making changes because it would disrupt the supply chain, meaning patients would maintain 30-day quantities of their supplies.
A survey conducted in late April confirmed their fears. More than 500 HME providers indicated they were getting hit with disruptions to their supply chain and increasing costs of equipment, especially equipment needed to treat COVID-19 patients. In the survey, 97% of respondents had trouble obtaining personal protective equipment and 80% cited problems obtaining ventilators and oxygen.
The payer relations team also developed a series of letters on the Medicaid front, said Chandler, director of payer relations. He and Williard sat down for a recent episode of The HomeCare Podcast.
"The initial letter has gone out to nearly every agency," he said. "We cobranded with state agencies, (the National Coalition for Assistive and Rehab Technology) and (the VGM Group). I'm aware of at least 46 states having active discussions with our asks. We also crafted a followup letter that highlights some of the recent guidance from CMS."
Chandler noted that CMS has responded faster than most state Medicaid agencies, which he said is unprecedented. Recent updates from CMS give AAHomecare a chance to go back to state agencies and ask for some leniency on clinical indications on respiratory equipment, proof of delivery, prior authorization and audit activity, Chandler said.
Leadership in Action
The AAHomecare Payer Relations Council—now just over a year old—was a goal of Williard's from the time she started with AAHomecare; adding Chandler to the team helped set the final pieces in place. The council named Jason Morin of Home Care Specialists, Inc. as chair and Ryan Bullock of Aeroflow Healthcare as vice chair. The group was designed to:
advocate for fair, commonsense regulations that help put patients over paperwork;
work with state and regional association leaders on Medicaid rates and other managed care payers;
work with Medicaid plans and managed care organization (MCO) plans to eliminate administrative costs for providers; and
continue to grow the resources to fight for HME interest in Washington and at the state level.
In response to the COVID-19 emergency, the council has stepped up to build the requests for the industry.
"It's been a relief to have a group of people to help come up with these requests and the items we needed to go after for the private payers and Medicaid programs," said Williard. "We had to shift focus, unfortunately, but we are still looking at what we need to do for the future."
Crisis or not, the council is looking to show the value of HME in the health care spectrum. As the public health emergency begins to play out, the council is working on its messaging to show how HME providers and manufacturers have worked to keep patients at home and healthy; it is also partnering with payers to back the message up with data. Obtaining this data from Medicare Advantage plans, commercial plans, MCO plans and Medicaid plans is difficult, Williard said, but helps point to the return on investment and the savings that are being provided.
Educating both payers and providers is a goal moving forward. Private payers have policies that don't always align with guidance from CMS, Williard said. Ensuring that providers are aware of those guidelines is important to the success of the industry.
Beyond the Pandemic
The payer relations team had been focused on urging states not to lower rates on HME products for the Medicaid program based on the 2016 CURES Act. In 2019, six additional states matched Medicare rates, joining the 11 that matched rates in 2018. Six states were already at Medicare rates when advocacy began. In 2020, Oklahoma announced they would be changing rates on July 1. The council is pushing for a delay in the midst of the pandemic.
Continued focus lies on third-party administrators (TPAs), which deliver administrative services on behalf of insurance plans. Some TPAs have their own HME companies, and while there is an open network, referrals are sent to their preferred company. Work is continuing, particularly in Florida with the office of insurance regulation, to gain insight into the TPAs and move forward with issues the industry faces.
Narrowed networks continue to be a headache, said Williard. Preferred provider arrangements are growing, instead of sole-source contracts. The concern is that companies will switch to sole-source contracts at a later time.
Resources for the Industry
Chandler advised payers to stay informed of changing regulations during the pandemic. The payer relations team has created a tool to track MCOs and third party payers to keep providers updated on policies and changes. The tool is updated as payers communicate with the advocacy group.
"Make smart choices not only for your business but that also protect the patients you serve," said Chandler. "We have to be a part of the solution. They need us as much as we need them."