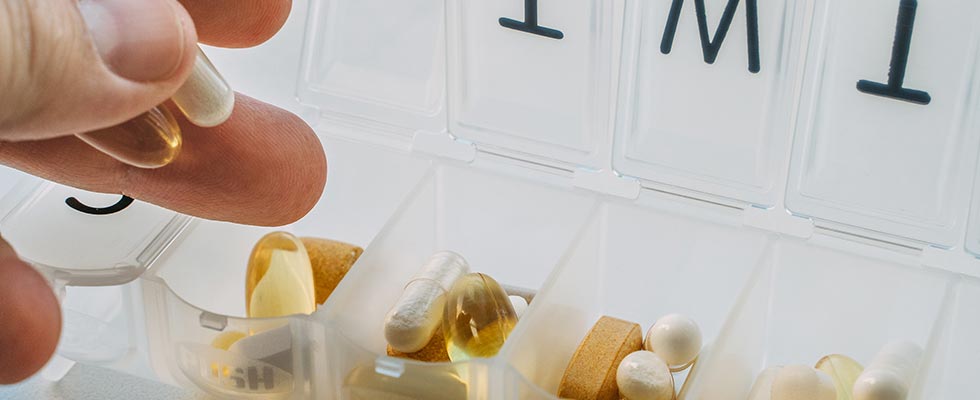 Keeping a closer eye on prescriptions
Taking prescribed medication on a set schedule is crucial to managing a patient's health. Failed adherence to prescription medication is a problem that too often goes unnoticed. According to a Harris Interactive and Wall Street Journal Health Care Poll, two thirds of adults who have been prescribed medicines in the past year say that they've simply forgotten to take their medications. Of those polled, 20% failed to take prescription medications because no one reminded them to take or to refill their prescriptions, and 15% said they didn't take prescriptions because they were confused by all the drugs they were required to take.
The typical Medicare beneficiary sees a median of seven physicians—two primary care doctors and five specialists—over the course of a year, according to the World Health Organization. Without a coordinated strategy to tackle medication compliance, confusion often overwhelms patients. This confusion can lead to medication errors, relapses, more hospital visits and eventually a loss of independence.
This was something I learned on my own. Many years ago, my brother David and I realized that our parents' medication mismanagement was prompting emergency room visits, hospital stays and doctor appointments. Our background informed how we might solve the problem. My father, Al Cooper, founded Cooper and Company in 1945 with a single store that offered small appliance and watch repair; over the years, it became Cooper's Watchworks and eventually the Dakota Watch Company. With a lifetime of experience in the world of timepieces, it made sense for us to develop a system that incorporated talking alarms to assist our parents. After helping our family, we took the concept to market in 2007 as the MedCenter System.
Medication compliance is paramount whether a patient is alone at home in charge of their own medications, being seen by care providers or living in a care facility. The confusion associated with a variety of medications can lead to unseen complications regardless of the setting. When a patient understands their meds and the schedule they are following, that confidence leads to a sense of independence and increased compliance no matter who is administering the medication. Even when a patient is not in total control of their medication because they are in a full care facility or are seen regularly by in-home care providers, they should still be able to understand and track their daily regimen. Those who do often develop more independence by overseeing the administration of their meds by their care providers. This inclusion in their own care can also lead to improved compliance.
The simplest means of promoting medication compliance is through a pill organizer. There are several options on the market that range from a simple weekly unit divided into four compartments per day to complicated monthly organizers that coordinate and dispense medication via integration with an app on a smartphone. These high-end organizers require a large unit connected to the internet and monthly fees to be part of the program.
It's important to remember that each patient's medication needs vary. Each patient's understanding of their meds varies as well.
Homecare providers often benefit from the use of medication organizers. These units can be filled by the care provider so the patient can administer their own medications between visits, or they can provide an organized system for the provider to maintain compliance through round-the-clock care. In either case, the patient's understanding and assistance in maintaining their daily regimen can lead to increased compliance.
Without a system in place that's easy to follow and use, even patients with simple schedules can find themselves off track, missing doses or doubling up on medication when left without assistance. A simple but effective medication organizer and reminder system can be an effective solution with the added benefit of patient independence, well-being and quality of life.
When looking for a suitable medication organizer and reminder for patients, consider the following:
Ease of use: Complicated systems can be overwhelming.
Size: A smaller unit can appear less intrusive in the home.
Dexterity requirements: Units with small compartments or lids that are difficult to open can be more difficult to operate for patients who may have limited dexterity and strength.
Volume: If the unit incorporates an audible alarm or reminder, consider the patient's hearing ability.
Simplicity: A unit that simplifies the task of taking daily medications on time every day with minimal teaching is the goal.
Medication compliance can be a deciding factor in patient outcomes. With 66% of those polled by Harris Interactive admitting to noncompliance within the last year, most patients are more frequently noncompliant than they are dedicated to a medication regimen. Twenty percent of the United States' population will be 65 years of age or older by 2030, and research in American Family Physician points out that half of all prescribed medications are for that same demographic.
Knowing that this is a widespread problem can help care providers prevent medication errors and promote adherence through simple and cost-effective medication organizers and reminders. Not only will this not help maintain a patient's health through a set schedule for meds, but will also promote a better quality of life through a sense of independence and understanding of their own care.