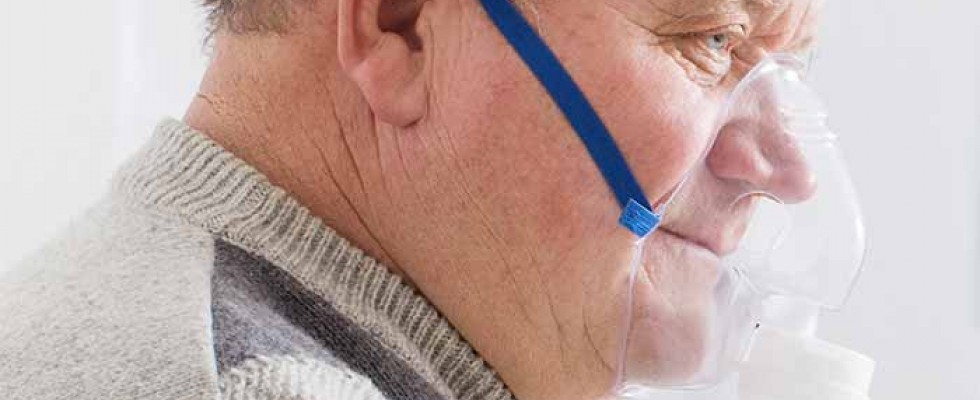 A timeline of competitive bidding & home oxygen
Patient-centered care is here. What began as an aspiration has become a groundswell that has gained support from key policymakers and care providers. Offering people a choice of therapies supports their clinical conditions and can ultimately improve outcomes.
But what does it mean for the 16 million-plus Americans diagnosed with chronic obstructive pulmonary disease (COPD), the third leading cause of death in the United States? COPD is responsible for nearly $50 billion in medical costs annually.
The clinical benefits of supplemental oxygen therapy for COPD patients are widely accepted. But many patients aren't able to take advantage of it because the current policy landscape makes it difficult to obtain the necessary devices. While health care has moved to a patient-centered model, those who govern remain more focused on political trade-offs and actuarial targets—such as reducing annual spend for a category of devices—than the best interest of people on Medicare. The result: portable and liquid oxygen are so wrapped up in red tape that many patients who need them can't get them.
Competitive Bidding Begins
In 2003, Congress passed the Medicare Modernization Act (MMA), which included the Part D prescription drug benefit. It also required the first phase of the Medicare Durable Medical Equipment, Prosthetics, Orthotics and Supplies (DMEPOS) Competitive Bidding Program (CBP) to occur in 10 areas in 2007. CMS reduced spending on durable medical equipment (DME) over a 10-year period, cutting reimbursement rates and freezing consumer price index (CPI) adjustments.
Before the MMA, the number of patients on oxygen and the payments Medicare was making in the oxygen payment category were steadily increasing. Even with competitive bidding years away, the MMA's passage resulted in:
A planned reduction of DME spending by $7 billion over a 10-year period;
 
A reduction of 8.6% for stationary oxygen and 8.1% for portable oxygen in 2009; and
 
A five-year freeze to the CPI adjustments for DME.
The chart shows a stark drop-off in oxygen payments in 2009 when the reductions were enacted.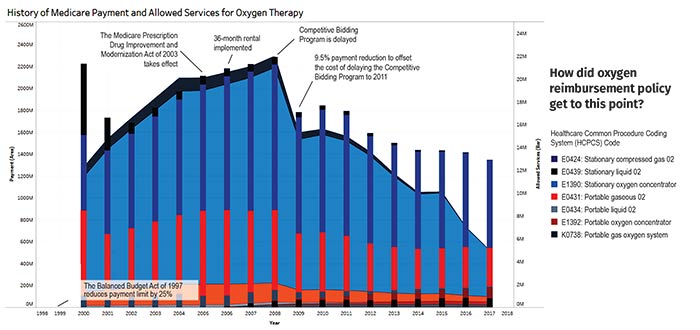 How did oxygen reimbursement policy get to this point?
The Billing Window Shrinks
In 2006, the much-disputed Deficit Reduction Act (DRA) was passed with the goal of saving $40 billion over five years through reductions in mandatory spending programs like Medicare and Medicaid. One provision set the 13-month rental cap on positive airway pressure (PAP) devices for sleep apnea treatment and instituted the 36-month rental program for oxygen, forcing patients to assume ownership of their oxygen equipment. Under the DRA:
Medicare will only cover a patient's continuous oxygen for 36 out of every 60 months.
 
During those 36 months, DME providers can bill monthly for oxygen, and supplies are bundled into that monthly payment rate.
 
Beyond those 36 months, if providers continue to fill oxygen tanks, they can keep billing for disposable supplies and the oxygen itself, but not the device that delivers it.
 
As reimbursement rates decline for certain devices, DME dealers have less incentive to offer them, hindering patient choice.
Reimbursement's Largest Hit
Round 1 of the CBP was implemented in 2008 for two weeks—until the contracts were terminated by a new law. The Medicare Improvement for Patients and Providers Act (MIPPA), the first revision to the Part D program, delayed competitive bidding's implementation until 2011 with a 9.5% reduction in all DMEPOS reimbursement nationwide. The CBP—which was designed to save Medicare money by adjusting fee-for-service payment rates for certain DMEPOS items—was scheduled to begin in 2009, but was delayed until 2011, pushing the expansion of Round 2 to 2013.
Though the most significant reductions in oxygen payment and use occurred immediately after direct payment reductions and the 36-month capped rental went into place, declines continued when CBP's Round 1 launched in nine pilot regions. The slope of the decline has continued to be dramatic through Round 2 and full CBP implementation; 2016, the most recent year for which data are available, had the lowest rate of oxygen use among Medicare patients in decades.
The "Two Americas" of Oxygen
Policies are pinching access to oxygen in general and blocking most Americans from using a portable oxygen concentrator (POC) at all.
Lightweight portable oxygen devices can enable patients to remain physically active, which is shown to lower the risks of COPD-related hospitalization and death. Though demand for POCs is growing within the fee-for-service program, reimbursement is so low, it takes the average DME three to four years to recover the cost of a POC—so many don't sell them. This results in a "have" and "have not" scenario where patients with the means to spend a few thousand dollars out of pocket have much greater access to the convenience and portability of a POC.
Washington Can Help
To maximize patient access to life-changing oxygen therapy, especially for residents of rural areas and POC users:
Lawmakers should eliminate the budget neutrality adjustment that leads to alarmingly low reimbursement rates in rural areas.
 
Lawmakers should even out Medicare payments across the oxygen category to level the playing field for portable oxygen against traditional stationary oxygen equipment, enabling patients and their doctors to decide which device works best.
 
CMS should include "respiratory readmission rates" in addition to evaluating "all-cause readmission rates" to better determine whether policies are improving or impeding patient access to oxygen.
 
A coalition of industry leaders—including the American Thoracic Society, the American Association for Respiratory Care, the National Association for Medical Direction of Respiratory Care, AAHomecare, the Council for Quality Respiratory Care and AdvaMed—is already working to draft these critical changes. The sooner changes are enacted, the sooner millions of Americans can start breathing easier.