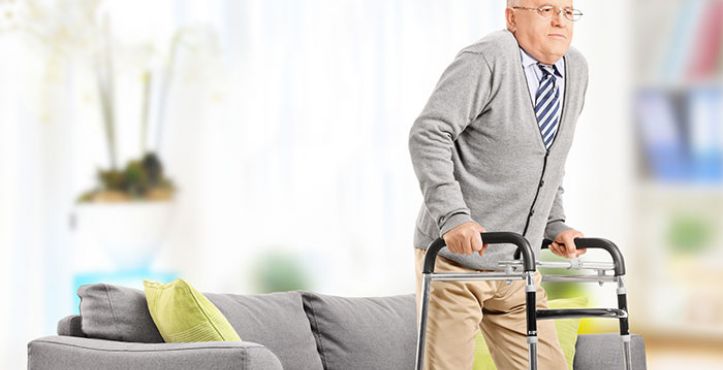 Increased awareness across the industry saves time and money
The homecare industry is dependent upon keeping patients aging in place at home. In the acute-care arena, the goal is to get patients back home as soon as possible.
The two couldn't be more synergistic, and yet they share very little when it comes to the best practices, programs and initiatives related to safe patient handling and mobility (SPHM).
Continuity of care across all care settings (acute, post-acute and homecare) is the future of health care. It is time for the homecare market to take notice of the positive results that SPHM has had in the acute-care space.
SPHM, as a movement, seeks to decrease risk associated with patient handling and movement. It has grown out of the occupational hazards and injuries associated with manually lifting, moving and repositioning patients, residents or clients.
Overexertion injury rates for hospital, nursing home and ambulance workers, who are typically most tasked with assisting and moving patients, can be up to five times the rate of overexertion injuries averaged across all industries. Currently, 11 states have enacted SPHM laws or regulations (Ohio, Texas, Washington, Rhode Island, Maryland, New Jersey, Minnesota, Illinois, New York, Missouri and California), which will help pave the way for all 50 states to make the workplace and patient care safer. The benefits that hospitals are experiencing in these safe patient handling pioneer states—reduced workers' compensation claims, higher patient satisfaction scores, and happier staff and patients—could be the same experience for home health agencies, hospices and DME companies that enact SPHM programs.
Evidence-based research, according to the National Institute for Occupational Safety and Health (NIOSH), has shown that safe patient handling interventions can significantly reduce overexertion injuries by replacing manual patient handling with safer methods guided by the principles of ergonomics. Ergonomics refers to the design of work tasks to best suit the capabilities of workers.
In the case of patient handling, ergonomics involves the use of mechanical equipment and safety procedures to lift and move patients so that health care workers can avoid manual exertions and thereby reduce their risk of injury. At the same time, patient-handling ergonomics seeks to maximize the safety and comfort of patients during handling.
A focus of efforts and energies around providing the best patient experience when it comes to safe patient handling and early mobility initiatives will ultimately result in cost savings to businesses, with the collateral benefit of better patient care. It is nearly impossible to be on the cutting edge of patient care without knowing the types of basic innovations available for moving, lifting and repositioning patients.
Using innovative equipment, such as ceiling lifts with smart technology, lateral transfer systems and convertible chairs, coupled with proper staff training and practices, changes the patient and caregiver experience. Worker safety dramatically increases, which may reduce workers' compensation claims and missed time due to on-the-job injuries. Getting patients up more often and repositioning them is better for their health and wellness. All segments of the health care market, including the home, need to make sure they are realizing the benefits of SPHM programs.
Just 30 years ago, a physician would prescribe a month's bed rest following a heart procedure. Today, if you speak to any nurse or physician on a cardiac unit in a hospital and ask them how soon they are supposed to be sitting patients up in a bedside chair, they will typically tell you within six hours of arriving at the unit. Times have truly changed, and clinicians will echo this truth: Mobility is life.
The tangible benefits of SPHM initiatives are numerous, but the most observable benefit is probably the most intangible. Safe patient handling and early mobility have a positive impact on the mental health of the patient. Remember that first day you are able to get out of bed after having the flu? The sooner a patient can get up and start therapy, the sooner they are themselves again in a mental capacity. With mental health being a critical issue today, this highly observable benefit from safe patient handling and early mobility practices should be front and center.
Some of the same innovative equipment and practices that are saving the acute-care industry millions of dollars are available to homecare. With Medicare coverage on innovative DME and easy access to safe patient handling professionals, home health, hospice, assisted living and DME providers have a cost savings opportunity.
As I have traveled across the country the past 15 years working in the acute, post-acute and homecare markets, I've seen that clinicians and business owners have a heart to help others. However, I have also seen people basically doing their own thing and not pursuing or being interested in the successes that other health care providers have had with safe patient handling programs. One hospital reported successes with new SPHM practices, but its sister facility did not consider implementing the same practices that resulted in millions of dollars in savings and better patient outcomes. In another instance, a home health agency used innovative equipment covered by Medicare, but other branches of the same agency did not.
The payback of safe patient handling programs varies. For example, the New York State Insurance Fund (NYSIF) recently awarded a 2.5 percent insurance credit to NYU Winthrop for its successful implementation of an SPHM program.
When Provena Life Connections in Illinois launched its Safe Patient/Resident Handling Program with the purchase of $2 million in lifting and repositioning equipment for its 10 long-term care facilities, it was rewarded an immediate and drastic downturn—77 percent—in staff injuries after the program's first year.
Historically, it has been the acute-care market that has led when it comes to innovative safe patient handling and mobility practices, and using equipment and technology. To see in-home safe patient handling and early mobility practices at work will help ensure more consistent, cutting-edge care to patients overall. If we can come together, the future of health care has the potential to be extraordinary.
For more information about safe patient handling and mobility programs, visit the NIOSH CDC page here or the Association of Safe Patient Handling Professionals (ASPHP) here.