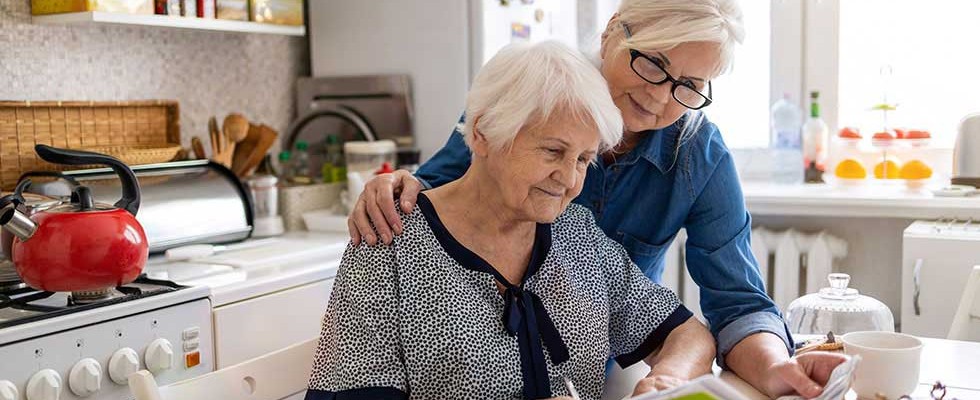 Person-centered care matters
Dementia is not a disease but a group of symptoms that interfere with thought and social function, and in later stages, it significantly affects a person's physical ability to care for themselves. Alzheimer's disease is the most common type of dementia, and the level of care needed by an individual will depend on which stage of Alzheimer's disease that a person is in.
What is important at all stages of Alzheimer's disease is that the person or those closest to them is involved in their health care decisions. Too often, well-meaning caregivers—whether loved ones or professionals—will focus on the tasks and symptoms, not the individual. Below are six care considerations and tips to better focus on a client's unique needs.
1. Home Safety
While making the home safe is important for anyone aging in place, there are some special considerations for those living with Alzheimer's disease. In the middle stage of Alzheimer's, wandering can become more common and can happen at any time of day or night. When evaluating a client for homecare, take some time to go over these ways to make home safer. To reduce the chances of a fall and subsequent injury, it is recommended that a caregiver remove any items like footstools, coffee tables and throw rugs. As the illness progresses, it can impact a person's eyesight and ability to distinguish between transitions in flooring, such as on steps. Consider adding a contrasting color to the top and bottom step to indicate a change, or using a gate that is at least waist high to prevent the individual from using the stairway. Use nightlights to light paths, especially from the bedroom to bathroom, in case they get up at night. Also, outdoor areas should be fenced in and bodies of water should be fenced off in case the person ends up outside alone. Door alarms and personal emergency response buttons can also help alert caregivers that a client has left the home.
2. Structure & Predictability
Establishing routines can help relieve the anxiety that can be experienced by disruption of the person's familiar day-to-day life. Rather than telling your client what to do, ask them about their preferences so that they are an integral part of their own activities of daily living, such as dressing, bathing, meal preparation, housekeeping tasks and social engagement, to the level they are able and desire. Arrange closets and label drawers to promote successful independence in a task such as getting dressed. Consider modifying steps to the activity as the disease progresses so that the person can still participate as much as possible.
3. Communication
When speaking with a person with dementia, make good eye contact while looking friendly and relaxed. Speak slowly, clearly and simply, but never use "baby talk" with someone just because they are experiencing the symptoms of dementia. Don't get frustrated or yell at them because they are confused. Use concrete terms and give one instruction at a time such as "Breakfast is ready. Let's go eat." Great communication, both verbal and nonverbal, will have a positive effect on the person who is living with Alzheimer's disease. They might forget your name, but if you can build trust and make them feel valued at each visit, you will have succeeded.
4. Nutrition
It's important to keep the person's likes and dislikes top of mind, while still meeting basic nutritional needs. Selecting a variety of foods that they like and can eat, especially fruits, vegetables, whole grains and lean protein along with low-fat dairy, can add to the person's overall general health.
5. Physical Exercise
Exercise can promote circulation and muscle strength for any senior adult. A diagnosis of dementia does not mean that someone should stop exercising or ignore their health. The best activities for those living with Alzheimer's and other dementias are those that get the heart pumping. These can start with simple walks in the neighborhood with a caregiver who can be there to prevent any confusion about getting back home. Activity should be modified as the disease progresses and the person's physical abilities change. Before adding any activity to your client's routine, be sure to work with their health care provider.
6. Enrich Relationships
Work to discover solutions to behavioral expressions for those who are unable to communicate unmet needs, such as needing to use the restroom or the need to take a break from an activity. This strategy includes knowing when it is time for quiet and rest, as frustration increases with sensory overload. Identify body movements that may indicate they need to use the restroom, such as pacing or pulling at their clothing. Look for signals that the person may be hungry or thirsty, such as looking through the pantry or the refrigerator or rubbing their stomach.
The 5 Rs
One additional method of communication that can be helpful is to adopt the "Five Rs" as part of your routine. Doing this will not only help you care for a client who is living with Alzheimer's disease, but also is a way to keep yourself in a healthy state of mind when things become stressful.
Remain calm.
Respond to feelings.
Reassure.
Remove yourself to regain composure.
Return fully to the situation when there is a state of calmness.