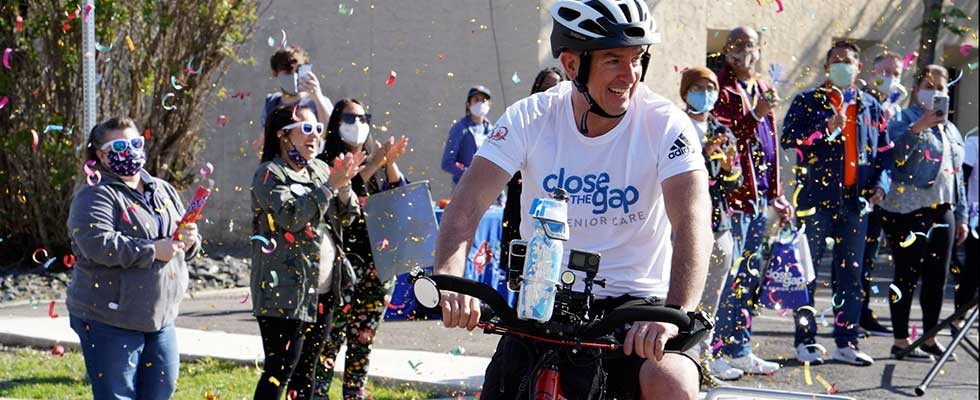 CEO bikes across country to draw attention to needs of seniors
Jeff Salter doesn't describe himself as a cyclist. But when the founder and CEO of Caring Senior Service was looking for a way to celebrate the company's 30th anniversary, he decided to hop on an e-bike and ride 9,000 miles cross-country to visit as many of the company's 43 locations as he could. Salter's journey began in McAllen, Texas on April 5 and is expected to conclude in San Antonio, Texas, on Aug. 1, 2021.
When HomeCare checked in with Salter, he was outside Peru, Indiana, on his way to Milwaukee, Wisconsin; he had travelled roughly 3,600 miles and visited 20 states. He opened up about the road so far and why he's hoping to close the gap in senior care through this campaign.
Supporting Each Other
The phrase "closing the gap" comes from a cycling term describing how cyclists close gaps in their line or formation and ride closer together—reducing wind resistance and allowing the group to bike farther, faster. Salter is speaking with local leaders around the country about the goals of the Close the Gap initiative, which are:
To inspire individuals to become caregivers and help alleviate the shortage;
To inspire technology companies to steer their attention towards the needs of seniors and helping seniors remain independent and at home for as long as possible; and
To inspire entrepreneurs to consider starting a senior care business.
The Close the Gap initiative is a multi-year project, Salter said, and another focus of the ride is to help raise funds to install grab bars in seniors' homes—the Grab the Bars Initiative.
Grab the Bars
Falls are a leading cause of injury and death in the United States, and because 80% of falls occur in the bathroom, a simple grab bar can help keep seniors (and others) safe from a slip.
"For every $250 we've raised, we're able to install two grab bars in a senior's home," Salter said.
The company has partnerships with VGM Live at Home and Evekare, a manufacturer of grab bars. Licensed installers through VGM Live at Home are performing the grab bar installs. The company had raised $15,000 of its $100,000 goal as of press time.
The Road So Far
Salter said he is experiencing much of rural America that many don't get to see. And while he couldn't choose a favorite stop along his route, he did say that crossing the Cumberland Gap on the Appalachian Trail "was just incredible."
He's making the trip on an bicycle with an electric assist system that helps add more power to the rider's pedaling. He said the e-bike itself helps represent his mission.
"The electric bike is kind of a symbol of assistance," Salter said. "It allows me to go on this trip where I wouldn't be able to normally do that. And it's kind of like what senior care companies do for seniors. They help them stay at home longer than they would be without that help. Those two things were very much in sync with the message we're trying to convey—with just a little bit help, you can do things and that you didn't think you could before."