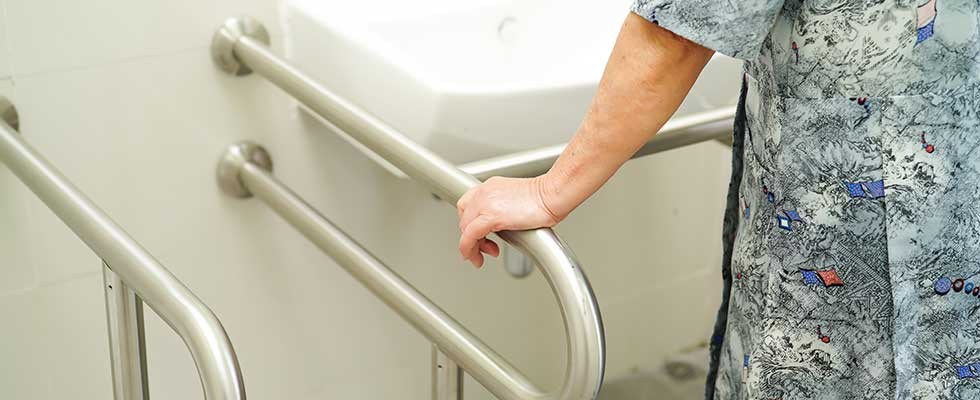 Tips for boosting customer awareness for aging in place
Approximately one-fifth of the population of the United States, including all of the baby-boom generation, will be age 65 or older by 2030. Many of these seniors are choosing to age in place at home. In these uncertain times, even seniors who usually have visiting caretakers may be home alone without help.   
Or perhaps a senior is returning home after surgery or recuperating at home from an accident or a fall. In this case, partnering with that person's doctor, nurses and hospital or rehab facility staff is vital as the family plans for care and makes necessary adaptations in the home.
In either case, home modifications can provide protection from falls and accidents—especially in the bathroom. According to the Centers for Disease Control and Prevention, the bathroom is the most dangerous room in the home.
As a home medical equipment (HME) or in-home care provider, discuss physical limitations that might require home modifications or medical equipment with the person's family. Providing ways to keep a senior on their feet will help smooth the transition. If a major home renovation is needed, your local hospital or rehab social worker may recommend hiring a contractor who specializes in aging-in-place modifications to come into the home and create a plan. Or your team may be able to perform the work, depending on what is needed. Planning ahead and preparing for a safe return home can mean the difference between hospital readmission and full recovery for a senior.
Improving Bathroom Safety
More than 81% of injuries in the bathroom are caused by falls. Age and the precise location in the bathroom also affect the risk of injury—more than half the injuries for people 85 and older happen on or near the toilet. And a person 85 or older is four times more likely to be injured in or around a bathtub than a person in their early 20s.
One of the first things to address when making the home safer for aging in place, then, is bath safety. A few things you can do to address bath safety for a senior client are:
Install grab bars by the toilet and inside the shower; grab bars are now available in attractive rust-resistant finishes such as chrome, brushed nickel and white enamel, so you can likely match or complement the bathroom's existing décor.
Install a bath seat to enable sitting rather than standing while bathing or showering.
Install a bathtub rail to assist when entering and exiting the tub.
Install a raised toilet seat or toilet safety rail to facilitate sitting and standing.
Install a slip-resistant bath mat anywhere there's a wet floor surface, especially next to the tub or shower; everything is wet and slippery after bathing.
How HME Dealers Can Help
Make sure your company carries products to meet the ever-growing bath safety product demand. Many bath safety products cost less than $100, so offering a complete selection in your showroom is a relatively small investment. Here are some tips to keep in mind:
Keep it simple: Don't overwhelm your customers with a cluttered showroom.
Avoid the red tape; most bath safety products are cash-based rather than Medicare or Medicaid reimbursed, so you won't have to wait for reimbursement.
Whenever possible, set up vignettes to display how the products would look in a home. Have an actual bathroom display in your showroom. Mount different sized grab bars on the walls with a bathtub safety rail on the bathtub wall. This, combined with a bath seat, transfer bench and slip-resistant bath mat, will allow customers to visualize how their bathrooms could look.
Educate the customer. While one of the most common bathroom safety products is a raised toilet seat, sometimes all a user requires is a set of toilet safety rails installed on their existing toilet. Unless someone shows them what toilet safety rails are and how easily they can be installed, they may never realize the benefit such a simple product can provide.
A folding commode, which is light and easy for a caregiver to transport, can
be placed anywhere in the home and would be especially practical at the bedside to prevent falls that might otherwise occur during nighttime bathroom trips.
A handheld shower head reduces reaching and bending while bathing.
Patient safety alarms can help seniors feel more comfortable and know their limitations while living at home independently.
While these are simple ideas, they all take the products "out of the box" and allow your customers to see and try multiple products in their actual setting. These ideas will also allow you to sell a much broader product portfolio. Train and incentivize your team to sell a "system," not just a single product. When a system of bathroom safety products is properly displayed, customers can clearly see these products will allow them to bathe and to move around the bathroom more safely and with confidence.
The Bigger Picture
Beyond bathroom tools and modifications, there are several things suppliers can do to help seniors age in place, whether temporarily or longer term. These minor changes can go a long way toward keeping many seniors safe in their own homes:
Organize the home so that often-used items are easier to reach. Remove clutter, rugs and electrical cords that could be a tripping hazard.
Provide a senior-friendly cellphone to keep loved ones just a phone call away, and set it up with an emergency notification service and medication alerts.
Invest in a home medical alert system, a simple yet effective method to ensure that a senior can communicate with someone 24 hours a day if they need assistance but can't get to the phone. This system is usually a pendant that can be worn at all times.
Set up a network of friends and relatives responsible for checking on the senior's welfare. Have them take turns so that every day is covered.
Set up a telehealth service to ensure a senior can reach their medical professionals quickly.
Your local baby boomer community will thank you with their business if you speak to their evolving bath safety needs in a practical, caring way. One of the most important contributors to longevity is independence; the ability to do as much for ourselves as possible as we age is key to preserving dignity and promoting self-confidence