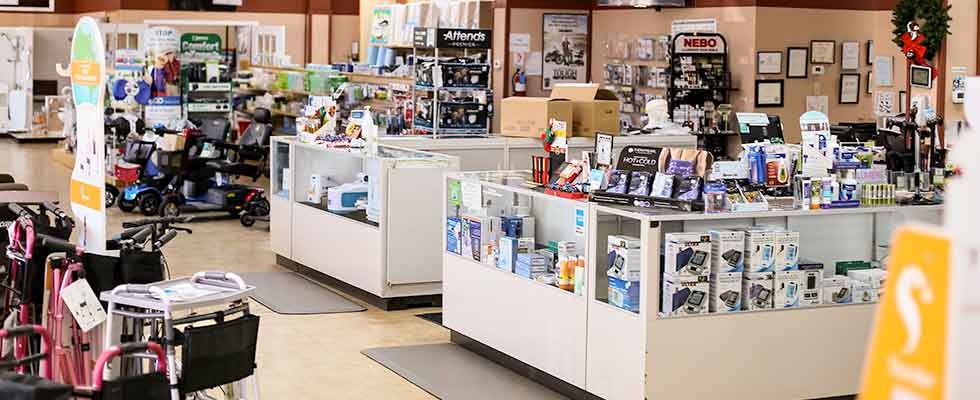 When we profiled Faisal "RJ" Poonawala late last year, the owner of Spring Branch Medical Supply in Houston said his first priority was to have his store be open and welcoming to all customers. After all, he runs a retail-focused home medical equipment (HME) business, so customer service is key.
But show up today, and you'll actually find his front door locked, thanks to a global pandemic.
The door is closed because he's limiting customers to two parties (either individuals or family members shopping together) at a time. Those waiting outside stand at floor markers to ensure proper social distancing and are required to use hand sanitizer upon entry. They're also required to wear a face mask under local laws.
The list of measures Poonawala has enacted to protect his staff and customers goes on (see sidebar). And he's not alone—across the country, HME providers have stepped bravely into a new world to continue serving their clientele during the public health emergency.
"People are still coming in," he said.
An Early Warning
Poonawala, who took over his family business and moved it to more than 95% retail and self-pay, is something of a canary in the coal mine. He started responding to the coronavirus crisis in January, when he was tipped off by a sudden rush of business from members of the local Chinese immigrant community seeking masks to wear for travel or to send back to family.
"There was a lot of hysteria, a lot of panic, so we started limiting the volume," Poonawala said. "People were literally doing stakeouts in our parking lot waiting for shipments to arrive—they would watch to see if a UPS or FedEx truck pulled out from behind the building where they make deliveries—and then they would all swarm in at one time."
Once inside, bored customers waiting their turn would sit in the lift chairs and wheelchairs and, making new items look used. So, they created new rules, shortening showroom hours to give employees extra time to organize, clean up and return phone calls, for example; limiting most visits to 15 minutes; and increasing drop shipping and courier deliveries.
Fortunately, business is still good and the number of first-time customers is up—driven largely by people hunting for masks and other personal protective equipment (PPE), cleaners and sanitizers.
"Gross revenues are still in line with what I wanted them to be or better; if I take monthly averages, everything is fine that way," Poonawala said. "The hard part is that we're selling a lot of small ticket items, and that means my staff is constantly ringing up sales rather doing any consultation where we're looking at a recliner or a wheelchair or an adjustable bed."
That's not unusual in the market, said Rob Baumhover, director of retail programs for VGM Associates, although some HME retailers have had to close their doors permanently or temporarily, he said.
"Those who have stayed open and business is good have seen an increase in sales from items like masks, gloves, hand sanitizer, pulse oximeters, and thermometers to name a few," Baumhover said.
Give Them What They Want
Spring Branch, much like most dealers, has struggled to source quality PPE.
"I personally am not purchasing PPE unless we can access name brands we already know and trust," Poonawala said
The same goes for face masks, one of the highest-demand items. He is only selling washable and reusable face masks from Restorative Care of America Inc. or Knit-Right/Therafirm, American-made products that have been approved by the Food and Drug Administration (FDA) for their core businesses. With masks—and all of his products—he first asks himself if he trusts them enough to offer them to family members before putting them on his shelves.
"I personally tested products prior to offering for sale," he said. "My test is referred to as the birthday candle test: Wear a mask, hold your hand within two inches of the front of the face mask, and blow out as if you're blowing out the candles on your birthday cake. If you can feel a lot of that air you're blowing, it's an indicator of how much air or particles you may be able to breathe in. The less air I feel, the more likely I'll offer it."
Hand sanitizers are a source of anxiety, especially given the FDA's recent crackdown on some reported to be toxic. Poonawala said it helped to register as an essential business with large retail distributors to give Spring Branch access to high-demand COVID-19-related products that consumers can't
get directly.
He has depended on regular and new suppliers for disinfectant products, keeping an eye out for products that specifically refer to killing COVID-19. However, he often finds customers aren't willing to purchase items without the brand names Clorox or Lysol, or that don't come in either wipe or aerosol form—even though that means they're rejecting products with good cleaning power.
On the upside, he has sold disinfectants and other products to a new customer base.
"I made friends with some of the local restaurant owners and they're coming to shop with us so they can be compliant; even the food industry is having a hard time sourcing some things. I got dinner the other night, too," he said.
Coming Soon
Baumhover said that kind of customer service is one strategy HME retailers can follow throughout the public health emergency and beyond.
"Make it as easy as possible for consumers to buy from you, in-store, over the phone, and digitally." Baumhover said. In fact, he added, some may prefer the new methods of shopping.
One thing Poonawala wishes he had done differently is to have mastered the point-of-sale system Spring Branch set up right before the pandemic hit in mid-March. With the chaos of the time, he says, he and the team haven't been able to capture data on all the new customers coming into the shop.
"For the last three months, the majority are customers that we have touched for the first time. We haven't been doing a good job tracking on that. We're definitely overwhelmed," he said.
To fix the issue, he wants to create a retail customer intake system for staff to use as they consult with customers. Even pre-COVID, he said, it's frustrating to have to crisscross the 5,200-square-foot showroom when a client suddenly remembers one more thing. And with limited in-person consultation time, it's critical to capture cross-marketing opportunities, he said.
"It's something to try to save our time and increase those average transactions, and also to improve convenience for the customer," he said.
Meanwhile, although he has moments where the retail life is frustrating ("Why won't people just buy soap?" he wonders), he wouldn't swap back to a reimbursement model for anything.
"If I had gone the opposite direction and tried to take on competitive bidding in 2013, I would be in a worse position," he says, dealing with things like providing PPE for delivery drivers and negative ratings from payers because ventilators or oxygen are hard to stock. "We're dealing with the shortages with the traditional providers, but we're just trying to get creative on what can serve the customer."
Listen to RJ's HomeCare Podcast episode here.
---
Some of the changes Spring Branch Medical has made:
Showroom hours are shortened each day to give staff extra time to return calls, make follow-ups and sanitize everything
Showroom hours on the website are listed as ending 30 minutes earlier than they really do to avoid last-minute customers and overtime
Staff are working regular hours
Drop-ships and courier deliveries for most items
Curbside service for phone orders
Telephone consultations with customers
Most customer interactions limited to 15 minutes or less; limit to five minutes or less if going outside to help a customer in their vehicle, especially in the Texas heat