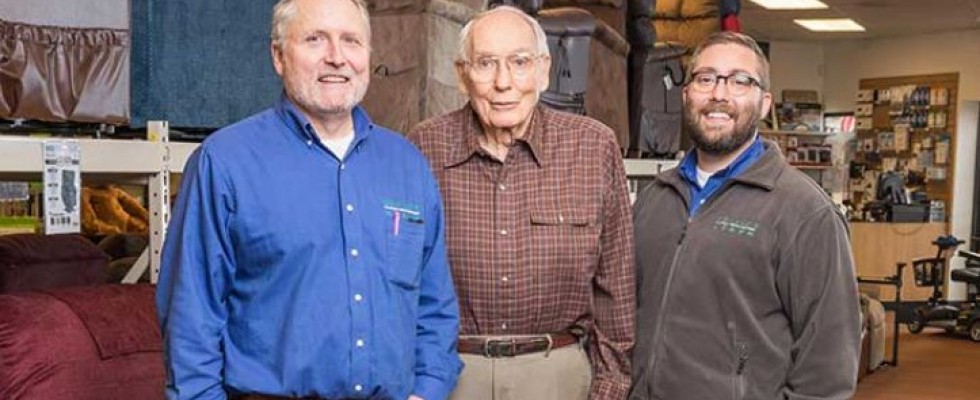 Oswald's Pharmacy on 6 Generations of Serving the Community
Alex Anderson loved growing up in his family's business, but he never thought he'd work there.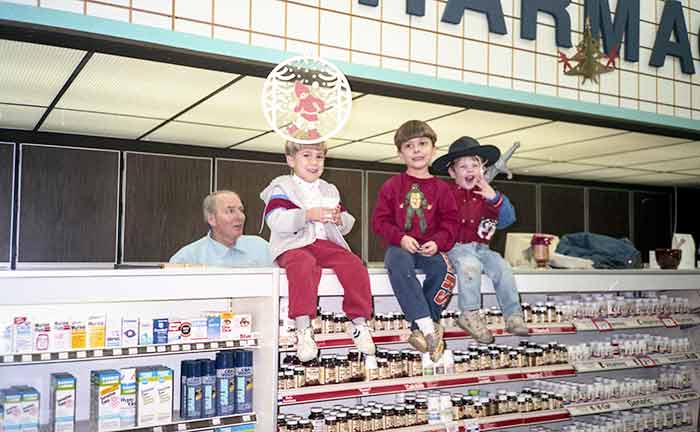 Robert Anderson and his grandchildren Alex, Wil and Max take a break in the store in 1990.
"I have such fond memories of summers spent at the pharmacy playing in the basement storage room, riding the conveyer belt that drug deliveries would come in on, 'helping' the employees work the registers and stock product," said the 32-year-old, who came to work at Oswald's Pharmacy in Naperville, Illinois as general manager in 2015. "Now that I'm back, I'm so proud to lead my family's business into the sixth generation of ownership." "What's most exciting about it, especially in the HME business, is how much room there is for creativity and innovation," he said.
Oswald's is a 144-year-old business that has been in the same family for five generations, going on six. Alex's father, Bill Anderson, is the current owner; his brother Wil and sister Allison also work in the store. Several employees have been with the company for more than 15 years and are considered part of the family. In 1883, William Wallace Wickel purchased Oswald's from the original owners, who founded it in 1875. Then it was passed down the line. Wickel's son-in-law, Louis Oswald, purchased the business in 1915, added a soda fountain and gave the pharmacy its name. Oswald's son-in-law, Harold Kester, bought the business in 1952, doubled the square footage and added a focus on cosmetics. Kester's son-in-law, Robert Anderson, took ownership in 1977. Anderson's four children purchased the business in 1991; Bill Anderson became sole proprietor in 2012.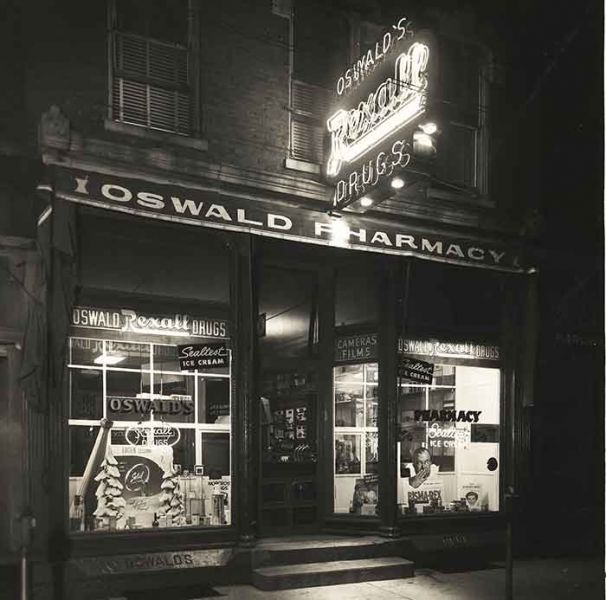 Oswald's Pharmacy in 1955, under the ownership of Harold Kester
Oswald's expanded their home medical equipment (HME) selection in 2015, including a full selection of lift chairs. The current store claims nearly 15,000 square feet; 5,000 square feet of that is the medical equipment showroom. The store also has a strong focus on gifts and toys, a line of organic and holistic products and a United States post office inside to serve residents of Naperville, a city of 145,000 that's 28 miles west of Chicago. "It's unbelievable to have a sixth generation in the drug store," said Robert Anderson, the grandfather of the youngest generation. "I'm sure Mr. Wickel, Mr. Oswald and Mr. Kester feel the same way. I don't think any of them thought it would last this long. I guess we're very lucky."
Building a Legacy
Bill Anderson started working for the family business in 1979, first moving stock from the back room while in junior high school and then making deliveries while in high school. Since then, he has seen a lot of change in Naperville and the medical equipment industry. "In the '50s and '60s, the pharmacy was the go-to provider for medical equipment in town. We rented hospital beds, commodes, wheelchairs, humidifiers and even baby scales," said Bill. Over time, the company has continued to offer HME, but the selection has changed and grown with customer preferences and insurance headaches.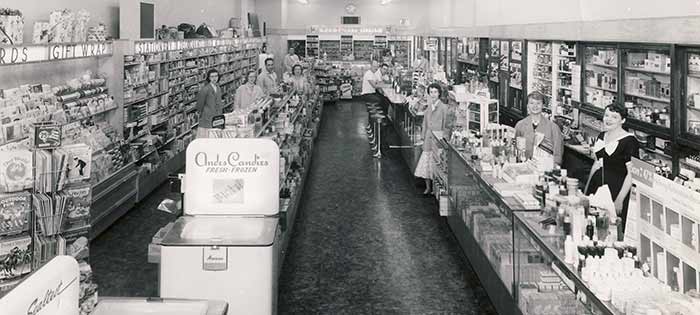 Oswald's Pharmacy in 1953. Owner Harold Kester is third from left behind the counter.
There have been growing pains, not only with relocation and inventory, but also with marketing. "The toughest thing I have come up against was how to advertise as the Yellow Pages and newspapers began to lose relevance," he said. "I ran the store the way the previous four generations had: buy stuff, advertise locally, sell stuff and repeat." Wil Anderson—who started working at Oswald's at the age of nine—has changed all that. He has a degree in English literature from Knox College, and today, he manages the store's website and social media. "When we decided to invest in online marketing and content in early 2018, my interest in the business was totally recharged. Coming to work is fun again," Wil said. "We have put together a great team in the last year, a team that is getting stronger and smarter every day." "Wil and Alex have brought the store into the 21st century," Bill added.
Customer Engagement
That includes upgrading the company's website, investing in online advertising, and creating an active social media presence. Rather than outsourcing its online presence, Oswald's hired a design team to create a new website, which Wil maintains. The site, oswaldspharmacy.com, is built on Wordpress and uses the Woocommerce platform for e-commerce; it now sells HME nationwide. This year, Oswald's is focusing on informative content through blog posts and Bill's monthly customer newsletter.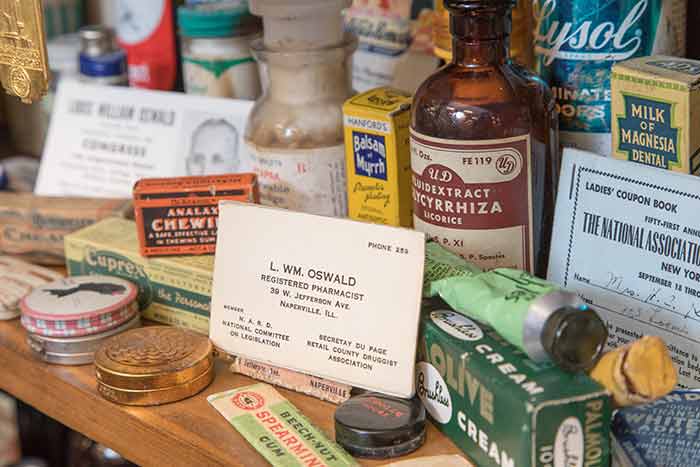 A collection of vintage items from Oswald's 144 years.
"We have a running series called #VintageOzzies featuring interesting and funny items we find around the store. It's a blessing and a curse my family has held onto so many items over the years," said Alex. Wil puts his English degree to work editing the store's marketing content that the team writes. Whether it's Bill's newsletter, his own focus on HME products, highlights from the store's gift buyer, or something about organics, he keeps the voice consistent, but true to the writer. His sister, Allison, comes in once a week to help with social media, which Wil calls "a whole 'nother can of worms." "She has a natural writing voice that people like," said Wil.
Seeking Training
While marketing and engagement are mostly handled in-house, Oswald's team has taken a different approach to training and management. Alex, who worked at Whole Foods and elsewhere before returning to Oswald's, has brought his experience in larger corporate institutions home with him. "Training is still very much in the works," said Alex. "It used to strictly be 'shadow the most experienced person and learn.' As the store has grown … training is becoming more and more important. Especially in HME." The company has weekly huddles where the team discusses new HME items, does refreshers on complex items and discusses any storewide issues with the team.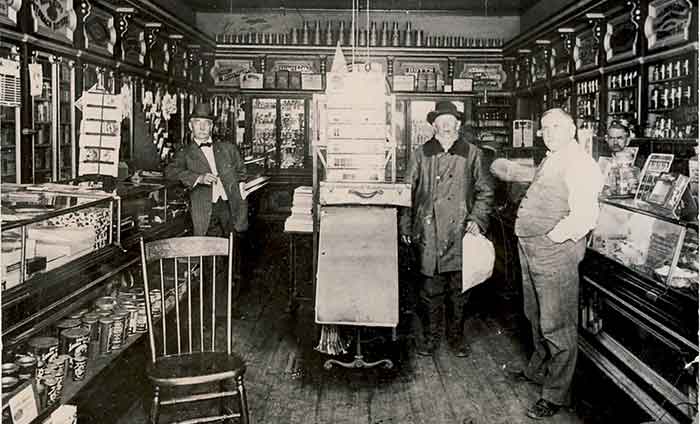 W.W. Wickel & Co. General Drugstore, 1897. William Wallace Wickel is behind the counter to the right.
Medtrade and VGM Heartland offer training for HME-related issues, Alex said, and in-person visits from company representatives—or their webinars—help keep staff in-the-know. He and the pharmacy's operations manager are working to institute a new onboarding platform to help get new team members up to speed with the company. "We know that Oswald's is a special place to work, and we want our team members to really embody that message and share it with our customers and community," Alex said. In 2018, Oswald's worked with an implementer of the Entrepreneurial Operating System—a training system designed to help leadership teams implement core business management strategies—to help focus the business. "[She helped us see] where we've been, where we are and where we want to go," Alex said. "It's been a big part of professionalizing Oswald's as we grow."
Managing Relationships
In a family-owned business, treading the water between business and family relationships can be difficult. How do you manage business needs while maintaining family ties? "Family issues will inevitably come up," Bill said. "You know your family members better than you will ever know a regular employee. We expect family to be all business at work. If issues do arise, instant and honest communication are the best solution." Alex agrees that family members add a level of complexity to business management.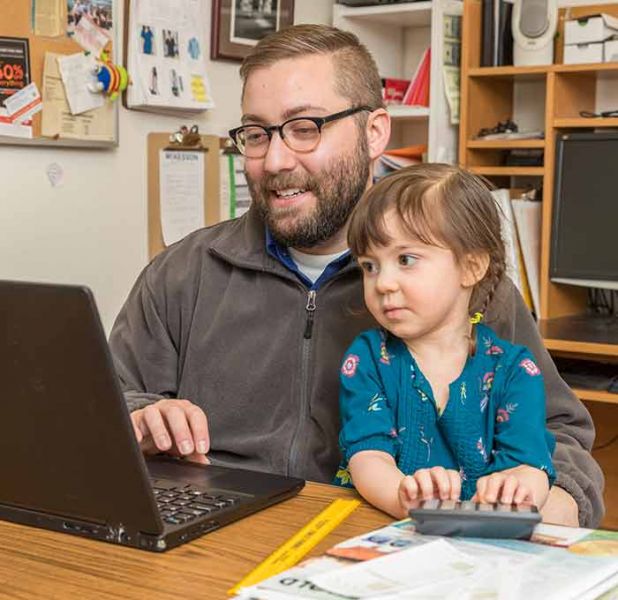 Alex Anderson with his daughter, Matilda.
"It's easier to be short or dismissive with a family member than it is an unrelated employee," he said. "Everyone's been raised in a family of one sort or another; however that looked, you can relate to the infighting, the drama—and sadly that can translate so easily to the workplace." Another role for the company's operations manager, a non-family member brought on in 2018, is to act as a neutral third party and handle day-to-day workforce challenges. Alex is also involved in a roundtable with eight other family businesses involved with the Naperville Chamber of Commerce. The group meets once a month to discuss the ups and downs of their businesses. He recommends that other business owners either find or start something similar. "It helps remind you when you're struggling with some family business issues, that other people are going through the same issues and have some great solutions," he said.
Keeping Up with Oswald's
Oswald's has grown to more than 35 employees, and many of those employees are millennials. Recruiting this age group can be difficult, but Alex said Oswald's strategy is to give employees freedom to grow. "That's one of the most exciting things about small business: Everyone has a seat at the table," he said. "It's about valuing your new team members' input and opinions. More often than not, they'll surprise you with some good ideas. And the more freedom you give them to grow, the more room they'll have to help you innovate."
Handing things over to the next generation can be difficult, but as Bill says, "You can't run a business forever." The company is in talks with an accountant and financial advisor to ease the transition, and Bill is sanguine about his time running Oswald's. "Most of my mistakes have been extremely valuable teaching lessons," he said. "It's hard to say if you did something differently if you would still be where you are today." And while innovation and change are key, some things never change—even over 144 years and six generations. For Robert, the family patriarch, serving customers is a constant. "I think that the service you give them, just being a good, honest, businessman and respecting the wishes of your customers is the most important thing," he said. "We need small business—that's the backbone really, I don't think the corporations care about their customers or people like a small business."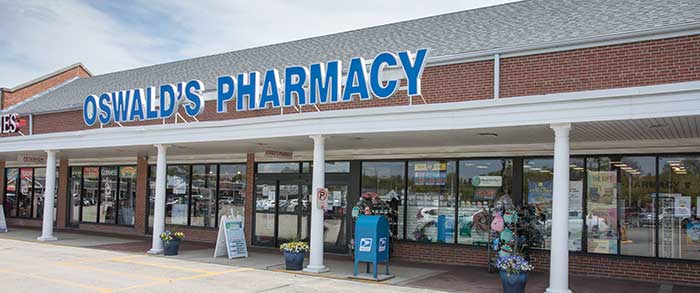 Oswald's Pharmacy Today
---
Giving Back
Oswald's has always taken an active role in the community. Harold Kester, Robert Anderson and Bill Anderson were all presidents of the Naperville Rotary Club. Alex Anderson is a member of the Jaycees and Little Friends Auxiliary Board. Through the Community Partners program, Oswald's raises donations for local nonprofit partners. In 2018, Alex decided to develop a yearlong relationship with Naperville's Loaves & Fishes Community Services food bank to help team members and customers learn more about the cause. Donations totaled nearly $2,000, and, through partnerships with Procter & Gamble and McKesson, the pharmacy was also able to provide 384 tubes of toothpaste, 340 body washes, 336 women's deodorant sticks and 336 men's deodorant sticks to families in need. This year, Oswald's partner is Little Friends, Inc., a multi-faceted human services agency operating three schools, vocational training programs and community-based residential opportunities, and the Little Friends Center for Autism, a valued resource for diagnosis, comprehensive evaluations, therapies, and trainings for parents and professionals.