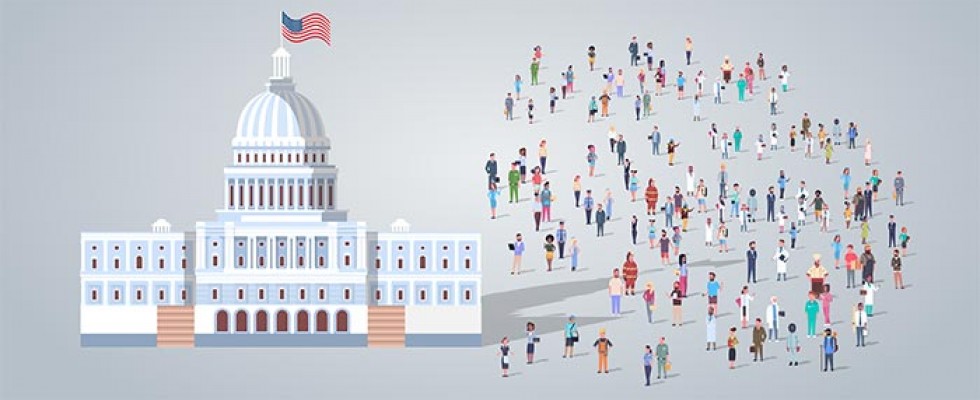 How you can speak up for homecare & hospice
Each time a man stands up for an ideal, or acts to improve the lot of others, or strikes out against injustice, he sends forth a tiny ripple of hope. — Robert F. Kennedy
One of the most important constitutional rights is the ability as individuals to petition and participate in the government. It is a fundamental way people influence perception, policy and regulations at the local, state and national levels and it is a cornerstone of democracy. Change is achieved through unity in message and voice, and those who can harness both in a coordinated way can make an extraordinary impact. Advocacy matters. It is an opportunity to share common beliefs, to express passions and what is most important with elected representatives.
Think of a small drop of water as one individual voice. One drop may only make a small ripple in the vastness of the ocean. The more drops, the greater the effect. When there are millions of drops, the ripple becomes a tidal wave. A handful of voices may not mean much, but many unified voices are powerful.
A Single Voice
Unifying voices in the home health care and hospice community is by no means an easy task. But the humble and unsung heroes of this world need the support and influence to ensure access to the highest quality care at home for every American who needs it.
Home-based health care and services are not regarded as sexy or interesting in today's culture. Celebrities do not speak out for home health and hospice the way they do for other health-related causes. Television shows and movies glorify the work of doctors and nurses in hospitals and emergency rooms, not the people who keep patients out of hospitals and emergency rooms.
Yet research shows time and again that home-based care is preferred by the vast majority of patients and families. Health care in the home improves peace of mind and quality of life—and it's more affordable.
As the nation's aging population continues to grow, and as more Americans require care and services to assist them in their daily lives and manage chronic health conditions, home-based care must come to center stage. Those familiar with its value already support the cause, but a large segment of the nation is unacquainted with health care in the home or harbors misconceptions about its legitimacy and safety. Bringing home health care and hospice to the forefront of the conversation will require those who work in it to get on their proverbial soap box. Grassroots advocacy is a natural way to communicate the value and importance of home health and hospice services. The challenge, of course, is engaging millions of voices to move in the same direction and in concert with one another when fragmentation has been the norm.
The Future of Grassroots
The National Association for Home Care & Hospice (NAHC) seeks not only to unify and magnify the voice of caregivers, clinicians, providers, associations, patients and families, but also to grow an educated and passionate network of advocates, coordinating their efforts and harnessing their power to create an army of influencers that legislators and regulators cannot ignore. Most importantly, the association aims to remove boundaries and create easy avenues for participation and engagement so advocates feel empowered in their roles.
Advocacy is often characterized as scary, time-consuming or something that someone with more experience should do. The reality? Advocacy is easy and something everyone can feel good about participating in, especially when it is for something as noncontroversial and beneficial as home health care and hospice. It can take the form of storytelling, letter writing, in-person visits to elected officials and regulators, or even something as simple as a exercising the right to vote. Social media has made the process easier, giving advocates the ability to reach out with the click of a button or by sending a tweet or sharing a Facebook post.
Creating an army of advocates is no small undertaking. But NAHC believes it is vital for the community to continue to influence positive change on the regulatory and legislative fronts, protecting access to quality homecare and hospice services.
NAHC plans to unveil a comprehensive grassroots advocacy engagement program later in 2019 to help advocates become well-informed and comfortable no matter what form their efforts take. The program will include education on the legislative process along with tools and resources designed to help advocates share their stories, engage with their legislators, and, of course, encourage others to do the same.
Advocacy is all about the little things. Each small contribution is a step towards strengthening impact. Millions of people across the nation rely on the services provided by homecare and hospice agencies to allow them to live independently and have a better quality of life. Through coordinated grassroots advocacy efforts, that positive contribution and impact can be communicated more broadly and serve as a catalyst for this important part of the health care segment to take center stage and get the support and attention it needs to meet the growing demand.