State Leaders Council Chair win award for impacting industry
Through his role as chair of the AAHomecare State Leaders Council, Doug Coleman saw a need to have more HME providers actively engaged in lobbying. He envisioned establishing volunteer HME advocates to cover all 535 federal legislative offices to drive the issues forward.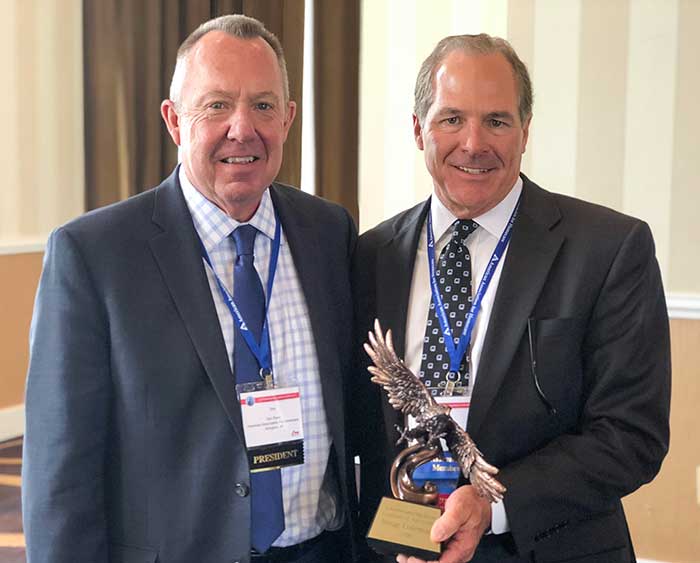 AAHomecare's Tom Ryan, left, presented Doug Coleman of Colorado-based Major Medical with the Mal Mixon Legislative Advocate Award during the Washington Legislative Conference in May. (Photo courtesy of AAHomecare)
With support from AAHomecare, the Grassroots Accountability Project was formed and is now considered to be an instrumental tool in the push to have the interim final rule (IFR) released and to develop advocacy for the Protecting HOME Access Act of 2017 (HR 4229). For this work and more, Coleman was honored with the Mal Mixon Legislative Advocate Award during AAHomecare's Washington Legislative Conference in late May.
"We need to spend time talking to people who affect our pricing," Coleman said. "If we had even a 1 percent increase in our pricing, it would make a huge impact, but of course we need to see better than that."
Coleman has owned and operated Colorado-based Major Medical since 2000—a follow-up to the company's founding in 1983 by Coleman's father-in-law and the company's acquisition by Apria later. When the opportunity to get back into the business came in 2000, Coleman felt the calling.
"Our slogan is, 'We love helping people.' We get to help kids that go home to be with their families, that's awesome. Sleep therapy is life-changing for someone who has sleep apnea; we assist them to achieve a renewed life because they now sleep better…for senior customers, we assist them trying to stay independent in their homes as long as possible—these are pretty impactful things and why I'm in this business."
Major Medical operates eight locations in Colorado, a portion of which consists of a joint venture with a hospital system. The company has about 180 employees combined and provides adult and pediatric equipment and services (about 30 percent), a move the company made about eight years ago to address the area's needs, Coleman said.
In addition to his work with Major Medical, Coleman helps educate and mobilize HME providers. He led the Colorado Association for Medical Equipment Services' (CAMES) efforts to work with the state legislature to pass a licensure law in 2014. That law required a physical location in order to provide home medical equipment and allowed for any provider within 100 miles of the Colorado border to be eligible for licensure. Coleman also organized efforts with CAMES to help police licensure enforcement, notifying companies in violation of the licensure law and engaging Colorado agencies as appropriate for those who did not voluntarily rescind when in violation.
"Doug is one of those individuals that makes you proud to be a part of the HME industry," said Kam Yuricich, executive director of the Ohio Association for Medical Equipment Services. "His energy and passion are infectious. As past State Leaders Council chair, I know the immense amount of work that goes into that role, and he does it all while balancing the duties as an HME provider—no small feat with the tremendous business pressures that exist today."
Coleman has spearheaded efforts to evaluate contracted competitive bid companies, working with the CMS competitive bidding implementation contractor (CBIC) program and the competitive acquisition ombudsman when violations have been found. He has also worked with Colorado's Medicaid Department and Joint Budget Committee on implementing HME-related provisions of the 21st Century Cures Act.
"Doug leads with creative solutions and a drive for change," said AAHomecare President and CEO Tom Ryan.