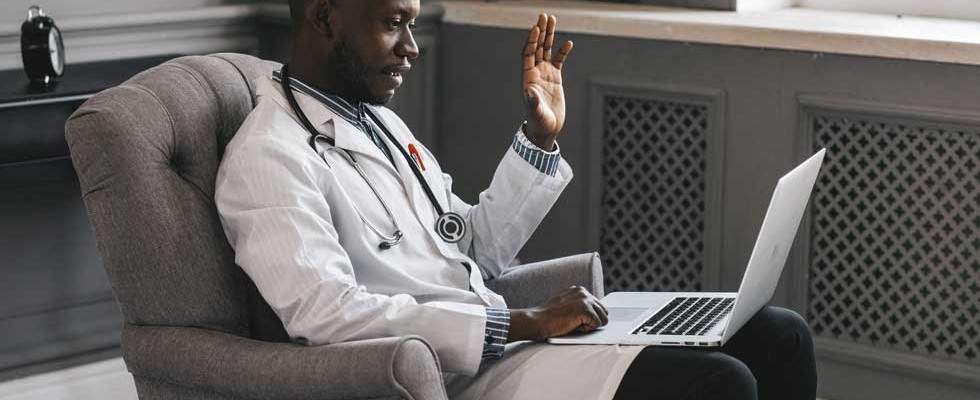 Numbers indicate more care will move to the home
Thursday, January 7, 2021
The COVID-19 pandemic abruptly shifted our ideas about what is possible at home. Many people continue to work from home, others switched to virtual school, and the video chats with friends and family that became common last March remain a regular part of life.
The way we think about the delivery of health care has changed, too. In 2020, people took a fresh look at the home as the most appropriate setting for health care. But even before the pandemic, the care delivery pendulum was swinging toward more health care at home.
The pandemic accelerated interest in care options outside facilities, and when other factors are considered, including the ongoing shift toward more value-based care arrangements, increasing consumer demand for convenience and technology innovation, it is no surprise health care is moving home.
What 2020 Taught Us
The past year demonstrated to many more people, including physicians, that delivering high-quality health care beyond the four walls of a clinic, hospital or skilled nursing facility is not just possible, but in many cases actually safer and more convenient for providers and consumers.
The unfortunate realities of the pandemic required many to reexamine whether facility-based care is always the best option. COVID-19 exposed the struggle for resources and bed space many hospitals face, and there was a rapid spread of the virus in far too many nursing homes. It became evident that space in these facilities must be reserved for those in immediate need who require intensive care, such as patients with severe cases of COVID-19.
Meanwhile, other health care needs can be met outside hospitals and skilled nursing facilities. Overall, people do like their doctors, and these relationships are vital to build trust. But as we saw more than ever in 2020, a visit with a physician does not always need to involve traveling to an office and sitting in a waiting room with others who may be sick.
For example, in 2020, the use of telehealth services increased exponentially. In February 2020, just 0.1% of Medicare primary care visits were conducted via telehealth. By April 2020, 43% of these visits were completed virtually, according to a report from the U.S. Department of Health and Human Services.
A Popular Option
Not only was telehealth used more in 2020, satisfaction with these virtual visits was high. CareCentrix set out to quantify the growing demand for more health care services outside of traditional, facility-based settings. A recent report examining the attitudes of consumers and payers provides a guide for what we can expect in the future. Of the 46% who reported that they had a telehealth visit in the past year, the vast majority of this group—82%—said they would use telehealth again. In another promising component, two out of three people who had never used telehealth said they were interested in this virtual option for a future health care need.
Those of us who work in this industry are quick to point out that, while telehealth was not widely used before the pandemic, we cannot ignore the fact that other services were already being regularly provided in the home before 2020. Think about the home sleep services, home infusion and home medical equipment services that have long supported patients in their post-acute care journey. Health care at home is about more than just telehealth.
Health care at home is also about more than simply staying away from public places during the pandemic. At a rate of 73%, consumers say they would prefer to recover at home versus at a medical facility following a major medical event. A similar number of people—69%—are interested in regular, at-home check-ins with doctors.
The reasons for this interest vary, but avoiding COVID-19 is not at the top of the list. Instead, "comfort" is the reason 62% of people say they want to receive health care at home, the most common response among consumers. Another 48% note convenience as a primary reason they want more at-home services. This desire among consumers for comfortable and convenient health care options will remain in place and drive demand for care at home long after the pandemic is in the rearview mirror.
What We Should Expect in 2021
Unfortunately, as 2021 begins, the challenges of the pandemic remain. However, we are reaching a tipping point in health care delivery, and people are ready to open their doors to health care at home. Consumers are demanding more at-home options, and payers understand the need to address this interest among their members. Providers are also more comfortable with nontraditional care delivery methods and consultations using telehealth and remote monitoring capabilities. In its 2020 "State of Telemedicine Report," the medical network Doximity found that the number of physicians reporting "telemedicine" as a skill increased by 38% between 2019 and 2020.
The exponential growth of telehealth use—buoyed by the removal of restrictive and inconsistent regulatory barriers—is just one example of this tipping point. Policymakers must seize this moment and provide a permanent regulatory structure that supports more health care at home and gives providers fair reimbursement, regardless of the setting of care.
Value-based Care, MA on the Rise
In 2020, the industry-wide push toward more value-based care arrangements continued, and we should expect more growth 2021. Seniors increasingly favor Medicare Advantage for the value of supplemental benefits that health plans can offer through the program, and commercial plans recognize the need to increase the availability of at-home health care options to adapt to new value-based care models. Among payers, 49% have already increased the availability of health care at home options for members, and another 36% are in the process of increasing these options.
This shift is not surprising. Payers benefit when their members are able to receive care in their preferred setting. These payers also have a financial interest in reducing emergency room visits and hospital readmissions, and the majority of executives at these health plans say they are looking for partners that provide a smooth transition from the hospital to home.
We need to also keep our eyes on technology improvements in the coming year. Telehealth and remote monitoring capabilities will continue to develop in 2021, and many payers are encouraged about this innovation. In fact, recent developments have already prompted 91% of payers to move more care to the home. Device manufacturers should recognize this trend toward more health care at home and make sure remote monitoring capabilities are integrated as a central component within all future products.
Whether it is for our own health care needs or for the care of a loved one, we deserve options that check the boxes of comfort, convenience and safety. Payers, providers and policymakers are stepping up to meet growing consumer demand, and in 2021, as more people realize what is possible outside traditional facilities, we should expect more health care to be delivered at home.