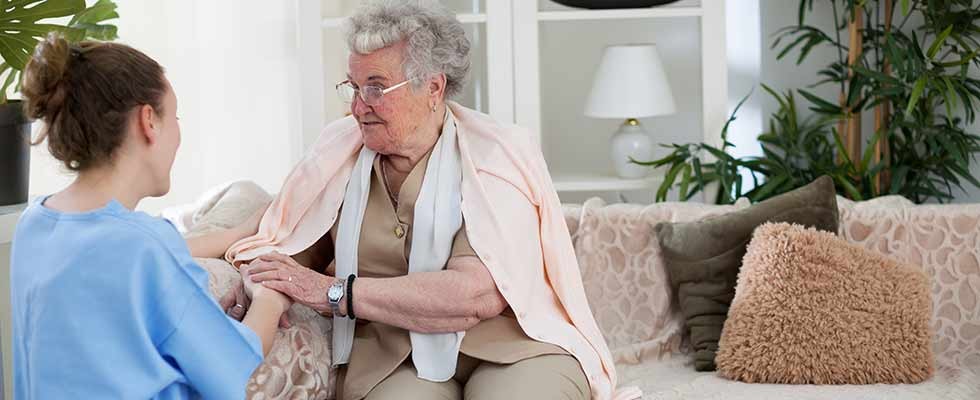 Priorities for homecare & hospice advocacy in the year ahead
With the 2020 elections behind us and the seating of the new Congress and the inauguration of the 46th president fast approaching, our nation's capital is gearing up for what is increasingly looking like an active 2021. Traditionally, a new administration views the first 100 days of taking office as the time to achieve top priorities. The National Association for Home Care & Hospice (NAHC) expects the Biden administration and the new Congress to continue that tradition and has developed a full agenda of priorities that will enable homecare and hospice providers to meet today's demands, while simultaneously positioning for future success and growth.
The 117th Congress will likely be more sharply divided—in ideology and partisan composition—than any in recent memory. In the House of Representatives, Democrats will maintain their majority from the 116th Congress, though it will be a narrower margin, with Republicans gaining 10 seats. With two races still uncalled as of press time (New York's 22nd district and Iowa's second), Democrats hold a 222-211 majority.
In the Senate, the margin is even closer. Democrats gained a net of one seat, narrowing the Republican majority to 50-48. Two seats remain undecided at this point, both in Georgia. Georgia state law requires a candidate to receive at least 50% of the vote to be declared the winner. In the event that threshold is not met, a runoff race is held between the top two vote recipients. That scenario happened with both Georgia seats this cycle, one a regular election and the other a special election to fulfill the remaining two years of retired Sen. Johnny Isakson's term. Should just one of the Republican candidates win their election, Republicans will maintain their majority. If both seats are won by the Democratic candidates, the chamber will be a 50-50 Democratic majority, with Vice President-elect Kamala Harris providing the tie-breaking vote when necessary.
NAHC was happy to see many longtime homecare and hospice champions win their races and return for another term in both the Senate and House. Key among these in the Senate is Susan Collins of Maine, who was engaged in a tight race but was ultimately re-elected with a sizable margin. Other longtime champions winning reelection include Sens. Bill Cassidy of Louisiana and Shelly Moore Captio of West Virginia. Rep. Roger Marshall of Kansas—a newer friend to homecare through his leadership on the HEAT Act—will become a member of the Senate following two terms in the House.
On the House side, many of NAHC's biggest supporters will return for the 117th Congress, including Reps. Terri Sewell, Jodey Arrington, Mike Thompson, Vern Buchanan, Jimmy Panetta, Tom Reed and Ron Kind.
With limited retirements and election losses of members on the committees of jurisdiction that oversee issue areas of importance to NAHC—that is, Senate Finance, House Ways and Means, House Energy and Commerce—we do not anticipate much turnover of these committees' composition. One notable exception is Sen. Chuck Grassley, currently chairman of the Senate Finance Committee. Grassley has exhausted his term limitation atop the committee and will be relinquishing the gavel. Sen. Mike Crapo is expected to assume leadership of the committee; Sen. Ron Wyden will remain the Democratic lead. Rep. Richard Neal will chair the House Ways and Means Committee, joined by Rep. Kevin McCarthy as the ranking member. The House Energy and Commerce Committee will be chaired by Rep. Frank Pallone. Rep. Cathy McMorris Rodgers will serve as the newly elected Republican ranking member, replacing retiring Rep. Greg Walden.
Advocacy Priorities—Home Health
As always, NAHC will be a regular presence in the halls of Capitol Hill, advocating on all things homecare and hospice. Here are three home health priorities:
The HEAT Act
NAHC has long held that telehealth and corresponding reimbursement should be integrated into the Medicare home health benefit. In October, that belief took a big step toward realization with the introduction of the Home Health Emergency Access to Telehealth (HEAT) Act. If enacted, the HEAT Act would grant the Centers for Medicare & Medicaid Services (CMS) the authority to issue waivers allowing for the reimbursement of telehealth services under the home health benefit. CMS would determine which services could be conducted via telehealth, as well as what the equivalency would be between an in-person visit and a telehealth visit for payment purposes.
The Choose Home proposal
While not necessarily a new concept, the idea has been refreshed and tailored to meet the challenges presented by the COVID-19 pandemic. In essence, Choose Home would provide expanded services and supports as part of the home health benefit for a patient population that is otherwise eligible for the skilled nursing benefit upon hospital discharge, but could be served by home health with added services and supports in the home. These could include: personal care services, meal delivery and non-emergency transportation, among many others. An assessment tool would be used by hospital discharge planners and home health representation to identify eligibility and appropriateness.
Expansion of the rural add-on
Starting in January, home health delivered in rural areas will see a percentage decrease in the rural add-on. Services provided in a frontier county (defined as a maximum of six individuals per square mile) will receive a 2% add-on, while all other rural areas will receive a 1% add-on. This decrease is part of Congress's targeted phase-out policy for the rural add-on as included in the Bipartisan Budget Act of 2018. NAHC has and will continue to advocate for a 3% add-on for all rural services.
Advocacy Priorities—Hospice
NAHC expects the most legislative action around the following hospice-related items:
Hospice survey legislation
Following the release of two Office of the Inspector General reports in July 2019, NAHC worked with Senate and House members on legislation that would strengthen and standardize the hospice survey process with the goal of increasing transparency and accountability for all involved parties, as well as remediation tools CMS can employ for deficient providers when needed. Momentum behind this work stalled with the onset of the pandemic in March, but has picked up again in recent weeks as the Congress returns its attention to non-coronavirus related matters.
MedPAC recommendations
In recent months the Medicare Payment Advisory Commission (MedPAC) has begun to focus on what it believes to be high financial profit margins, as well as long lengths of stay and live discharge rates. To counter these trends, the commission has begun exploration into recommendations that would address these and other issues through a site-neutral payment model and questionable outlier utilization patterns among some hospices with the development of compliance thresholds. Differences on these topics proved strong at a recent MedPAC meeting, suggesting agreement on policy recommendations to Congress would not develop seamlessly. If and when formal policy recommendations are approved by MedPAC, Congress would still need to act on it for it to be realized as law.
Technology-based flexibilities
In the early days of the COVID-19 pandemic, CMS took action to provide waiver-based temporary regulatory relief that provided health care professionals with time and resources to optimize their care delivery, allowed them spend more time with their patients and less on paperwork, and provided caregivers with additional tools for care delivery. Those relaxations proved effective and were well-received by patients and caregivers alike. In the months since, momentum has developed behind transitioning select regulatory flexibilities to permanent fixtures of the Medicare program. One such policy is the use of telehealth in performing the face-to-face recertification for hospice eligibility. This has long been a NAHC position. Application of the concept during the pandemic has demonstrated effectiveness and has been well received by hospice patients.
The past few years have proven to be disruptive to the homecare and hospice community as providers have seen payment reforms to both Medicare home health and hospice payment models, significant challenges brought on by the COVID-19 pandemic, updates in quality reporting, new modernizations granted, and further developments on future payment reforms. NAHC does not anticipate a slowing in the rate of these changes and stands ready to meet these challenges head on.