Key considerations for lift and transfer devices
INVACARE CORPORATION
Mark Palumbo
Corporate Accounts Manager
invacare.com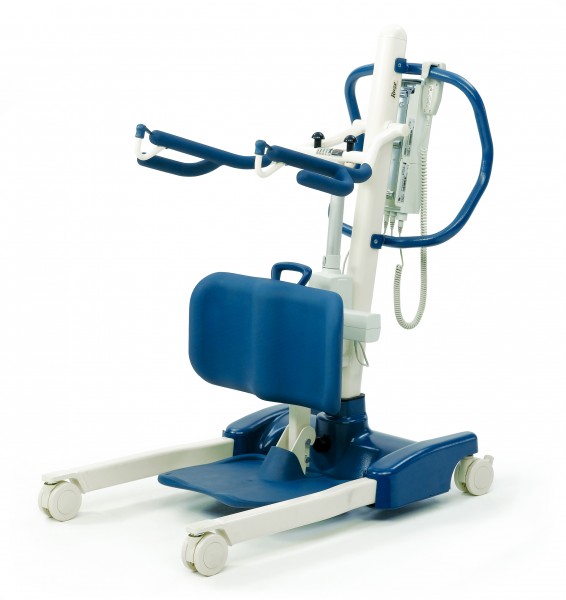 Roze Stand-up Lift
What is Invacare's specialty?
PALUMBO: Invacare Corporation, headquartered in Elyria, Ohio, manufactures and distributes innovative home and long-term care medical products that promote recovery and active lifestyles.
What strategic shifts in thinking and business management have occurred?
PALUMBO: The interaction between the supplier and the end user. These nuances can mean the difference between a successful business and a struggling one. In years past, this was not a focus for most because it was not nearly as competitive, and the efficiencies did not need as much attention.
Why should lift and transfer devices be attractive to HME providers?
PALUMBO: Lifts and transfer devices open the gateway for other comorbidities. Patients that have a need for these products may also need therapeutic support surfaces, wheelchairs, cushions, homecare beds, bathroom safety products and so on. The more service you can give to a consumer, the more valuable you are to them and the more value they bring to your business.
SAMSON STRAP
Jeff Oja
Owner and Inventor
samsonstrap.com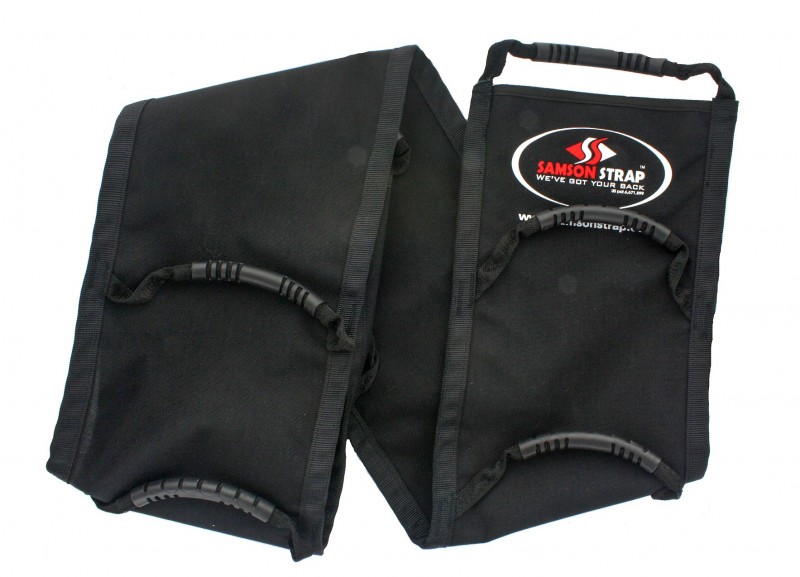 Samson Strap
What is your specialty? What situations are best served by your products?
OJA: I was a 25-year career firefighter/paramedic in Salt Lake County, Utah. Twelve years ago, I had a mishap trying to get an obese patient off the ground and dislocated their shoulder. When I searched for a better transfer device, I couldn't find anything, so I invented the Samson Strap. The product helps patients that need lifting or moving in any way. It provides the caregiver a better ergonomic position for patient lifting. The Samson Strap was created to put a handle on a patient and provide safer lifting options. This product falls into the lift assist device category. Assist devices are more versatile, and can fit into small spaces.
What strategic shifts in thinking and business management have occurred that have helped grow the business?
OJA: Workers' comp claims have skyrocketed from injuries during patient lifting. Management in nursing homes, home health agencies, ERs, fire department, EMTs, etc. are looking for ways to alleviate that problem.
What are the key considerations patients/caregivers should know about lift and transfer devices?
OJA: First, caregivers should know their own limitations for helping a loved one. It drives the purchase of these products, because when limitations are pushed, that's when injuries to yourself or the patient occur. Understand the difference between a lift assist device and a complete patient lift…education in proper lifting mechanics and the use of lifting devices.
BEASYTRANS SYSTEMS, INC.
Linda Pavek
General Manager
beasyboards.com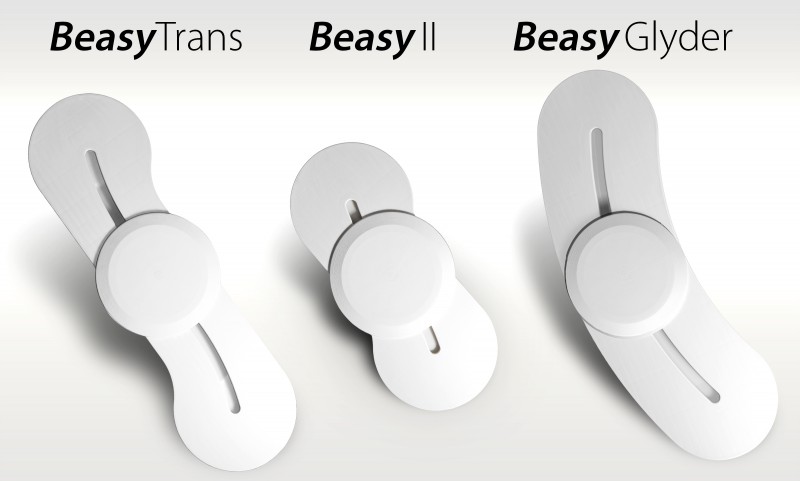 Beasy Boards
What is your specialty? Who is best served by your products?
PAVEK: BeasyTrans Systems manufactures the Beasy Board patient transfer system, a transfer board with a sliding seat that helps to "glide" the patient from surface to surface, such as a wheelchair to a bed, wheelchair to automobile, etc. Patients that thrive on the product are those that have some upper body strength and can actually transfer themselves and do unassisted transfers. The product also works well for all limited mobility patients. Transfers normally requiring two caregivers can be done with one caregiver.
What forces affect this product category?
PAVEK: Back injuries are a major factor when transferring patients, and the product has a reputation for eliminating the strain on the caregiver during the transfer process. We are not able to get a code for the Beasy Board so we have to use a miscellaneous transfer code, which only allows partial reimbursement. I always remain hopeful that this will change in the upcoming years.
What tools do you provide to help educate dealers and potential product users?
PAVEK: We send HME providers one of each of our three models that they can use for demonstration or in a showroom. We have just filmed new training videos that feature vehicle transfers. We will be filming training videos that cover all of the various transfer situations that arise on a daily basis. We also filmed a cleaning and maintenance video.
LAVIN LIFT STRAPS
Donna Gilkey Lavin
Sales and Marketing
lavinlift.com
Lavin Lift Straps
What is your specialty? What situations are best served by your products?
LAVIN: The Lavin Lift Strap product line is a unique and patented set of products and processes which:
Allows one caregiver to safely change and clean incontinent, bedridden patients.
Allows one caregiver the ability to suspend limbs of patients so procedures can be performed rather than have multiple caregivers hold up the limbs while tending to wounds, inserting catheters, surgical prep and/or performing physical therapy/range of motion exercises while seated or prone.
What strategic shifts in thinking and business management have occurred that have helped grow the business?
LAVIN: We realized that caregivers, both institutional and home, are themselves part of an aging population with health issues of their own. Many suffer from years of repetitive stress injuries from lifting and turning of patients. The U.S. Department of Labor, Bureau of Statistics lists nurses, nursing aides, orderlies and attendants in the top 10 occupations for ergonomic injuries.
Home caregivers were the most vocal and growing market segment as institutional caregivers still relied on additional staffing for help. We responded to that need and it is our most successful market segment.
How has the market for these products changed during the last three years?
LAVIN: The demand for specialty products is increasing and is often paid for out of pocket, again due to lack of insurance coverage. In institutions, lift and stress injuries to staff and the related costs, have forced facilities to seek products that allow staff to perform the necessary procedures while keeping them healthy. Also institutions will no longer receive compensation for pressure injuries incurred under their care.
What trends have you identified for lift and transfer devices?
LAVIN: Throughout the health care continuum, the trend has been a "no-lift" goal or policy wherever possible. This means not using a human being to lift limbs, bodies, etc., but utilize patient lifts and assorted accessories.
What are the key considerations caregivers should know?
LAVIN: They should know the particular procedure required for the patient. Accessories are key. For example: Do you want to transport a patient, or suspend portions of their body? The patient lift can perform the necessary procedure, provided that they have the correct accessory (sling, strap).