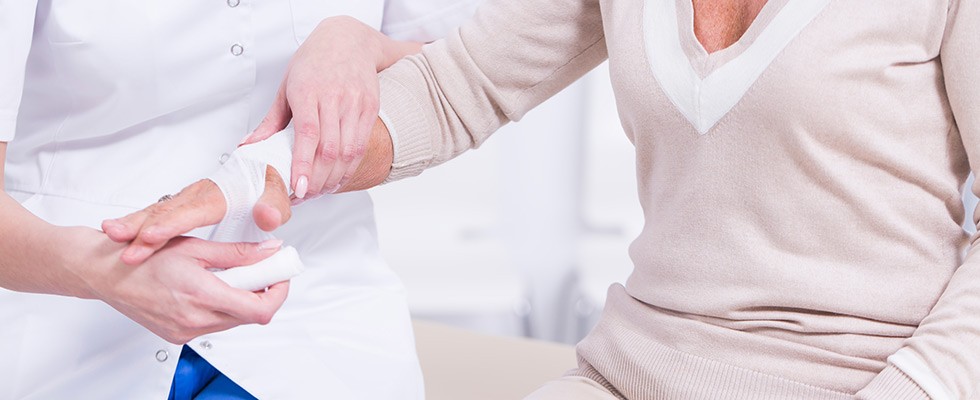 Evidence-based training & technology are key
With the increasingly aging U.S. population and the rise in at-home post-operative recovery, one out of three of the home health population has a wound. At the same time, discussions in the health care industry around value-based care and the Patient-Driven Groupings Models (PDGM) continue to set reimbursements that make home health the preferred treatment modality for chronic and other wounds.
So, how do home health agencies ensure their wound care programs not only maintain clinical excellence but also leverage the opportunity at hand to benefit from favorable reimbursement rates?
1. Start with accurate assessing, measuring & documenting.
Accurate and consistent wound etiology identification and wound measurement is essential to providing the objective and quantitative data that determine the progress or deterioration related to a wound treatment plan.
Wound treatment plans for a patient in the home setting, as in all settings, should be individualized and begin with an assessment of the wound and documentation of:
Type: pressure injury, venous ulcer, diabetic foot ulcer, etc.
Location: using proper medical terminology and positional descriptors
Size: length, width, depth, undermining, tunneling
Tissue type: slough, eschar, granulation, viable, nonviable, epithelial, etc.
Exudate type: serous, sanguinous, serosanguinous, purulent, etc.
Exudate amount: scant, moderate, copious
Condition of the peri-wound: color, temperature, integrity, etc.
Accurately identifying—and correctly documenting—wound characteristics from the start and throughout care will not only assist the clinician in driving the appropriate treatment but also provide a more precise picture of patient health status and requirements for skilled homecare services.
2. Link assessments & documentation to outcomes & reimbursements.
Treatment plans, treatment modalities and preventative strategies require accurate assessments and consistent re-evaluation based on wound characteristics and progression to drive positive wound healing outcomes.
For example, if a pressure injury is misclassified as moisture-associated skin damage upon assessment, pressure redistribution interventions and treatment may not be initiated, ultimately leading to the worsening of the wound due to the lack of an appropriate treatment plan.
Wound misclassification and lack of appropriate treatment measures also have a substantial impact on reimbursement due to poor outcomes and the lack of documentation supporting the patient's need for continued skilled homecare services. Wound care training should include real examples of how inaccurate classification and documentation of wounds can have clinical, financial and even legal ramifications and of top-line preventative measures that can stop wounds from happening in the first place.
3. Upgrade education & technology.
While objectivity and consistency are essential for wound classification, tissue identification and measurements, the reality is that wound documentation can vary from clinician to clinician based on levels of wound care expertise and education. Furthermore, industry data indicates that wounds are assessed inaccurately 65% of the time.
Wound care technology can mitigate inaccuracies and take the guesswork out of classifying and staging wounds. Today's wound care platforms give clinicians the ability to photograph wounds, identify appropriate tissue types and automatically measure length, width and surface area and to assess and digitally document the wound and share data in real-time to customize treatment with formulary integration.
More home health agencies are also seeing the value of partnering with health care companies that can act as an extension of wound care teams. The best wound care partners not only reflect a home health agency's performance objectives and culture but also provide wound care clinical expertise and a wide array of resources to reduce errors, promote accurate wound assessments and standardize documentation. Good partners can help assess current staff knowledge gaps and build staff skills where necessary.
Leveraging supply partners for supplemental tools and support relating to the prevention, staging and differentiation of wound etiologies and wound healing principles can be a highly efficient avenue for advancing high-quality wound
care programs.
4. Build staff confidence.
These days, wound care expertise is relatively scarce across the continuum of care, and not all home health agencies are fortunate enough to have a certified wound care specialist on board. Access to information and regular training on best practices and new technology immediately elevate an agency's wound care programs, empower staff and enable quality outcomes from the start.
At Medline, we know interactive training and education that utilizes images of actual wounds, reviews basic terminology and offers practice with sample assessment and documentation are highly effective—and appreciated. Empowering and supporting clinicians can also reduce staff turnover and minimize the onboarding of new nurses.
Additionally, product standardization and adherence to set, evidence-based guidelines that follow the devitalized tissue, infection/inflammation, moisture balance and edge preparation (DIMES) principles consistently translate into positive outcomes and confident clinicians, even if a team's overall knowledge of wound care is not at an advanced level.
Clinicians should keep abreast of wound care product advancements and availability. For example, knowing how new wound care dressings work within the wound bed to create a healing environment initially is a key aspect of implementing treatment—along with adjusting the treatment plan as the wound progresses or worsens through the treatment process.
Clinicians must also be familiar with common co-morbidities, conditions and circumstances that play a part in wound prevention and healing, including diabetes, respiratory disease and complications (i.e. COPD), immobility, paraplegia, quadriplegia, venous disease, arterial disease, poor nutrition and noncompliance with treatment or plan of care.
A knowledgeable and confident wound care staff positively impacts patient relationships—leading to faster healing and improved care quality, and, ultimately, more patients treated and increased agency success.