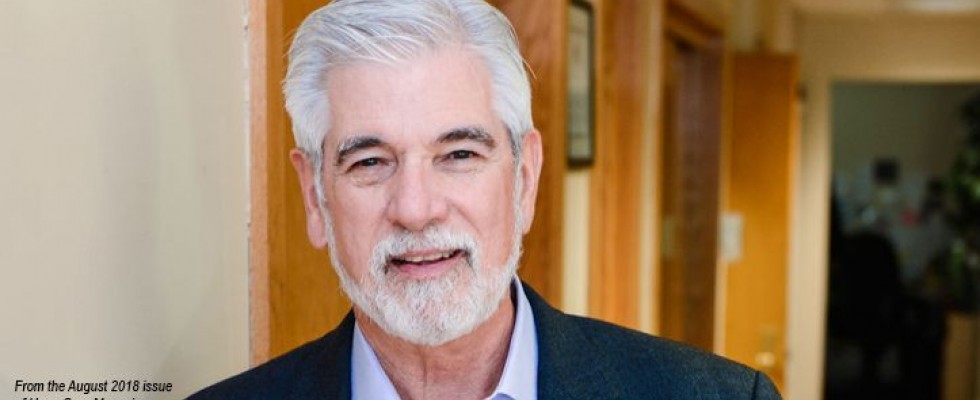 Interim HealthCare's Tom DiMarco Reflects on 35 years in home health
Friday, August 10th, 2018
Approaching 35 years in home health staffing, Ohio-based Tom DiMarco of Interim HealthCare has kept his feet planted firmly in the financials.
He also directs his thoughts to finding ways to maximize the benefits of both a tech-savvy (but often less experienced) caregiver workforce and a higher-touch mentoring (often more experienced) caregiver workforce.
"The pool of people is becoming more competitive, especially when it comes to home health agencies and personal care workers. The economy has created higher-paying jobs outside of health care," DiMarco said. "The conveniences of having online workflow are beneficial for tech-savvy caregivers. But we have another workforce subset: the more mature caregivers who did not grow up tech-savvy and who have been resistant to changes."
The health care industry continues to face shortages of workers. By 2025, the U.S. will need to hire 2.5 million new health care workers to care for its aging population, according to a study by health care staffing consultant Mercer. Health care occupations are projected to add more jobs than any of the other occupational groups, with growth mainly due to an aging population.
Hiring qualified RNs and LPNs is difficult, and Interim HealthCare is increasingly using one-on-one mentoring as a means to train skilled caregivers to meet patients' needs and to help address the nursing shortage that appears to be growing as the population of nurses ages.
"It takes a trained leadership team to know the differences in caregivers and to communicate effectively," DiMarco said. "Being tech-savvy creates a less hands-on staff, which is effective on one hand, but since we are in the people business, we may miss that important touch with all our staff. We are working through these issues now by developing people touches and appreciation programs."
Interim has recruited a talent acquisition director to manage recruiting, onboarding and retention. Hiring additional talent acquisition managers is also planned, DiMarco said. About 340 locations across the U.S. work under the Interim HealthCare franchise brand umbrella that is part of Caring Brands International, which includes homecare companies in Australia and the United Kingdom.
"Through investment in our talent, we are looking to increase hiring by 10 percent and to improve retention by 10 percent," DiMarco said, describing the company's recruiting as "aggressive"—the program offers sign-on bonuses, provides referral bonuses for current employees and has established a training school in some markets.
The Bureau of Labor Statistics (BLS) projects an 8 to 9 percent increase in home health care aide jobs between 2017 and 2019, and a total increase of 47.3 percent in the next eight years. In addition, BLS predicts an upswing in the need for personal care aides by 38.6 percent in the next eight years.
Interim schedules its caregivers through apps and employee portals; its hiring process also leverages apps.
Nationwide, Interim HealthCare employs about 43,000 nurses, therapists, aides and other health care workers serving more than 190,000 patients. DiMarco's franchise group alone employs about 8,000, and 300 have more than 20 years at the company. In 2017, the company recorded 5 million hours of service.
Interim HealthCare's primary role is to provide medical and nonmedical home-based care for patients from pediatrics to geriatrics, and most recently hospice. The company also dedicates a portion of its services to providing supplemental staffing for health care providers, such as hospitals, independent and assisted living facilities, skilled nursing facilities, and occupational health providers.
The company's employee retention efforts are supported by reward and support programs that take forms such as the Appreciate Valued Associates program and a rewards point system that has resulted in some $150,000 in gift card redemptions.
"Our organization, and the business that we are in, started out as temporary help," DiMarco said. "With temporary help, the employees we attracted came on to supplement the jobs they had, and we always saw a big influx during vacation and holiday seasons. Over the years, the work has evolved into a career path." At this point, the company is looking to hire 500 caregivers (mostly skilled nurses). In general, paraprofessionals (people with certification as a nursing assistant, for example) are in high demand, DiMarco said.
Registered nurses (RNs) are among top occupations in terms of job growth through 2024. The RN workforce is expected to grow from 2.7 million in 2014 to 3.2 million in 2024, an increase of 439,300 or 16 percent, according to the Bureau of Labor Statistics' Employment Projections 2014-2024.
"This whole industry, from the staffing side and also from the health care side, is evolving, and it continues to evolve," DiMarco said. From a homecare standpoint, Interim operates under Medicare conditions of participation, which changed in January 2018 and raised both the bar for and the cost of compliance.
"I believe there will be a shake-up in terms of those agencies that are Medicare-certified and single-owner operators," DiMarco said. "Since compliance is more difficult, they may make the decision to exit by selling or merging with somebody else, even hospital-based agencies. As reimbursement rates are revised downward, and Medicare drops reimbursement, there's going to come a point in time that the successful hospital-based agencies will say it's no longer beneficial to operate."
The Backstory on Today's Business
Leroy Dettman founded Medical Personnel Pool (MPP) in 1966. Eino Arthur Salo became a franchise owner in 1971.
In 1984 DiMarco joined TSO Management, established by Eino Arthur Salo, to manage and grow his MPP franchises. DiMarco, a native of Philadelphia, jumped into his position at TSO with both feet and a family in tow and took what he calls a "leap of faith" to relocate to Columbus in 1993 to begin the task of business expansion.
"MPP was providing private duty homecare and hospital staffing and had just gotten into Medicare," DiMarco said. "We developed the management team, which meant that we were responsible for all the financials, brought financial processes internal, consolidated payroll and automated many of these processes. Prior to that, many of these processes were handled by hand, so we've come a long way."
Back then, the group was still owned by Eino Arthur Salo, and his son, Harry Salo, was general manager. In 1992, Medical Personnel Pool changed its name to Interim HealthCare. By this point, for-profit private duty nursing companies were seeing the benefits of being accepted into the Medicare program during the previous decade.
Today, DiMarco serves as president of Salo Inc., Interim HealthCare's largest franchisee. DiMarco has seen his franchise unit grow from a $10 million-revenue business in 1984 to a $30 million-revenue business in 1993, reaching $170 million with 60 locations as of 2018, through a combination of expansion, acquisition and market penetration.
Lessons Learned Along the Way
"When I first came on board, I thought the financials drove the success of the business. Over time, I've learned to appreciate that the financials are the last part of the business," DiMarco said. "The business is driven by relationships; it's driven by the care we provide and both the respect our caregivers have earned and the expertise of clinical staff whose job it is to make sure we're in compliance."
DiMarco credits his predecessors, the Salos and others, with much more than the specific roles they played in the organization's development during their tenure. He mentions Mike Hartshorn, who, in addition to his role as former president and chief executive officer, emphasized the human side of management and introduced charitable giving to the organization.
Salo Inc. extends financial support services to its employees in the form of helping hands loans and supports communities through its Charitable Giving Program.
Salo supports organizations such as A Kid Again, which provides opportunities for young patients with life-threatening illnesses and their family members to enjoy daily life outside of the medical environment.
Interim HealthCare was ranked No. 13 in the Top Franchises Under $150K category by Entrepreneur magazine in its spring startups issue.
---
What to Watch for in the Business of Homecare
Today, the forces that affect the business of homecare press from all sides. Ohio-based Tom DiMarco, president of Salo Inc., Interim HealthCare's largest franchisee, says he's watching these trending issues:
Significant changes in reimbursement in many lines of business. "This will change with whom we do business. State Medicaid departments continue to convert to managed Medicaid. Managed Medicaid companies are contracting with third parties for billing purposes. Billing requirements have changed dramatically, and third-party administrators don't understand all the requirements. As a result, payment for services has slowed dramatically. We have had to get the department of Medicaid to intervene with two states in order for us to get paid. It is still very much a work in progress."
Electronic visit verification (EVV). "Requirement for electronic visit verification is creating havoc for homecare companies. It is cumbersome, and employees are leaving because of the requirements."
Drastic changes coming in 2020. "Medicare will implement drastic changes in 2020, reducing the 60-day episode to a 30-day episode. We are not sure of how this will work. The current reimbursement rules for providing therapy care will be eliminated."
Possible hit to cash flow after August 2018. "Commercial insurance companies are now using TPAs for billing processing, and several will be effective in August 2018. We haven't received instructions yet on billing processes. It should be a dramatic hit on cash flow."
Consolidation and disruptors. "The domestic homecare world is consolidating along with the rest of health care. Homecare companies are being acquired by large health players, and now Walmart and Amazon are entering the mix. It creates concern about the role of freestanding homecare companies."
Concerns about quality caregivers. "Driverless homecare companies are starting up. Direct client and caregiver matching through an app is being tested, but this raises many concerns concerning quality and compliance."