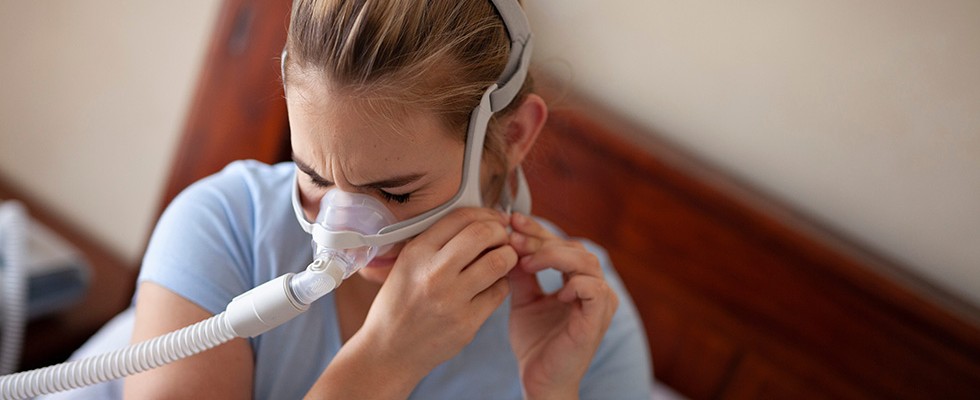 New options & add-ons to boost PAP compliance abound
In the world of sleep apnea devices, there are a lot of superlatives. Every year, it seems, device makers and sellers race to make their CPAPs, BiPAPs and APAPS quieter, smaller, lighter, easiest for travel and just plain best.
But when it comes to sleep therapy, one thing reigns supreme: compliance. Do patients use their device and stick with their regimen? That's the secret sauce for payers, physicians and home medical equipment (HME) providers, because research shows that patients who use their machine more often have better outcomes, including a substantial increase in memory, functional status and blood pressure and less sleepiness and cardiovascular risk. And yet, CPAP adherence is generally stuck at about 50% after two years of use, according to Sleep Review.
There are several steps providers can take beyond just supplying a positive airway pressure (PAP) device—but the key goal is to engage the patient right up front, said Zach Gantt, CEO of Encore Healthcare.
"Early interaction with the patient is key," he said. "Studies have shown that engaging with the patient regularly during the first 30 days of usage is key in helping the patient acclimate to therapy and starting them on the road to long-term compliance and success."
Outsourcing & Data
For example, Encore, which is well known for its work with oxygen patients, includes PAP setup as a component of its telerespiratory program, which is designed to boost patient engagement while alleviating pressures on respiratory therapist (RT) staffing. Live RTs connect with clients through telehealth, freeing up an HME provider's RT staff to work in person with more acute patients such as those using ventilation.
"By partnering with a third-party provider, an HME now has a whole team to support their PAP setup and compliance program," Gantt said. "An HME can focus on growth without having to be concerned with simultaneously scaling their clinical support team to keep pace. Outsourcing pap setups allows your full-time equivalent clinical team to focus their time and attention to their higher-acuity, advanced therapy patients."
Encore isn't alone in the market. Sleep Coaches also works with DME suppliers to outsource some of the patient compliance burden, as well as provide resupply. It assigns a "sleep coach" to manage each account and provide ongoing education along with supply reminders and orders.
Other companies offer software to step in to help with care management and data collection, such as Somnoware, which allows users to identify patients who are non-adherent, set up automated patient interactions and track which staff are succeeding in keeping patients engaged and compliant.
Collecting data is critical, Gantt said—and the key now is to use it proactively, rather than just calling a patient when they're not using their device to find out why.
"The ability to provide positive feedback to patients that are doing well in the early stages of PAP usage is equally as important," he said. "Early positive feedback, even through a text or interactive voice response system (IVR), helps to encourage patients and gain their buy-in to continue using PAP therapy."
Creature Comforts
One of the major sticking points for compliance has always been staring users right in the face—that is, the need to wear masks on the head and face, potentially interfering with sleep.
"We know when patients are more comfortable, they are more likely to continue therapy." Clint Geffert, president of commercial operations at sleep and respiratory manufacturer React Health, said recently in a
news release.
A number of companies offer add-ons to improve mask comfort or effectiveness, such as RemZZZs, a simple cotton liner that fits between the face and CPAP mask. Made in the U.S. of 100% cotton knit fabric, the simple liners protect the skin from contact with the mask, but also help improve the seal of the mask, said Bruce Toler, executive vice president of sales.
That means straps may be worn more loosely, and leaks, which both reduce the effectiveness of a CPAP and make for a noisier experience,
are reduced.
Proper mask fitting also plays a role. (See story on page 22 to learn more.) And there are a wide range of masks from small manufacturers and major players that are offering innovative masks designed to make patients more comfortable. Masks are now specialized for back or side sleepers, for women and for people with facial hair, among others. Just a few examples:
Resmed's AirFit P10 Nasal Pillows System is one of a new generation of minimalist masks that offers streamlined headgear and a lightweight wear; it is marketed toward side sleepers, among others.
Philips focuses on comfort with its DreamWear mask with Full Face Cushion, which ditches the nose hose in favor of a top-of-head hose and a soft silicone frame and under-the-nose cushion to prevent irritation.
Fisher & Paykel's Evora mask approaches the headgear like a cap, uses a soft-knit design against the face and focuses on reducing air noise for a quiet fit.
Innovative Ideas
The sleep world seems primed for breakthroughs in the years to come, given that about 30 million Americans are estimated to have sleep apnea, and at least 80% of those with the disorder haven't yet been diagnosed, according to the American Medical Association.
Sometimes it's the little things that make a big difference. Take the V-Com, a CPAP accessory made by SleepRes that, when placed between the mask and hose reduces inspiratory pressure and flow, making it more comfortable for the user to breathe without impacting the effectiveness of the device. In a report released in April, the company said usage of the device increased 90-day CPAP adherence by 12%.
The trial of 100 patients new to CPAP was conducted by Sleep Solutions, a Detroit-based HME provider specializing in sleep and respiratory care. Half received standard care, and half received standard care with the V-Com device added to their CPAP.
"Most importantly, this is wonderful for the health of our patients," said Robyn Parrot, president of Sleep Solutions, in the release of the study. "But these results also improve the health of our company. Fewer mask exchanges, happier patients and more resupply."
There are likely to be more innovations down the line. For example, Airing promises an in-development maskless, yet-to-be-approved, hoseless and cordless micro-CPAP. Its website scrolls images of users with a tiny device that tucks into their nostrils and sit above the chin, filled with tiny ventholes and looking almost like the head of a hypermodern electric razor. Airing garnered a great deal of positive press when it burst on the scene around 2015, but much of the buzz was actually for its ability to generate buzz—and to raise money through online crowdfunding.
And then there are options that may not require ongoing therapy at
all, including Inspire Upper Airway Stimulation, which involves having a pacemaker-like device implanted into the body; it generates pulses to stimulate the throat muscles and keep the airway open during sleep. That means there are no masks, no equipment and no worries about voluntary compliance.
An implant costs around $30,000 to $40,000 but Medicare Part B will cover the cost in some cases (it's listed as hypoglossal nerve stimulation for obstructive sleep apnea in the Medicare coverage directory); patients need a physician to deem it medically necessary and they have to meet other requirements—including failing at traditional CPAP therapy first.