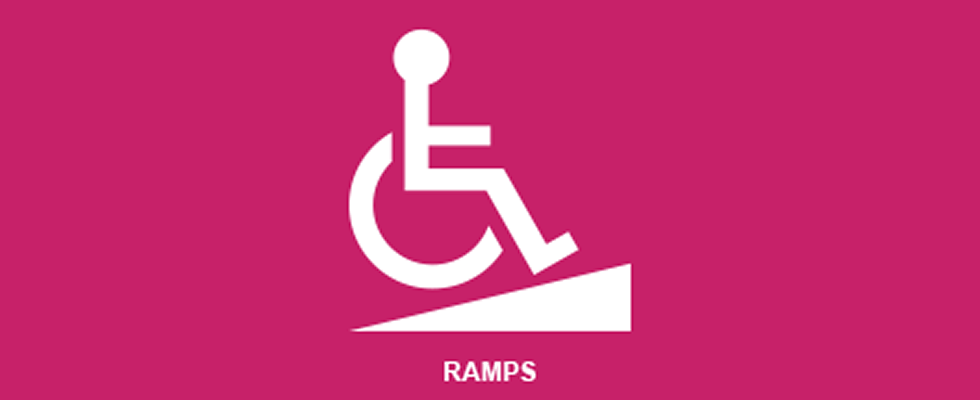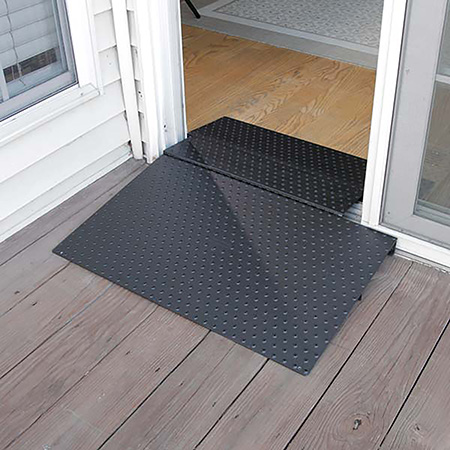 Sliding Door Threshold Ramp
HANDIRAMP
HandiRamp's Sliding Door Threshold Ramp is an accessibility solution for sliding doors. Sliding glass doors can present an obstacle for people who use wheelchairs, walkers, scooters or other mobility devices. Even though they are not greatly elevated in height, the tracks of sliding doors impede the wheels of mobility devices and can be damaged by scooters or wheelchairs. The HandiRamp Sliding Door Threshold Ramp has a 750-pound capacity and creates a smooth, continuous platform over the tracks. When not in use, the crossover bridge section of the ramp can be flipped up so the sliding door can completely close without moving the ramp. Visit handiramp.com.
---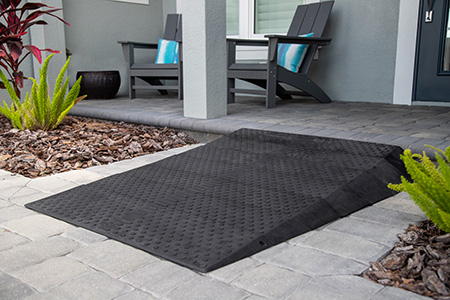 Rubber Threshold Ramp
HARMAR MOBILITY, LLC
Use the threshold rubber ramp inside or outside the home. The slip-resistant, durable rubber ramp can accommodate up to 850 pounds and is easily installed, requiring no drilling or home modifications. With 36 inches of usable space, the ramp can also be modified by trimming, cutting or notching for a custom fit. This heavy-duty ramp can provide accessibility for most people in wheelchairs, scooters and power chairs. Visit harmar.com.
---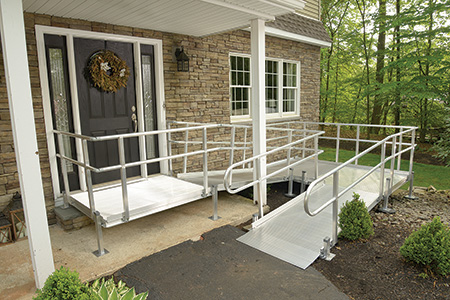 Liberty Series Solid Aluminum Ramp
NATIONAL RAMP
The Liberty series provides a maintenance-free aluminum ramp with a nonslip solid deck surface. National Ramp's solid surface aluminum ramp aids those with mobility impairments to get in and out of their homes safely. This Americans with Disabilities Act (ADA)-compliant, modular, solid-surface aluminum deck ramp is the perfect solution for any home. These wheelchair ramps can be installed quickly. Visit homeaccess.nationalramp.com.
---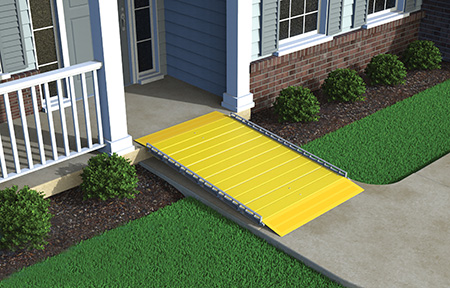 RapidRamp
PSS
RapidRamp is a portable, temporary ramp that makes installation quick and easy. The six-foot ramp consists of six articulated, 48-inch wide, slip-resistant sections and can support up to 1,000 pounds. Lightweight sections allow for convenient transport and can be assembled in minutes to accommodate a six-inch curb. RapidRamp grants broader and easier access with its ADA-compliant design and ease of transport, allowing for safe ramp applications. Visit pss-innovations.com.
---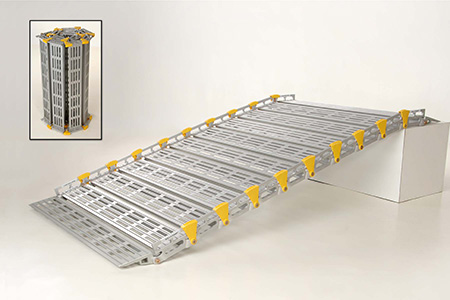 Roll-A-Ramp
ROLL-A-RAMP
Roll-A-Ramp aluminum ramps are portable and versatile to meet your customers' access needs. Available in six widths, ramps can be built to any length. Constructed from 6061-aircraft aluminum, these ramps are sturdy yet lightweight. Use just the ramp or add handrails for added security. Ramps can be used for homes, vans, RVs, watercraft and more. No building permit or special tools are required for set up. Change the length at any time by adding and removing links. Visit rollaramp.com.