Answers from industry experts
Bestbath
Greg Wells, Director of Marketing and Communications www.bestbath.com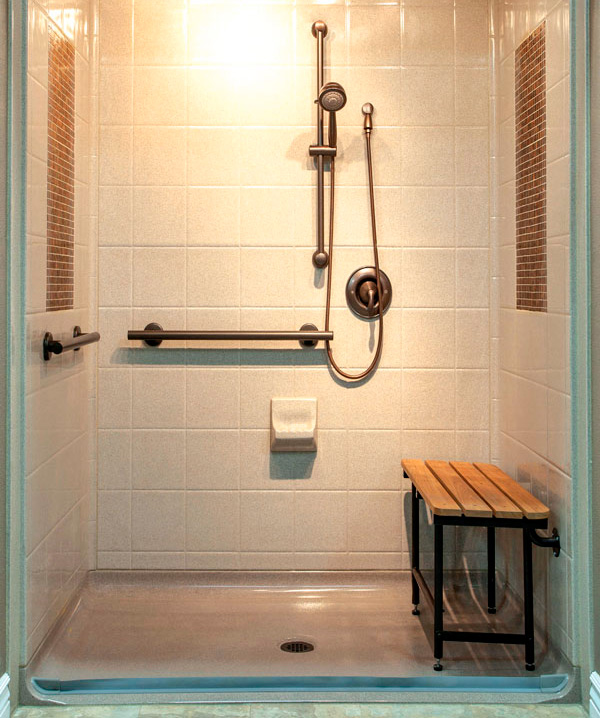 Bestbath copper tile shower
Tell us about your company and the needs it fills in the fall prevention segment of our industry.
WELLS: Bestbath manufactures tub-to-shower conversion products designed to eliminate entrance barriers for commercial (ADA) and residential applications. As needs change, our products are easily adaptable to meet the user's needs.
What is one way your company plans to stay competitive and successful in the fall prevention market this year?
WELLS: Innovation is at the heart of what we do. We continuously evaluate ways to improve how our products are installed and used. We recently redesigned our 90-degree subway tile showers with the new SpringClip system, which allows for a faster installation time and a more elegant look.
What challenges are affecting HMEs and other care providers?
WELLS: It is in HME providers' best interests to expand their service offerings into more cash-based business. Our products are not reimbursable, so consumers need to fund these projects. Using successful sales tools and carrying some level of consumer finance to assist customers can help providers increase their shares of this market.
What is the most important thing that HME and other care providers can do to increase revenue?
WELLS: HME and health care providers must examine their businesses and determine where their focus really lies. If they see too much reliance on one single area, it's time to consider diversifying.
EZ-Step Mobility, Inc.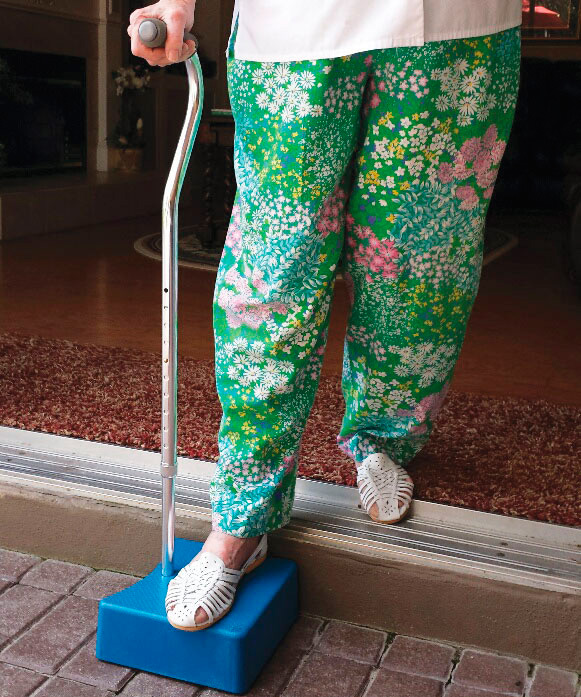 EZ-Step
Describe your company's products related to the fall prevention market.
STOCKER: The portable, lightweight EZ-Step Stair Climbing Cane is designed to safely assist individuals who have ambulatory challenges with ascending and descending stairs, sidewalks, swimming pools, curbs, automobiles and anywhere else where there may be a need to reduce the range of motion in both the hips and knees.
What trends do you see on the horizon for the fall prevention industry?
STOCKER: Even the fear of falling may cause someone to reduce his or her daily activities. The portable EZ-Step is perfect for those individuals to remain independent and in their homes as long as possible. It allows them to safely navigate their home stairs as well as increase their social activities such as visiting neighbors or going to the grocery store.
What challenges are impacting HME and other health care providers in the industry overall, and how are your fall prevention products helping them meet those challenges?
STOCKER: It is estimated that there will be more than 1 million total knee replacements performed annually by the year 2020. As our population continues to live longer, society must find a way to care for these individuals with dignity and compassion. The portable EZ-Step provides safety, stability and security to those individuals.
Drive DeVilbiss Healthcare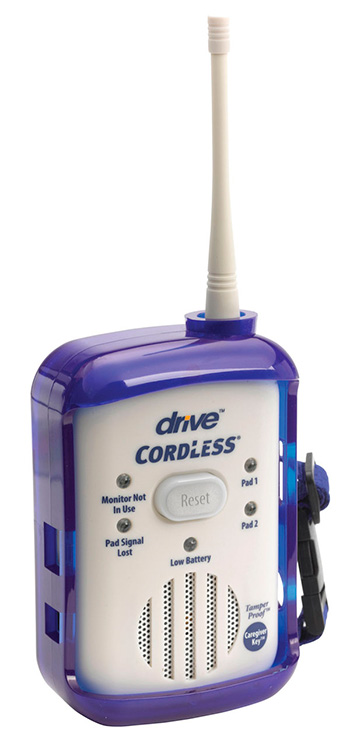 PrimeGuard Cordless Fall Monitor
What does your company offer for fall prevention, and how do you stand out in the industry?
BRUMBAUGH: Drive DeVilbiss Healthcare offers a full line of fall prevention products that can help ensure comfort and safety in both home and institutional environments. Drive DeVilbiss offers products that can prevent falls in all environments such as the bathroom, kitchen, bedroom and also when walking through doorways/across thresholds. Drive DeVilbiss products stand out not only because of the quality of the products we offer, but also because of the comprehensive programs and education we offer to HME providers.
Do you see any upcoming trends in the fall prevention industry?
BRUMBAUGH: A growing trend within the industry today is home modifications. Providers are looking to diversify their businesses and become less dependent on traditional pay sources and insurances. Providers servicing hospice contracts have really focused on providing products with fall prevention in mind, such as low hospital beds, fall mats, bed alarms and mattresses with raised side rails.
How do you plan to stay competitive and successful in the market in 2016?
BRUMBAUGH: Drive DeVilbiss developed a turnkey fall prevention program, which can be tailored and customized to each market, demographic and business. We have also upgraded our patient monitoring systems and introduced an easy-to-install universal raised rails cover that can fit over most standard-size hospital bed mattresses.
In your opinion, what is the single most important thing that HME and other health care providers can do to increase revenue and remain competitive in the market?
BRUMBAUGH: Education in the home to both the patient and caregiver is key. Providers need to start offering educational aspects on their fliers, websites and retail store interactions. People need to be taught, and sales will come as a result.
Roscoe Medical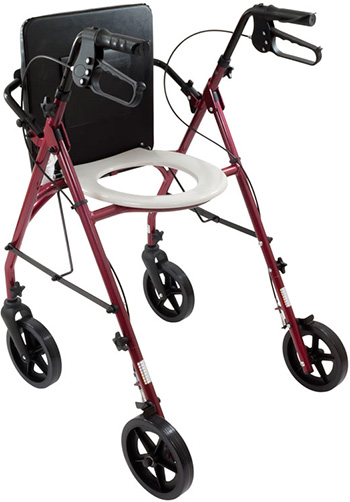 Free2Go Rollator
What trends do you see on the horizon in the fall prevention industry this year, and beyond?
Casto: Consumers holding onto their independence are embarrassed about their need for fall prevention products, while others are put off by the overall appearance of the items. Manufacturers are continuing to develop traditional fall prevention products such as canes, walkers and grab bars, but these products are evolving from a less institutional look to a more contemporary design.
What is one strategy your company is using to stay competitive and successful?
Casto: Roscoe Medical partnered with an inventor, Lesli Jenkins Wang, and recently introduced the Free2Go Rollator, which combines the benefits of the rolling walker (rollator) with a toilet safety product, allowing one to safely, confidently and discreetly use a toilet in any public restroom. The Free2Go Rollator addresses a common problem that many seniors face when using a public restroom where the toilet is too low or does not offer the support needed when sitting or lifting. Editor's note: Lesli Jenkins Wang, inventor of the Free2Go Rollator, recently won the HomeCare Story of the Year contest, and Roscoe Medical/Compass Healthcare was awarded second place in the Innovative HME Retail Product Awards competition, sponsored by HomeCare, for the Free2Go Rollator at Medtrade Spring 2016. Find more coverage of the HME Retail Product Awards here and of Medtrade Spring 2016 here.