Market-leading products for your business
MEDI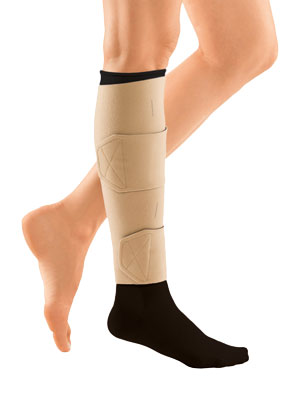 Circaid Juxtalite HD
For patients with chronic venous insufficiency and venous leg ulcers with moderate edema and/or phlebolymphedema. Made with robust Breathe-O-Prene fabric for reliable containment. It comes with two circaid compressive undersocks, which provide 15–25 mmHg compression to the foot and ankle. It is designed with medi's Built-In-Pressure system for accurate dosing of compression, allowing patients to become more independent. Easy-to-apply, patient-friendly alternative for increased compliance. Visit www.mediusa.com.
---

Remedy Intensive Skin Therapy Calazime
MEDLINE
An advanced, targeted formulation that is paraben-free, dye-free, aloe-free and fragrance-free. Delivers protection with high-quality active ingredients of zinc oxide (20.6 percent), white petrolatum (53 percent) and menthol (0.44 percent) that help to treat, soothe and relieve pain associated with irritated skin. Other beneficial ingredients include a proprietary blend of botanical Phytoplex nutrition, calamine that helps to dry out light exudate, and manuka honey and beeswax to help with adherence. Visit www.medline.com.
---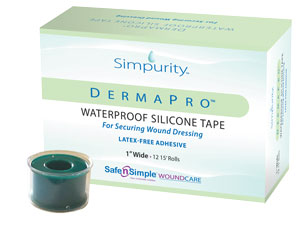 Simpurity DermaPro Silicone Tape
SAFE N SIMPLE
For all ages from pediatrics to geriatrics. Secures wound dressings and helps manage wounds, such as skin tears, surgical wounds, superficial abrasions, first degree burns, protecting feeding tubes, IV and catheter sites. Hypoallergenic, latex-free, with a transparent blue appearance. Gentle to remove from sensitive skin, removes without pain or skin damage. Available in 1-inch by 15-foot rolls and 2-inch by 15-foot rolls. Visit www.sns-medical.com.
---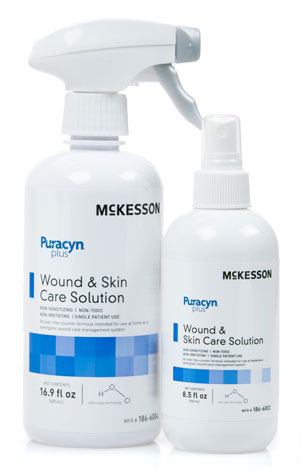 Puracyn Plus Wound & Skin Care Solution
MCKESSON MEDICAL-SURGICAL
Streamlines the process of caring for minor wounds and sores at home. The nontoxic and nonirritating formula uses Puracyn Plus technology, a super-oxygenated, pH-balanced hypochlorous solution, to help set the stage for optimal healing conditions. The over-the-counter strength is suitable for cleaning minor cuts, scrapes, sores and abrasions and preparing them to heal. Visit www.mms.mckesson.com.