HomeCare sponsors New Product Pavilion and Innovative Retail Awards at Medtrade Spring
Last month at Medtrade Spring, a panel of judges named the winners of the Innovative HME Retail Product Awards, which—in addition to the expo's New Product Pavilion—were sponsored by HomeCare. The awards honor HME products that are geared toward cash sales. "There were some really impressive and innovative entries this year," said judge Jim Greatorex, owner, Black Bear Medical, Portland, Maine. "We had lots of discussion about each entry. To choose the top six, we really had to get nitpicky. I'm very pleased with the new opportunities for providers." The purpose of the retail product competition is to highlight products that contribute to HME providers' revenue streams through over-the-counter cash sales as opposed to Medicare-reimbursed options. Medtrade Spring attendees were able to view the products and cast votes for their favorites in the New Product Pavilion, sponsored by HomeCare, on the expo floor. In addition to the Innovative HME Retail Product Awards, three non-retail products were awarded Gold, Silver and Bronze honors based on their quality of life enhancement to users and how well the products would work in a retail environment. Products were also judged on marketing support given to providers, innovation, functionality, quality/durability, aesthetics/style, environmental sustainability and ease of retail setup and pricing. The following products and companies took home honors: TidyTop from TidyTop; The Rebound Health OTC TENS Unit from BioMedical Life Systems, Inc.; Bax U Posture Support from Think Healthy, Inc.; The iWalk2.0 Hands Free Crutch from iWalk Free, Inc.; Metro Walker from Stander, Inc. and Serta Perfect Lift Chair Model SR 525 from Pride Mobility Products Corp. Providers Choice Award winners included The iWalk2.0 Hands Free Crutch by iWalk Free Inc. (Gold); The Jordi-Stick by Jordi Airflow (Silver) and the Endevr Strength Tape by Stander (Bronze).
TidyTop
From TidyTop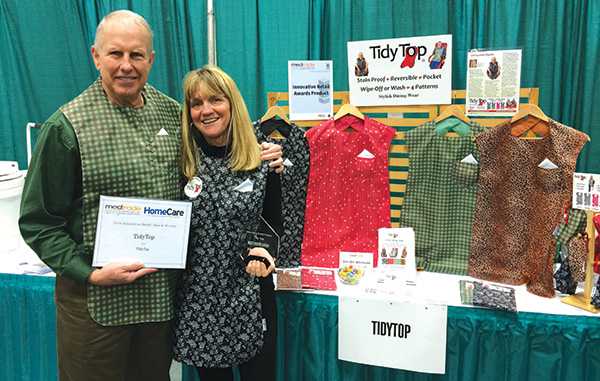 TidyTop adult bibs are stain-proof and machine washable.
"Adult bibs, currently called clothing protectors for the challenged diner, were long overdue for adding dignified style at a reasonable price," says Steve Kirby, CIO, TidyTop, Sandpoint, Idaho. TidyTops come with a variety of features including stain-proof fabrics in four patterns that can be wiped clean or cycled through the washing machine. The protectors are reversible and include a pocket and tote bag for carrying.
The Rebound Health OTC TENS Unit
From BioMedical Life Systems, Inc.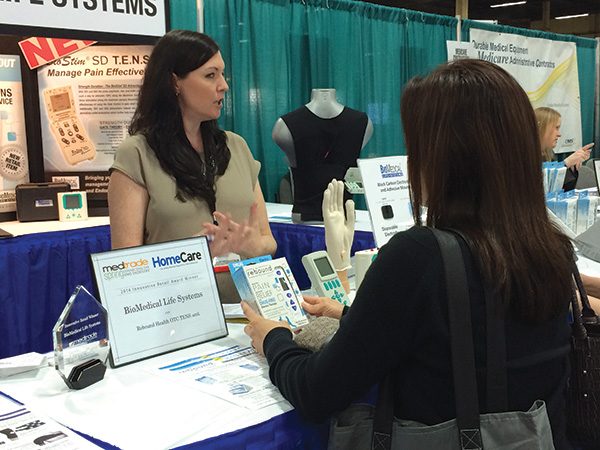 BioMedical Life Systems took home an award for its Rebound Health OTC TENS Unit.
"The Rebound® Health OTC TENS Unit is a drug-free pain relief device," says Mariah Griffith, vice president of sales and marketing, BioMedical Life Systems Inc., Vista, Calif. "The FDA is now recommending a tightening of controls on prescription pain medications, and combined with the recent changes to Medicare reimbursement, it is expected that there will be an even larger, under-served market of pain patients seeking alternative and affordable methods of treatment. For HME providers, creating access to new, drug-free pain management products presents a tremendous opportunity."
Bax U Posture Support
From Think Healthy, Inc.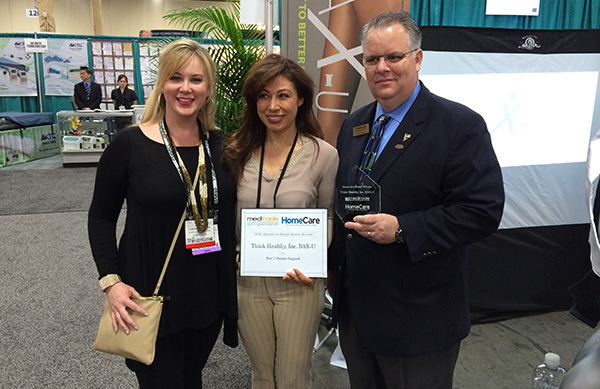 The Bax U Posture Support can be worn discreetly underneath clothing.
"Bax U Posture Support is affordable—has an L-code—and anyone ages 12 and older can wear it," says Romina Ghassemi, DC, founder/inventor and owner of a chiropractic practice in San Pedro, Calif. "It improves posture and reduces slouching during activities such as texting, sitting and driving. It is small, lightweight, comfortable and can be worn discreetly under clothes without anyone knowing you're wearing a medical device."
The iWalk2.0 Hands Free Crutch
From iWalk Free, Inc.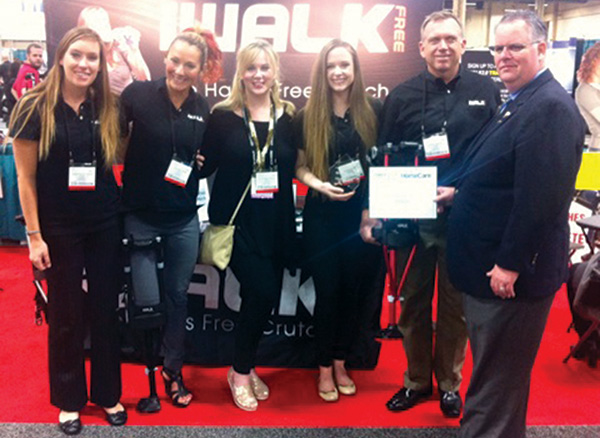 The iWalk Free, Inc., team awards in two categories.
"We fit the profile of a desirable retail product—functional, fills an identifiable need, shelf friendly, easy to learn and use and economical," says Brad Hunter, director of business development, iWALK-FREE, Long Beach, Calif. "We launched iWALK2.0 at Medtrade in Orlando last year. The award we won there brought lots of awareness, and iWALK2.0 has since been picked up by hundreds of DME and HME retailers who are doing well with it."
Metro Walker
From Stander, Inc. "The Metro Travel Walker's functionality is superior compared to its competitors," says Tom Goldhardt, director of special projects, Stander, Inc., Logan, Utah. "The Metro Travel Walker folds with the lift of a finger to become the world's most compact, portable walker. The Metro Walker comes in industry leading retail packaging and point-of-purchase displays, making it an easy sell for DME stores and pharmacies looking for products ideal for cash sales."
Serta Perfect Lift Chair Model SR 525
From Pride Mobility Products Corp. "We are excited about working with Serta," said Cy Corgan, director, strategic accounts, Pride Mobility Products, at Medtrade Spring. "A lot of this is all about the branding and the comfort, because somebody could be in a lift chair eight hours a day. For providers, we have additional marketing materials to put around the showroom. We have a new, four-sided kiosk."