Answers from industry experts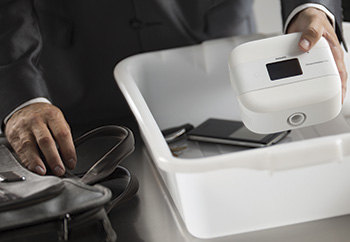 DreamStation Go
Philips Respironics
Mark D'Angelo, Sleep Therapy
Business Leader
www.respironics.com
Tell us about what you provide for the CPAP/sleep market.
D'ANGELO: Philips Respironics provides solutions for the global sleep and respiratory markets. Philips considers the desires and input of patients when coming up with new designs. One example is the Dream Family, a comprehensive sleep therapy solution where all the products were designed using patient feedback to get a better understanding of what it really feels like to live with obstructive sleep apnea (OSA).
What changes are you seeing in the CPAP/sleep market?
D'ANGELO: Connectivity will continue to play an increased role. As more patients begin to use CPAPs, HMEs and physicians need low-touch ways to manage patients and ensure that they are adhering to their treatment plans. Creating efficient lines of communication so that clinicians can intervene early to adjust treatment and increase compliance is important—and connectivity has proven to help facilitate that.
What is one way you plan to stay competitive in the coming year?
D'ANGELO: We will introduce our latest breakthrough in CPAP technology, the Philips DreamStation Go, in March. DreamStation Go is a travel CPAP device with a packable, slim-profile device that is half the size of our current CPAP platforms and weighs under two pounds. DreamStation Go will be positioned as a secondary, cash-pay CPAP.
Drive DeVilbiss Healthcare
Brian Palmer, Senior Global
Product Manager
www.drivemedical.com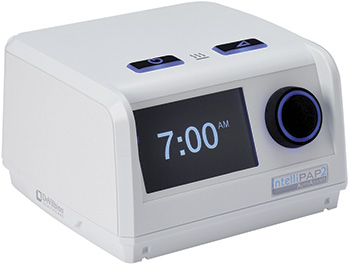 IntelliPAP 2
What is your company's role in the CPAP/sleep market?
PALMER: Drive DeVilbiss provides a full line of sleep therapy devices from standard CPAP to Auto Bilevel devices. Our new IntelliPAP 2 series of devices were developed in conjunction with Beth-Israel hospital in Boston and incorporate the latest research in sleep disordered breathing. We have also introduced a better approach to providing heated humidity through our PulseDose Humidifier, along with a novel connectivity method using our proprietary SmartLink App and wireless communication.
Are you seeing any trends in the CPAP/sleep market?
PALMER: Data and analytics continue to play a growing and important role in sleep therapy. Data can be collected and analyzed with the goals of improving therapy, patient experience and clinical outcomes. The key to this data is getting all parties actively involved to take useful and timely actions to meet the intended goals. Users must see and understand their compliance and basic clinical data so that they can be involved in their therapy.
Tell us about a change you are making to stay competitive.
PALMER: We recently released the SmartLink Cloud web-based patient management system. This secure system allows providers and physicians to seamlessly share patient information, view reports or change patient settings. The IntelliPAP 2 product contains Bluetooth technology that pairs with the SmartLink App for smartphones. This app not only provides the patient with easy access to their compliance and basic clinical data, but also works as a conduit to send the data wirelessly back to the provider.
What difficulties do you see coming in the industry?
PALMER: A potentially disruptive change on the horizon is Medicare's move toward a bundled payment plan for sleep therapy. Bundling the PAP device and consumable items into a single monthly payment drastically changes the economic model and will require a different approach to the business, one more consistent with home oxygen therapy.
Sunset Healthcare Solutions
Melissa Allis and Brooke Dillard,
Business Area Managers
www.sunsethcs.com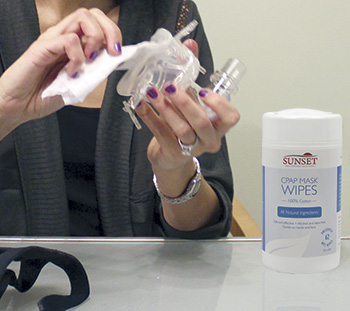 Sunset Healthcare Solutions
How do your products stand out in the CPAP/sleep market?
ALLIS: We have the ability to offer comparable products at more affordable prices.
Have you noticed any trends in the market?
DILLARD: HMEs are looking for lower cost items, especially masks and machines. Some insurances are not covering them to the extent they used to, so HMEs are offering a variety of tiered masks. Many HMEs are switching from brand name masks to ours to save money and taking advantage of our cash item offerings to help relieve low reimbursements.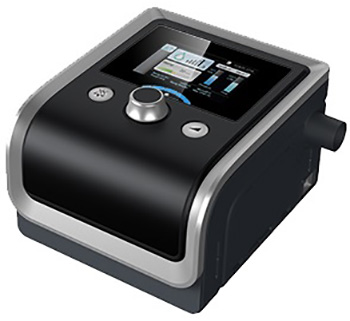 3B Luna
3B MEDICAL
Angie Giudice, Director of Clinical Sales and Education
www.3bproducts.com
What products do you offer in the CPAP/sleep market?
GIUDICE: 3B Medical, Inc. has a full line of PAP devices (i.e. CPAP, APAP, BPAP) and interfaces, along with a line of stationary oxygen concentrators. 3B Medical has set itself apart by working closely with our HME customers to restore profitability to CPAP in response to reimbursement challenges. Our products are full featured and competitive.
What changes do you expect to see in the CPAP/sleep market?
GIUDICE: Most of the innovation in PAP focuses on enhanced compliance monitoring and reporting. 3B Medical was first to market with use of QR Coding for smartphone apps and adding WiFi to our wireless connectivity options. The use of free apps in iTunes and the Google Play store provide summary compliance data in seconds and reports in the palm of your hand. 3B Medical is fully invested in keeping the trend of future innovation technologically advanced and easy to use.
What products will help you stay competitive in the coming year?
GUIDICE: CPAP accessories such as the Rio nasal pillow mask, is the lightest mask to date. The Rio is attractive, lightweight and has superior sealing due to the innovative ball in socket design. The swivel moves with you so the nasal pillows stay in place.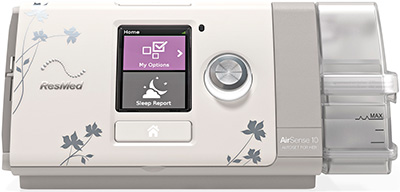 AirSense 10 AutoSet for Her
RESMED
Jon Yerbury, Vice President of Marketing, Americas
www.resmed.com
Tell us about what your company provides for the CPAP/sleep market.
YERBURY: ResMed offers a full range of superior sleep apnea devices with unparalleled comfort, including CPAP, APAP, bilevel and the world's only female-specific APAP treatment, with the AirSense 10 AutoSet for Her. Over the years, we have generated more than one billion nights of data for HMEs to use and are managing data from more than 2 million respiratory devices every day.
What changes have you seen in the CPAP/sleep market? How are you adjusting for these changes?
YERBURY: One big trend we see has to do with comfort and portability for CPAP patients. CPAP users are asking for secondary devices and masks more than ever. The world's smallest CPAP, ResMed's AirMini, just received FDA clearance, and will be available to patients later this year. We'll strive to educate patients on the value of the secondary devices.
What difficulties are HME providers facing, and how are you helping them deal with these difficulties?
YERBURY: We continue to see disruption as a result of the Competitive Bidding Program and we commend Congress's decision to extend the phase-in of the competitive bid rates and to study the impact on beneficiary access as part of the 21st Century Cures Act. Still, further reforms to this and other CMS programs are needed. We will continue to develop and deliver top-quality products and health IT solutions that help HME providers deliver the best care for patients. In this changing environment, we are committed to working with regulatory agencies, our customers and other key stakeholders to influence smart policy reform.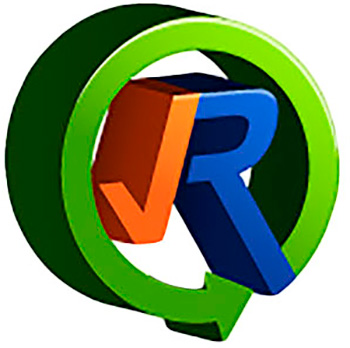 Revsuppliance
Revsuppliance
Russell Parker, COO
www.revsuppliance.com
Tell us about what your business does.
PARKER: Revsuppliance is a complete live resupply solution for the industry. We offer what no one else does in that we have an Oklahoma-based live call center, inventory management, pick, pack and ship for our clients' CPAP patient base all under one roof.
How do you expect the industry to change in the coming year?
PARKER: Lower reimbursements are forcing all involved in the industry to be better business people and adjust down the cost of doing business from vendors to service providers. Those that can adjust will survive and those that do not, will not.
How does your company plan to stay competitive in the coming year?
PARKER: Revsuppliance is taking a more active role with our clients in marketing their cash business. The market, both government and PPO, is forcing more of the cost of health care to the patient. An effective resupply program is key to gaining new, and maintaining consistent A/R. Marketing those patient bases for their cash medical dollars is key.