Industry leaders explain what the vehicle lift market can offer you
Thursday, October 29th, 2015
Pride Mobility
Randy Walsh, Vice President of Jazzy and Retail Mobility Sales pridemobility.com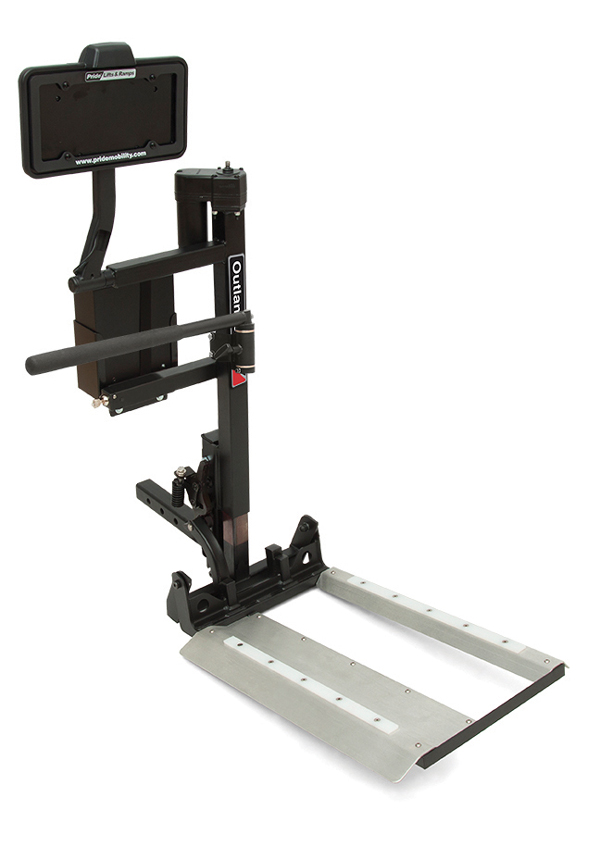 Outlander LP Exterior Vehicle Lift
Tell us about your company.
Walsh: Above all, our ride lifts are consumer-inspired. At Pride Mobility, quality, ease-of-use, diverse application and exceptional value all work to create industry-leading transport solutions for a wide range of mobility products.
What are the trends for 2016?
Walsh: Vehicle lifts are increasingly versatile in their applications on the widest range of models, from cars to luxury SUVs, travel mobility scooters to power chairs. Ease-of-use is vital.
How can vehicle lift sales boost an HME provider's bottom line?
Walsh: With few exceptions, vehicle lifts are retail purchases. When a consumer purchases a scooter, adding a vehicle lift to the sale is a tremendous benefit for the provider and consumer.
What new products are you excited about this year?
Walsh: The Outlander LP Exterior Vehicle Lift from Pride is a low-profile lift that allows consumers with Class II, III and IV hitches to lift their power chairs. The Outlander LP is compatible with 10-inch and 14-inch mid-wheel drive power chairs, and has a 350-lb. weight capacity.
What no-fail sales tactic do you recommend?
Walsh: Bundling product sales is a winning strategy. A scooter purchaser is often the same demographic as a vehicle lift purchaser. With every scooter sale, a provider should look at the potential to bundle a vehicle lift sale when appropriate.
Where do you see missed opportunities for HME providers to improve their businesses?
Walsh: Product knowledge is a must. The more a provider knows about a vehicle lift's features, installation and application, the better he or she can promote it.
Prairie View Industries
Fred Jensen, Vice President of Sales pviramps.com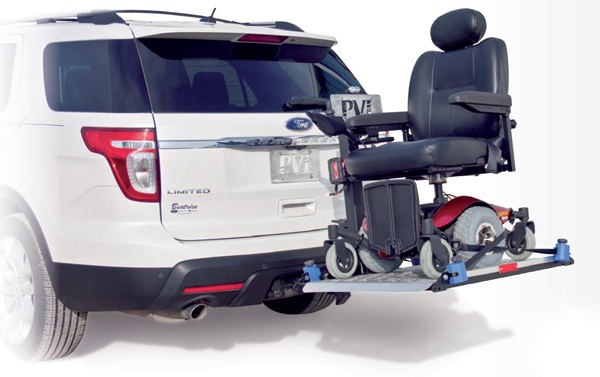 INDE2 Hitch Mounted Plug-n-Play Vehicle Lift
At PVI, what makes your products unique?
Jensen: Simplicity is crucial, and our Plug-n-Play Lifts offer the simplest installation in the industry.
How has the market changed?
Jensen: Previously, the vehicle lift market was often serviced locally by specialty van conversion dealerships. Today, with our simple installation solution, we see that most DME providers can easily offer PWC transportation.
Ease-of-use is increasingly important to the modern customer. How does PVI respond to that demand?
Jensen: We offer a true "instant lift" solution with our battery option. That means no complicated wiring harnesses and no large batteries and wires to secure. Just plug into the hitch receiver and go!
Where should providers put their focus this year?
Jensen: Without a doubt, HME providers should continue to focus on cash sales!
Bruno
Tim Schwarz, Automotive Product Manager bruno.com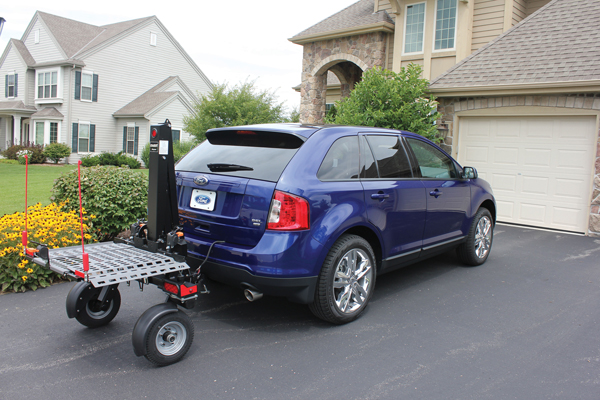 Chariot Lift
Tell us about your company.
Schwarz: Bruno takes pride in engineering and manufacturing quality, easy-to-use, reliable lifts. We continually improve upon our interior and exterior lifts and are always working on designing the next big thing.
What new trends are on the horizon?
Schwarz: Manufacturer restrictions make it challenging to find an exterior lift for certain vehicles without going over weight capacity. Bruno's patented Chariot Lift is a great solution in these cases, because the lift features an independent suspension to carry nearly the full weight and force of the mobility device.
What challenges do you face?
Schwarz: There are fewer wheelchairs, scooters and power chairs being approved by outside funding sources; thus, with fewer mobility devices in the marketplace, there are fewer opportunities to sell lifts.
Is Bruno putting any new products or services on the market this year?
Schwarz: Bruno recently released MobilityMatcher, an online tool that makes it very easy for consumers, driver evaluators, occupational therapists and others to discover the best Bruno scooter/power chair lift to match a specific vehicle and mobility device.
How can HME providers improve their cash sales?
Schwarz: Remember to not only look at the best mobility device lift for a customer's needs, but also at complementary products that help provide increased independence.
How can your company's expertise help improve a provider's business?
Schwarz: All Bruno dealers are required to visit our dedicated training facility and go through our advanced technical training certificate. By gaining hands-on experience in sales, installation and service, our dealers have the in-depth knowledge to best advise the end user on the right product for their needs.
Harmar
David Baxter, Vice President of Marketing harmar.com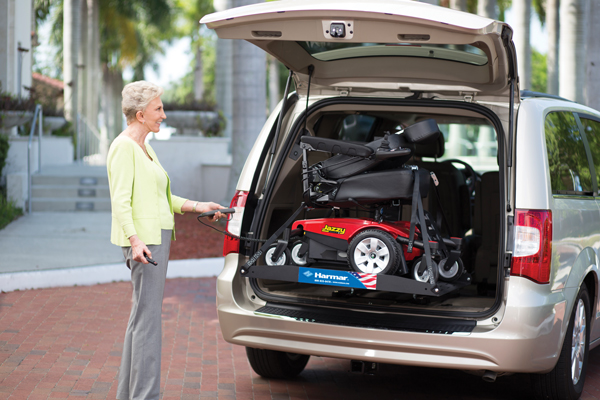 AL600 Hybrid Platform Lift
What is Harmar best known for?
Baxter: Harmar manufactures a full line of lifts that enable scooters, power chairs and wheelchairs to be lifted and carried to destinations by cars, trucks or vans. Our product line is the most extensive in the industry and offers more solutions that can handle the ever-increasing variety of vehicle-mobility device combinations.
How is your company responding to challenges in the market?
Baxter: The primary trends deal with weight. Vehicles get lighter, and in some cases less robust; concurrently, mobility devices get heavier. As a result, we need to look at ways to reduce the weight of our units without sacrificing capacity.
Do you anticipate any future challenges in your industry?
Baxter: Our products are cash-sale products, thus there is little to no impact on our sales from competitive bidding, and very little impact relating to reimbursements with the exception of the Veteran's Administration. The VA has been working toward buying Federal Supply Schedule (FSS) contracts, and we have developed multiple business models to ensure Harmar and our dealers can provide the right combination of service and support at a competitive price.
How is Harmar staying competitive?
Baxter: We have invested in continuous refinement of our lift technology. Our most recent upgrade is a Universal Control Board that works for all of our mobility lifts. It allows for faster troubleshooting with a plug-in diagnostic cable, and simplified dealer support of our products where they only have to stock one type of control board.
How can providers be more successful in selling vehicle lifts?
Baxter: HME providers need to improve their local network marketing tactics and leverage referral programs. This includes both end user referrals and influencer networking.
How much emphasis should an HME provider place on customer service?
Baxter: Customers want the comfort and confidence that comes with expertise. Providers need to be consultants, and also have the appropriate combination of compassionate bedside manner and product expertise to help their customers.