Answers from industry experts
Thursday, August 18th, 2016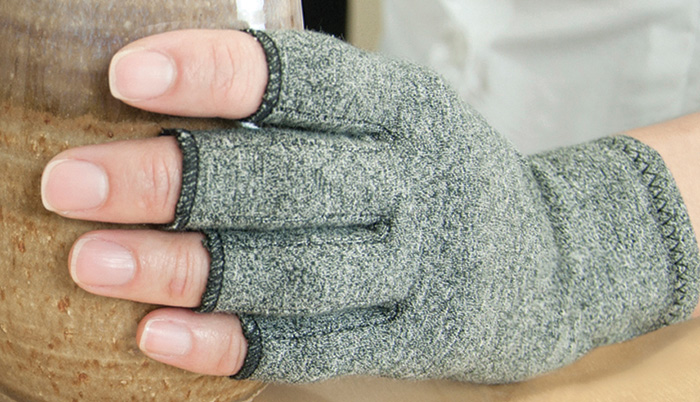 IMAK Compression Arthritis Gloves
Brownmed
Matt Garver, VP of Marketing, Brownmed brownmed.com
Tell us about the products Brownmed offers for the compression industry.
GARVER: Brownmed manufactures the IMAK Compression line of products. This product line includes our IMAK Compression Arthritis Gloves, which are the only gloves to have been commended by the Arthritis Foundation for their ease of use.
What trends do you see in the compression industry?
GARVER: We have seen a trend toward infusion of copper and other materials into compression garments. Unfortunately, there is little to no scientific evidence that this provides any benefit to the patient. Customers should instead focus on finding products that are recognized by third parties for their effectiveness.
Do you anticipate any challenges in the compression market for the rest of 2016?
GARVER: As the industry grows, more players are entering the market seeking to make a quick buck. This will put continued pricing pressure on existing players. We plan to continue to focus on providing quality products with a solid medical foundation.
How does your company plan to stay competitive?
GARVER: We plan to expand the IMAK Compression line to cover other joints and areas of pain for arthritic individuals, including the knee, elbow and ankle.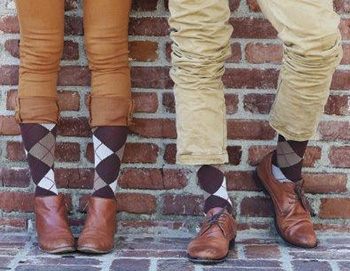 DJO's Rejuva Compression Legear
DJO
Jill Cook, Market Manager, Vascular djoglobal.com
How do your compression products stand out in the industry?
COOK: DJO Global offers a broad variety of compression legwear that combines function, fashion and comfort for preventive, therapeutic support. Rejuva, our newest offering, was designed with fashion in mind and to not look like medical hosiery. It combines clinical graduated compression in a selection of stylish patterns.
What challenges are you facing in 2016, and how do you plan to meet them?
COOK: The challenge is to make the products more accessible to patients in a changing health care environment. DJO Global plans to expand into as many retailers and pharmacies as possible and also enhance our online presence.
What is one way your company plans to stay competitive in 2016?
COOK: Our compression legwear line currently fills every gap for every patient need. We are looking to introduce new Rejuva designs to keep the line current with fashion trends. Those new patterns will help to keep us ahead of the aesthetic trajectory in this growing and changing market.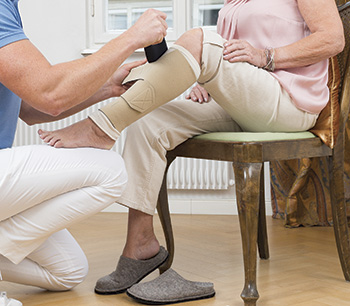 CircAid compression
medi USA
Glenn Anderson, Director, Category Management, Medical Products mediusa.com
What products do you offer for the compression industry?
ANDERSON: With the addition of the CircAid line in 2012, medi introduced a very easy-to-use compression system to the broad market that overcomes the top challenges in getting patients into and compliant with compression.
How is the compression industry changing?
ANDERSON: With the pressure to reduce the costs of health care as the population ages, we expect to see the expanded use of conservative therapies such as compression therapy.
How does your company plan to face market challenges?
ANDERSON: With the advent of adjustable, inelastic compression devices, such as CircAid juxtacures, we will see the acute care compression market move from bandaging to the newer devices. The newer devices are able to provide a more consistent dosage of compression and reduce the reliance on trained health care professionals to properly apply bandages.
What is one way your company plans to stay successful in the compression industry in 2016?
ANDERSON: medi USA delivers continuing education for clinicians and HME staff about proper compression fit, instruction and product selection, so optimal treatment is provided from the start. Home health and HME staff are the keys to successful compression therapy.
What is the single most important thing that HME and other health care providers can do to increase revenue and remain competitive?
ANDERSON: As health care providers are being forced into a pay-for-performance and outcome model, service is more important than ever. If a wound care center or home health service is receiving a fixed payment to treat a patient, it is in their interest to work with a quality product and HME or home health care provider who complements the clinical care of that patient when the patient is in the home setting.

Microfiber Shades
SIGVARIS
Scot Dubé, President and CEO sigvaris.com/usa
Tell us about what SIGVARIS offers in the compression industry.
DUBÉ: SIGVARIS has been around for more than 150 years, and for more than 60 years our focus has been on creating medical compression garments. We strive to offer something for everyone that is comfortable, breathable and helps to improve leg health when worn daily.
What trends do you see in the compression industry this year?
DUBÉ: High-tech yarns and textiles have really been a focus during the last few years, and we do not see that trend stopping any time soon. Our research and development team is constantly exploring new fabric options that could benefit the people who wear our products.
What challenges do compression industry providers face?
DUBÉ: Educating the front line health care professional as well as the consumer about leg health and the overall benefits of compression before the symptoms of venous insufficiency get more pronounced. It is important to have graduated compression stockings that are measured to properly fit the patient and fabrics that enhance compliance by the patient. A prescription for compression does no good if the patient doesn't wear the products!
How does your company plan to stay competitive in 2016?
DUBÉ: We recently launched a new line called MICROFIBER SHADES that offers fun striped and heathered sock patterns. These have allowed us to include a younger demographic in conversations about the importance of leg health. We also are extending our product range for medically complex legs—including patients with lymphedema and lipodema—by adding BiaCare products to the SIGVARIS product offering.
How do your compression products help HMEs and other health care providers meet their biggest challenges?
DUBÉ: For many patients, graduated compression is covered by insurance, but these products can also be a great add-on sale and are great for cash/retail business, too. Adding a high-margin, high-penny profit cash sale line such as SIGVARIS can be a boost to driving traffic and revenue. Just about everyone who walks in the door can benefit from wearing compression.
What should HME and other health care providers do to stay competitive?
DUBÉ: Be engaged in the community where the business is located. Taking part in health expos, working with therapists and physicians and community wellness events can help drive business.