Medtrade officials handed out the hardware at the recently concluded show in Atlanta
Friday, December 11, 2015
The biannual Innovative HME Retail Product Awards, sponsored by HomeCare, honor HME products that are geared toward retail sales. The purpose of the competition, held each year at Medtrade and Medtrade Spring, is to promote those products that contribute to providers' bottom lines though cash sales rather than Medicare reimbursement.
Prior to the awards, products are reviewed by judges; the top eight advance to Medtrade 2015, held in Atlanta October 26–29, for a round of judging. Those eight products are presented in a conference session, "The Best New HME Retail/Cash Opportunities," moderated by VGM's Jim Greatorex.
"The caliber of the entrants has gotten better every year," said Greatorex, business development, VGM Retail Services. "The manufacturers are realizing they need more than just a product. They must also have a marketing package to help sell it to consumers." (Greatorex is also a member of the HomeCare Editorial Advisory Board).
After officials from all eight finalists make their presentations, session attendees and judges vote to determine the top three winners.
In addition, the New Product Pavilion, also sponsored by HomeCare, houses HME products that have been on the market less than a year. Attendees vote for their favorites, and awards were presented for Provider's Choice Gold, Silver and Bronze recognition at the end of the show.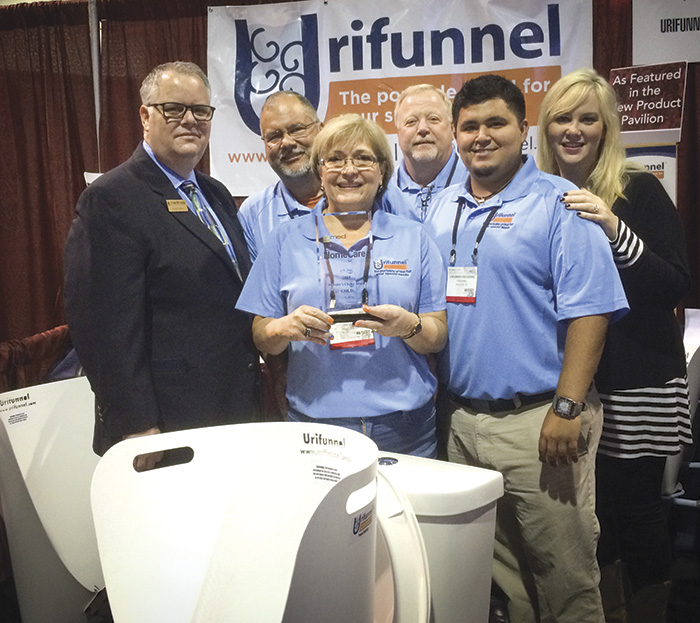 Urifunnel's innovative and simple design won Providers Choice Gold at Metrade 2015. (Photos courtesy of Greg Thompson.)
Provider's Choice Awards
This year's Provider's Choice Award winners:
Providers Choice Gold: Urifunnel (urifunnel.com), a company founded by parents of a special needs son. The product is designed as a cost effective option to enhance bathroom sanitation and safety.
 
Providers Choice Silver: EZ-Sit (ez-sit.com), an apparatus that attaches "arms" to an armless chair—helping people to stand independently.
 
Providers Choice Bronze: College Canes (collegecanes.com), a line of American-made collegiate licensed walking canes.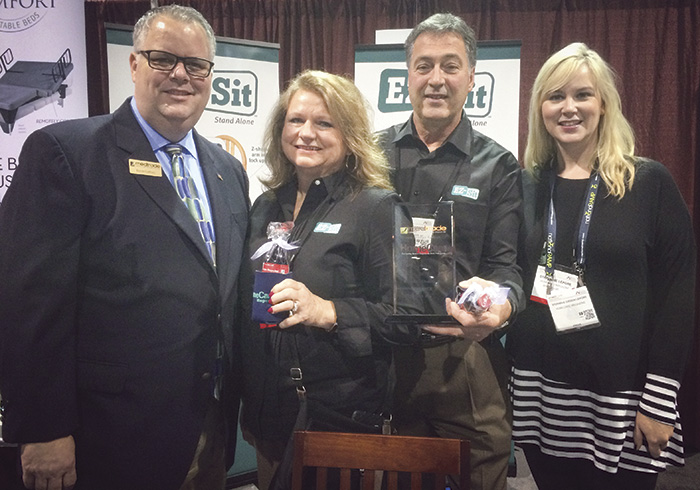 EZ-Sit was awarded the Providers Choice Silver Award.
College Canes took home the Providers Choice Bronze Award.
Innovative HME Retail Product Awards
Caretailing at Medtrade: Three products won the Innovative HME Retail Product Awards. Judges and Medtrade attendees cast their votes for the top three products in the biannual Innovative HME Retail Product Awards, with Pride Mobility taking first place for its Go Go Folding Scooter.
Manufacturer representatives from all eight finalists made presentations in what proved to be a tight race for the top three awards.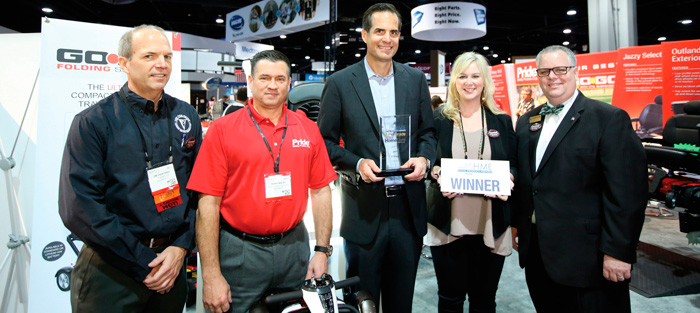 Pride Mobility's Go Go Folding Scooter won first place in the Innovative HME Retail Product Awards at Medtrade 2015.
The top three winners were:
Go Go Folding Scooter—Pride Mobility
 
Recovery Patches—KT Tape
 
DayDreamer Lift Chair—Golden Technologies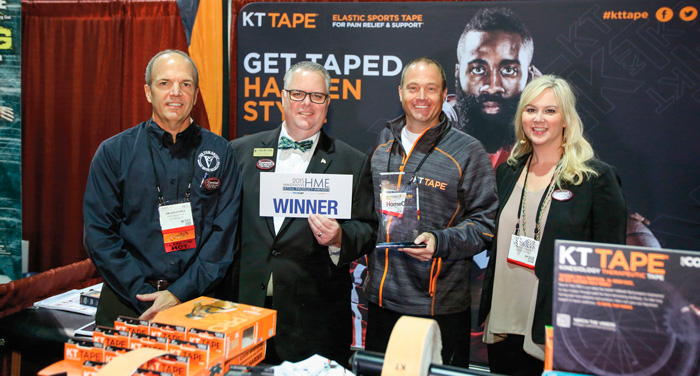 Innovative HME Retail Awards 2nd place winner, KT Tape
The eight finalists (listed in alphabetical order) were:
Back Joy Care Bath Seat
 
Drive Hurry Cane
 
Golden Technologies DayDreamer
 
ING Calf Sleeve and Wrist Sleeve
 
KT Tape Recovery Patches
 
MMJ Labs Buzzy Vibracool
 
Pik Stiks TelescoPik
 
Pride Go Go Folding Scooter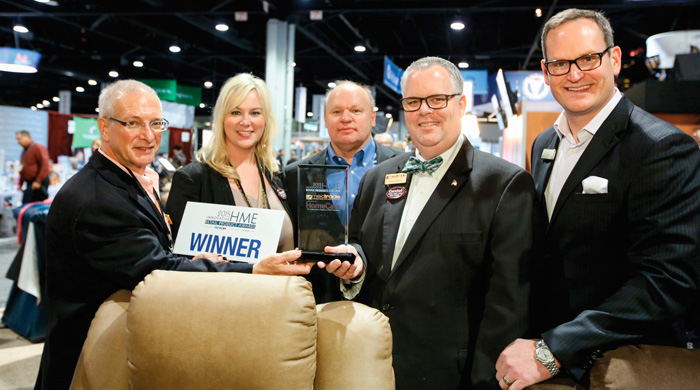 Innovative HME Retail Awards 3rd place winner, Golden Technologies
"The Innovative HME Retail Product Awards remain relevant in today's HME world, and we developed a new word—caretailing—to properly describe the growing retail phenomenon," said Kevin Gaffney, group show director, Medtrade. "Caretailing is defined as the act of providing customer service and expertise to consumers willing to pay cash for health-related products that improve their lives, and are beyond the usual scope of Medicare and other third-party payers."
Best Booth/Creative Concept Awards
In addition to the awards sponsored by HomeCare, Medtrade presented booth awards to two winners.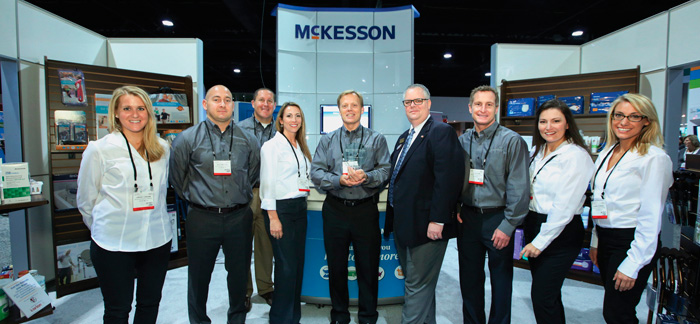 McKesson Medical-Surgical took home the Creative Concept Award.
The prestigious Best Booth Award went to Mediware Information Systems (mediware.com).
 
The Creative Concept Award went to McKesson Medical-Surgical (mckesson.com).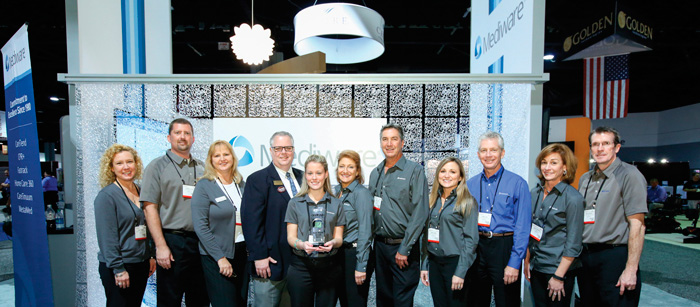 Mediware's excellent design won Best Booth at Medtrade 2015.
Congratulations to all of the winners!