How one company is exceeding the expectations
Wednesday, November 5th, 2014
We recently talked with Kathryn O'Shea, RN, CEO and CFO of Twinkle Toes Corporation, a foot care company in Minnesota, about trends she's seeing in the foot care industry, what types of footwear her customers are interested in and how things at a foot care company have changed over the years as podiatrists alter their service offerings. When Twinkle Toes was founded in 1999, business was steady but small. Back then, podiatrists often handled routine foot care services, such as nail trimming and foot cleaning. As many podiatrists shifted focus in recent years to concentrate on larger procedures and surgeries, a demand for a new business model to conduct these routine foot care services developed. Twinkle Toes was all too happy to step in and fill the void. During the past five years, the company has seen its customer base grow from 200 to 2,400. Twinkle Toes employees visit senior citizens' homes and 91 senior living facilities throughout the Twin Cities area to perform routine foot care services. Aside from company founder and president Laurie Feuling, all Twinkle Toes employees are registered nurses. "Our senior patients love that we come right to them," says O'Shea. "It means they don't have to leave the privacy of their homes, and their family members don't have to take off work to take them to a podiatrist's office." During a typical Twinkle Toes visit, patients are treated to a warm, bubbling footbath filled with water, Epsom salt and peppermint to clean and soften feet, preparing them for care. Twinkles Toes nurses perform a professional nail cut and trim, removing any corns and calluses from the feet. Thick, unsightly nails are contoured and reshaped to look and feel good again. Nurses also inspect the skin on the legs, ankles and between the toes. Should they see anything unusual, nurses recommend the patient see a podiatrist for further treatment. The visits end with a moisturizing massage of the feet and lower legs. Each visit takes about 30 minutes. When patients visit a podiatrist's office, visits are much shorter, which doesn't allow for this detailed level of foot care. Twinkle Toes recommends that patients receive a foot care visit every two months in order to keep feet healthy. "After our visits, customers are most surprised that their feet and nails look nice again," says O'Shea. "Often, seniors have simply gotten used to unhealthy feet. They don't realize such a simple solution is available." All Twinkle Toes nurses are certified shoe fitters. They visit seniors at home and conduct one-day clinics at senior living facilities in the area, working to ensure even homebound senior citizens have access to therapeutic footwear that best fit their feet. Twinkle Toes nurses meet with patients suffering from foot deformities, bunions, hammertoes, calluses and amputation, working to find them the best shoe for their specific foot needs. "We often have customers ask, 'What shoe is best for my foot problem' and 'How long will it take to get them?' " says O'Shea. "Seniors are often pleasantly surprised that we can find a shoe that will mold to their foot and that once the proper paperwork is completed, they can get a new pair of shoes in a week or two." Twinkle Toes is currently seeing sales across many shoe styles. Dress shoes are the least popular. Seniors are most often interested in comfortable shoes that are easy to slip on and off. Twinkle Toes encourages seniors to look at shoes with a Velcro strap. Good ankle and arch support is also a major selling point.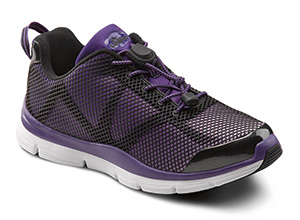 Therapeutic footwear, such as this athletic style from Dr. Comfort, provides more support than traditional shoes.
Dr. Comfort's new athletic-style shoes are currently a popular customer choice. For example, O'Shea loves the Katy sneaker-style shoes because she spends most days traveling between senior citizens' homes, senior living centers and the office, and these athletic shoes keep her feet comfortable throughout the day. "I love wearing them to appointments," says O'Shea. "It shows patients that I believe in the shoes I'm recommending for them. We know these shoes make a difference in our patients' lives." Once the patient's shoe fitting is complete and a shoe style is selected, Twinkle Toes nurses also review patients' current medical situation with them to help determine if they will meet Medicare's qualifiers for therapeutic shoe coverage. Patients who meet the Medicare qualifiers need to see a primary care physician to get a foot examination and a prescription for therapeutic shoes. For patients who qualify, Twinkle Toes handles the paperwork process, from coordinating prescription paperwork with their primary care physician to working with Medicare to ensure the patient's shoes will be covered. This can involve several rounds of back and forth. For patients who don't go through Medicare to get the cost of their shoes covered, Twinkle Toes also handles cash sales of therapeutic shoes. After the paperwork is complete, Twinkle Toes orders the footwear on behalf of the patient and schedules a fitting when the shoes come in to ensure patients receive footwear that fits well and will properly benefit their feet. "We never leave shoes with a patient unless they're a great fit," says O'Shea. "We only want happy, satisfied customers. Dr. Comfort is a big seller because they offer patients a product guarantee. This gives our patients peace of mind, knowing they have the option to get their money back if they're not happy with the shoes when they come in. However, because we carefully complete shoe sizing before ordering, we rarely have patients who need to send their shoes back." As the foot care and therapeutic footwear industries continue to grow, Twinkle Toes Corporation is thinking of expanding as well. O'Shea has talked with business partners about franchise opportunities in other parts of Minnesota and as far away as Arizona.