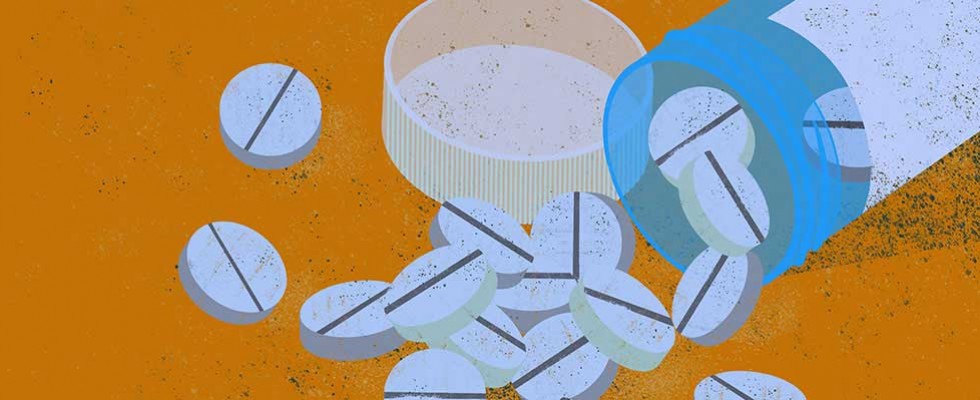 Thursday, February 3, 2022
More than 90% of hospice and palliative care patients are prescribed a controlled medication to help manage their pain. While these drugs are essential for managing symptoms, they can be deadly if they end up in the wrong hands.
Opioid misuse and overdoses impact all demographic groups, and the opioid crisis is claiming more lives than ever. According to the Centers for Disease Control and Prevention (CDC), there were a record-breaking 100,306 overdose deaths between April 2020 and April 2021, the vast majority due to some form of opioids.
The ability to access drugs is a common denominator linking many instances of opioid misuse, and home health care—especially hospice—is replete with prescription medications that often remain in the home after a patient's death.
Home hospice providers are in a strong position to help prevent the dangerous misuse of opioids and other drugs by following best practices to decrease opportunities for drug diversion, to promote proper drug deactivation and disposal to ensure medications become inert and nonretrievable, and to educate patients and their families about opioid use and safety.
Preventing Drug Diversion
Drug diversion is not only risky for patients and those who misuse the medication, it costs the health care industry billions of dollars annually.
In a 2020 survey of U.S. hospices published in the Journal of the American Medical Association, 31% reported at least one case of confirmed drug diversion in the previous three months. The study also found that 39% of diversions involved primary family caregivers, 38% involved other family members and 34% involved patients themselves.
Hospices must have best practices in place to decrease opportunities for drug diversion. A few best practices recommended by the Hospice Foundation of America and University of Maryland Baltimore include:
Ongoing medication monitoring—such as pill counts—to keep careful track of how and when drugs are being used
Screening new hires and volunteers for possible substance misuse
Clinical screening of patients, family caregivers and other residents of the home for a history of addiction or risks of substance misuse
Using a drug lockbox or self-dispensing device
Medication disposal after death or after a change in patient medication regimen
Drug Disposal
Hospice staff should have a drug disposal procedure in place to use after patients pass away that follows federal and state laws and ensures medications are fully destroyed. Unfortunately, in nearly one-third (32.4%) of home deaths involving hospice, workers leave behind unused opioids, according to a 2021 survey in the Journal of Pain and Symptom Management. This creates a very high risk that a patient's loved ones may misuse leftover medications or dispose of them improperly.
Best practice recommends that hospice employees dispose of medications on-site versus transporting them to another location due to the risks of possible drug diversion. But hospice leadership should make sure to educate employees on the best on-site disposal methods. In one survey, 14% of hospices reported that they always or most of the time threw opioids away in the trash; 8% flushed them down the toilet, which can contaminate water supplies and landfills.
A better alternative is an easy-to-use, at-home drug deactivation and disposal product that neutralizes medications and renders them inert and nonretrievable for all practical purposes. One such system uses activated carbon, tap water and a plant-based pouch to safely neutralize dangerous medications in three simple steps.
"Our patients' families and friends often do not know what to do with the medications of a loved one after they die. We're in a unique position to inform them of the importance of safe medication disposal and provide them the tools to do so," said Sue Boris, chief of clinical operations at Capital Caring Health, a regional network that provides hospice and palliative care in Maryland, Virginia and Washington, D.C. Since 2018, Capital Caring Health has distributed drug deactivation systems to patients and their families so they can dispose of medications at end of life.
The 2018 Substance Use-Disorder Prevention that Promotes Opioid Recovery and Treatment for Patients and Communities Act allows employees of qualified hospice programs to dispose of unused controlled substances by collecting and destroying the drugs in patients' homes.
The law allows physicians, physician assistants and nurses working in hospice to dispose of medications if they are acting within the scope of their employment and have "completed training regarding disposal of controlled substances in a secure and responsible manner."
Hospices should also familiarize themselves with state-level regulations on disposal, which can vary widely. If you are unsure what your state allows, check with relevant state agencies, such as health and environmental departments or the Drug Enforcement Administration office.
Family Education
Hospice providers should also make sure to teach family members about opioid safety and what to do with leftover controlled substances, particularly if state laws prevent their employees from disposing of medications. It's best to begin education upon the patient's admission into hospice care, or as soon as possible, and to discuss topics such as:
How to properly administer opioids and appropriate dosages for their loved one
The risks and side effects of opioids
How to securely store medications
Medication deactivation and disposal options
According to a 2020 report from the U.S. Government Accountability Office, some hospices even have patients and/or their caregivers sign written agreements that acknowledge they understand how to use controlled substances correctly and pledge that they will not give them to others.
Prevention Is Key
Pain medication, such as opioids, have an important role in end-of-life care and will continue to offer much-needed relief to patients into the future. With increased awareness and education, hospice providers can help patients manage pain while also playing an important role in prevention by ensuring medications aren't adding to a public health crisis.
"More than 75% of our patients receive their hospice care in their home or a home-like setting, making in-home medication disposal a critical factor in preventing drug diversion," said Jason Kimbrel, vice president of hospice services at Optum and MyNHPCO pharmacist community leader. "It is our responsibility as health care providers to keep our community safe, and we should be doing everything we can to prevent the misuse of our patients' medications."