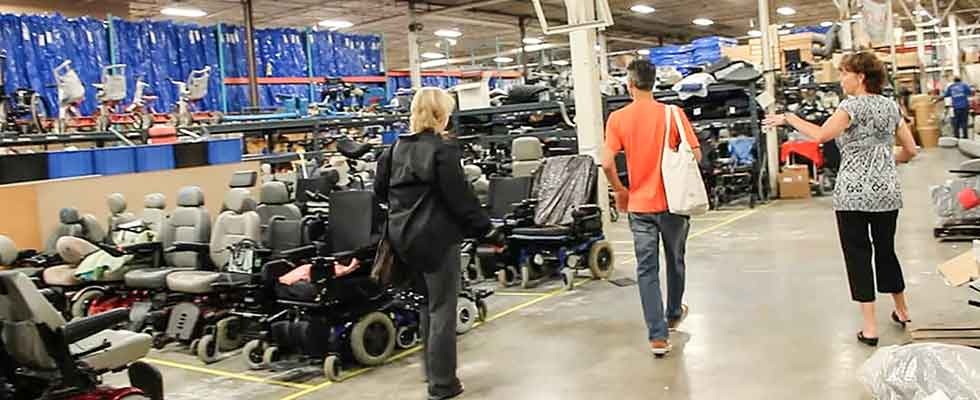 Nonprofit helps those who need it most
The Friends of Disabled Adults and Children (FODAC) began as a simple mission. Ed Butchart and his wife, Annie, were doing community service in an assisted living facility when Butchart noticed seniors who were stranded in bed without needed medical equipment. He set out to fill that need.  
"He started knocking on doors of local durable medical equipment (DME) companies to see if there were wheelchairs he could repair. He was dumpster diving behind these companies for whatever he could find; spray painting, reupholstering, repairing," said FODAC President and CEO Chris Brand. 
The Butcharts incorporated Friends of Disabled Adults in 1986 and the organization was formally recognized as a 501c3 in 1987; since its founding, it has collected and distributed more than 40,000 wheelchairs. The organization added a focus on children in 1997 and today has a 64,000 square foot building stocked with DME in Stone Mountain, Georgia. It provides more than $9 million each year in equipment and services at little to no cost to recipients. 
The organization has done work in every state and sent equipment to 78 countries. The organization added disaster relief after Hurricane Katrina devastated New Orleans in 2005, and has assisted with emergency aid in 19 states and three territories, Brand said. 
"When Katrina hit, Voluntary Organizations Active in Disaster (VOAD) reached out for help," said Brand. "We reached out to vendors and manufacturers and we realized there was an unmet need. We had to grow."
Today, FODAC offers disability shelter kits so people with disabilities can stay near their homes. The state of Georgia bought into the concept and FODAC delivers kits with new medical equipment to the state's disaster shelters.
In addition to providing equipment during times of disaster, FODAC works with the Atlanta Regional Commission to help provide home modifications through the Money Follows the Person program. The organization recommends local contractors to build ramps, widen doorways, upgrade bathrooms and more—and makes sure the work is completed. FODAC also manages a mini grant program for ramp building in the community.
"I've seen people who are young but stuck in nursing homes after an accident because of lack of community support," said Brand. "They need to be back home." 
In late 2019, FODAC was recognized by the Atlanta Better Buildings Challenge; the challenge is a public/private voluntary initiative to reduce energy and water consumption by at least 20% by 2020 across the Atlanta area.
"It is super exciting to top off the capital campaign that paid off our building and then made our building more efficient. We really turned the building upside down for that," said Brand. "We need to make our disposal of raw metal more efficient; a lot of what we get in, we can't use, and getting that smoother is one of our goals."
The organization always needs HME dealers to donate transport chairs, manual chairs, rollators and shower equipment. 
"We can't get enough of these basic items and we hate saying no to people going through cancer or other illnesses," said Brand. "Most people find us through their local disability groups. We also always need partners donating and providing corporate sponsorships."