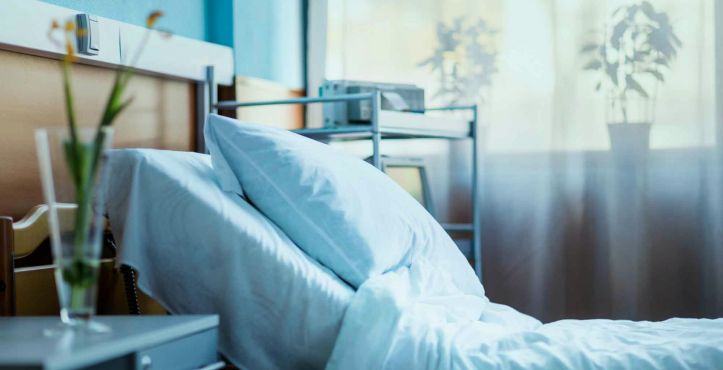 Disruption opens doors for new approaches in design and function
Tuesday, February 19, 2019
It is predicted that a vast majority of baby boomers will choose—or have no choice—but to age in place in their current homes, creating a significant demand on in-home supportive devices.
Driven by the reality that by 2030, 1 in 5 U.S. citizens will be over age 65 according to the U.S. Census Bureau, a whole new industry is emerging to make it possible to age in place successfully.
Let's start with one of the most important, though infrequently purchased, fixtures in a person's life: the bed. Similar to other markets, the mattress market has been experiencing its share of disruption. Retail providers such as Mattress Firm have been downsizing (the company recently filed Chapter 11 protection).
Meanwhile, online competitors such as Casper and Leesa are planning to gradually expand their footprints into retail. And according to IBISWorld Retail Analyst Meghan Guattery, who recently commented on this market disruption, "Most consumers still want to buy a mattress in person. They want to walk into a mattress store, kick off their shoes and get a feel for what they're going to be spending every night on."
Tech: A New Player in the Bedding Market
Software developers are even getting into the mix. According to Virtual Capitalist, "Despite conventional wisdom to the contrary, the $15 billion mattress business has seen the entrance of several ambitious start-up companies, and they are beginning to put a dent in market share." Some of the innovations in smart bedding include features such as:
Built-in trackers to monitor bio measurements for health and restfulness
 
Sensors to adjust firmness or tilt the head to alleviate sleep apnea
 
Connections to other devices, such as smart alarms, coffee pots and even alerts to relatives or police
 
A bed frame that raises and lowers a full 10 inches at the touch of a button
 
Under-bed lighting to help reduce the risk of falls
 
Technology companies are known for disrupting traditional markets, and mattress and technology make for good bedfellows. But why is the technology world looking to get into the mattress business?
A top trend among post retirement-age people, aging in place is the preferred option for seniors to feel their needs can be met without dedicated, full-time skilled nursing. In a study by Clifton Larson Allen, it was found that "environmental modifications, technology-enabled solutions and home-based services are contributing to making home an increasingly viable alternative for successful aging."
Mattress Industry: Main Market Segments
Bed-In-a-Box
The bedding industry was one of the first to step up to the challenges of a changing culture. The bed-in-a-box phenomenon has swept the nation, as more and more consumers have moved to online shopping and embraced the convenience of this new mattress trend. But the market for this type of product is largely a younger demographic.
The Adjustable Bed
Adjustable beds make similar claims: Adjust the head and shoulders to alleviate snoring, raise the feet to help circulation, enjoy a mattress that keeps you cool and dry. These beds have found their demographic among the active, middle-aged consumer who is beginning to feel the residual pain of runner's knee, tennis elbow or an aching back from too much sitting.
From a business perspective, one industry analyst had this to say, "The adjustable bed category has experienced rapid growth because retailers can push them as sales check-builders for additional revenue and margin dollars. Consumer interest is based on the desire for comfort that is difficult to find in today's conventional mattress offerings. The real answer for consumer satisfaction remains with brands that continue to be dedicated to true craftsmanship."
Therapeutic Bedding
For the aging in place, older consumer, the bedding industry has had to provide an intelligent bed that delivers all the advances of a high-end medical device with the aesthetics of a beautiful piece of furniture that fits well with home décor.
The aging in place segment is determined to stay in their homes but recognizes that, as they age, they need to tap the same type of innovation that has made its mark on every other industry—products that will help ensure their safety and help them stay active, involved and at home. These new "designed for the aging" products also make life easier for family and caregivers who support their desire to be at home, but who also recognize that they need some assistance.
New players in the therapeutic bedding arena have helped to disrupt the mattress industry by recruiting the help of engineers from places such as IDEO and NASA to produce new, intelligent products.
Looking to leverage the market disruption with a unique appeal to the aging in place consumer, Parks Health Products entered the therapeutic bedding market, partnering with durable medical equipment (DME) stores throughout the nation. In 2017, HSM Solutions, the parent company of Parks Health, launched Parks and the Kalmia family of adjustable therapeutic beds and mattresses, which are designed to address some of the transferring issues that can occur with static-height, traditional beds.
Beds: A Unique Opportunity
A wide range of beds covers homecare, institutional-care, emergency, surgical and therapeutic beds (bariatric, elderly, long-term). The global market of medical beds is currently broad, competitive and still has potential to spread, according to a 2018 article published by BMC Medical Informatics and Decision Making.
Research in this field is partly powered by a surge in opportunities for accessibility solutions. Smart beds, seamlessly integrated into the health care system, have a unique opportunity to enable more efficient efforts for caregivers, and more responsive environments for patients.