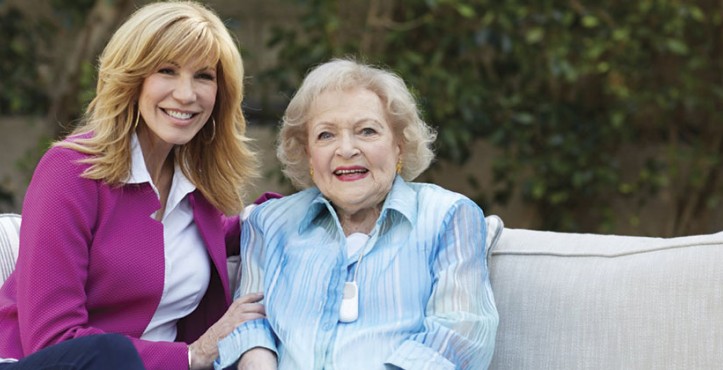 Celeb duo Betty White and Leeza Gibbons drives candid conversation about providing the right safety nets for independent aging
Aging impacts everyone—seniors and caregivers—in different ways, and that rings true for the lifestyles of the famous, too. Beloved comedienne Betty White and talk show host and health advocate Leeza Gibbons are working together to educate consumers about aging from both the senior and caregiver perspectives.
Philips Lifeline has played significant, but different, roles in both White and Gibbons' aging stories. For the Golden Girl, Philips Lifeline helps her to remain independent in the comfort of her home; for Gibbons, the medical alert service provided her father with access to help when she was miles away.
Getting Older on Her Terms
White, age 94—who has won a People's Choice Award for "Favorite TV Icon," was named America's Most Appealing Celebrity by Reuters and is the oldest person to have hosted Saturday Night Live—first became a Philips Lifeline customer in 2012. She chose the GoSafe service so she could continue to live independently in her own home.
"I want to live life on my terms, in my own home, doing the things that are important to me—just like any other person," says White. "Philips Lifeline gives me a sense of security and the peace of mind I need. Aging doesn't have to be about being old; it's about being safe and smart."
Help When She Can't Be There
Gibbons faced a different experience with her father, Carlos, who also uses the GoSafe service. Last year, he suffered a heart attack at home. He was wearing his help button at the time, which provided him access to a Lifeline response associate who got him the help he requested.
"I know firsthand just how scary it is when a family member has an emergency and needs help urgently," says Gibbons. "I can't express strongly enough how glad I am I had the conversation with my father about getting this medical alert service. It's not something he wanted at the time, and of course hindsight is 20/20, but you just never know when something might go wrong."
"Aging truly does impact everyone, and seconds do matter in an emergency. If we can prevent a trip to the hospital, shorten a hospital stay, enable someone to return home after an emergency or just be there for a check-in call, we are making a positive impact in people's lives. Both caregivers and seniors need to know that there are resources and technology to help them discuss and decide how to stay safe, healthy and independent," says Kimberly O'Loughlin, senior vice president and general manager of home monitoring for Philips.