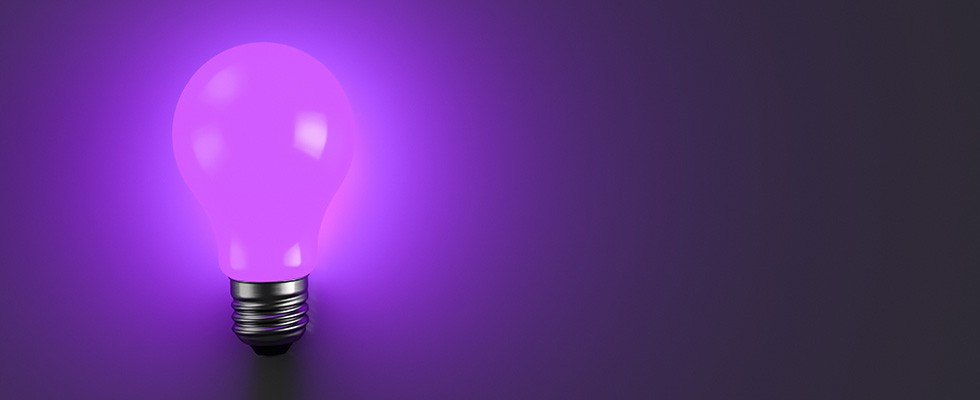 Investing in new technology—including LED lighting—can keep illness at bay
Monday, December 14, 2020
The COVID-19 pandemic has put a spotlight on the deadly problem of infectious diseases. Bacteria and viruses like MRSA, influenza and salmonella are everywhere and can be transmitted easily. Such harmful pathogens thrive especially well on surfaces, surviving for long periods of time. For example, in some cases E. coli can double in colony size every 20 minutes; unchecked, that adds up to millions of potential harmful microbes on a surface in less than a day.
Controlling these agents have always been important, but the pandemic has accelerated new tech innovation and protocols to serve the health care industry effectively and sustainably.   
Health care continually seeks the highest form of infection control to ensure that patients and staff are safe everywhere, from waiting and emergency rooms to operating tables and ambulatory services. It's critical for hospital environments to remain disinfected and clean throughout the day, given the diverse population of people entering and leaving. Unfortunately, the very place that people visit to get "healthy" could ultimately result in serious complications or even death. The Centers for Disease Control & Prevention estimates there are 1.7 million health care-acquired infections and 99,000 associated deaths each year in the U.S., revealing that there is still work to be done.
Health care facilities are typically equipped with large equipment to combat infection. Some include sterilization devices to clean stethoscopes and other tools, sanitation robots, and ultraviolet (UV) lights. While these devices may be suitable for hospitals, they are not practical—let alone cost-effective—for home settings.
Home health care also requires optimal safety conditions and protocols as it traditionally includes those who are chronically ill, disabled or elderly—all populations susceptible to disease and illness. An estimated 12 million Americans depend on homecare each year, highlighting that a large chunk of the population is susceptible to infection in their own homes. Even before COVID-19, about 3.5% of patients developed infections during their home health experience that led to a hospitalization. It's important for homecare agencies to take charge in ensuring homes have infection-prevention protocols and tools in place to protect patients and staff.
Making Cost-Effective Investments in New Technology
The home is filled with areas that serve as ideal breeding grounds for germs, from common areas like the kitchen and bathroom to more personal areas like the bedroom. Implementing different technologies for different rooms can be expensive; when tackling infection control and meeting sanitation protocols, it can be easy for homecare agencies to get carried away with purchasing several types of cleaning solutions, costly devices and more. Many companies rely on cleaning crews, but with new social distancing regulations, having staff dedicated to intermittent cleaning can be inefficient, cosstly and unsafe.
Technology may provide a better option, but it's important to ensure that the product is easy to install, access and maintain. One example is antimicrobial LED technology that continuously cleans in the background—saving energy costs and lasting longer than traditional bulbs that require replacements. Antimicrobial light technology creates environments where microbes can be prevented from growing and replicating.
Integrating Safe & Practical Products
Infection control is crucial, but can be ineffective when facilitated improperly. The harsh chemicals commonly used for cleaning purposes can degrade and damage plastics, rubber and other materials when used on home medical equipment. Additionally, exposure to chemicals lingering in the air can harm the lungs, and the average home lacks natural ventilation or circulation.
Another challenge is keeping spaces clean around the clock. While UV light can kill harmful germs and bacteria, this technology is not safe when used around humans, minimizing the window of cleaning time. It can be difficult to find stretches when bedridden patients are not present in the room or home, meaning UV light cannot continuously sanitize spaces. For patients who need additional support at home, it's important to reduce labor-intensive tasks when nurses are off the clock, especially household cleaning. Automated cleaning technology can not only eliminate the use of harsh chemicals, but also ensure a 24/7 clean environment.
Independent living at home should be simple and comfortable—without the need for strenuous, labor-intensive cleaning. The key is seamless integration, which can be accomplished through innovative tech solutions like automated antimicrobial light. Not only it help the patient, it also reassures the caregiver that they are working in a clean environment knowing that any area with the antimicrobial light on is being cleaned continuously.
The Impact of Innovative Infection Control
As home health agencies work to ensure that vulnerable patients do not come into contact with harmful diseases or germs, it is important they seek out cost effective and innovative technology, such as simply replacing an existing light with an antimicrobial LED light. These new technologies also give health care staff clean spaces and a reason to feel safe, comfortable and happy at their job. In July 2020, only 24% of nurses felt that their employer was providing a safe workplace. Having enhanced technology in place throughout homecare settings reassures staff that these spaces have enhanced cleaning, leading to overall trust and satisfaction within the company.
Home health agencies must consider the new tech innovations and investments that combat infection for patients' and nurses' behalf to create safe home health care environments. Staff in home-based care settings are taking care of the most vulnerable population in society, increasing the need for infection control. With over 412,000 homecare provider businesses in the U.S., it's critical for the home health industry to reevaluate investments and make necessary updates to cleaning protocols to keep patients and staff safe.