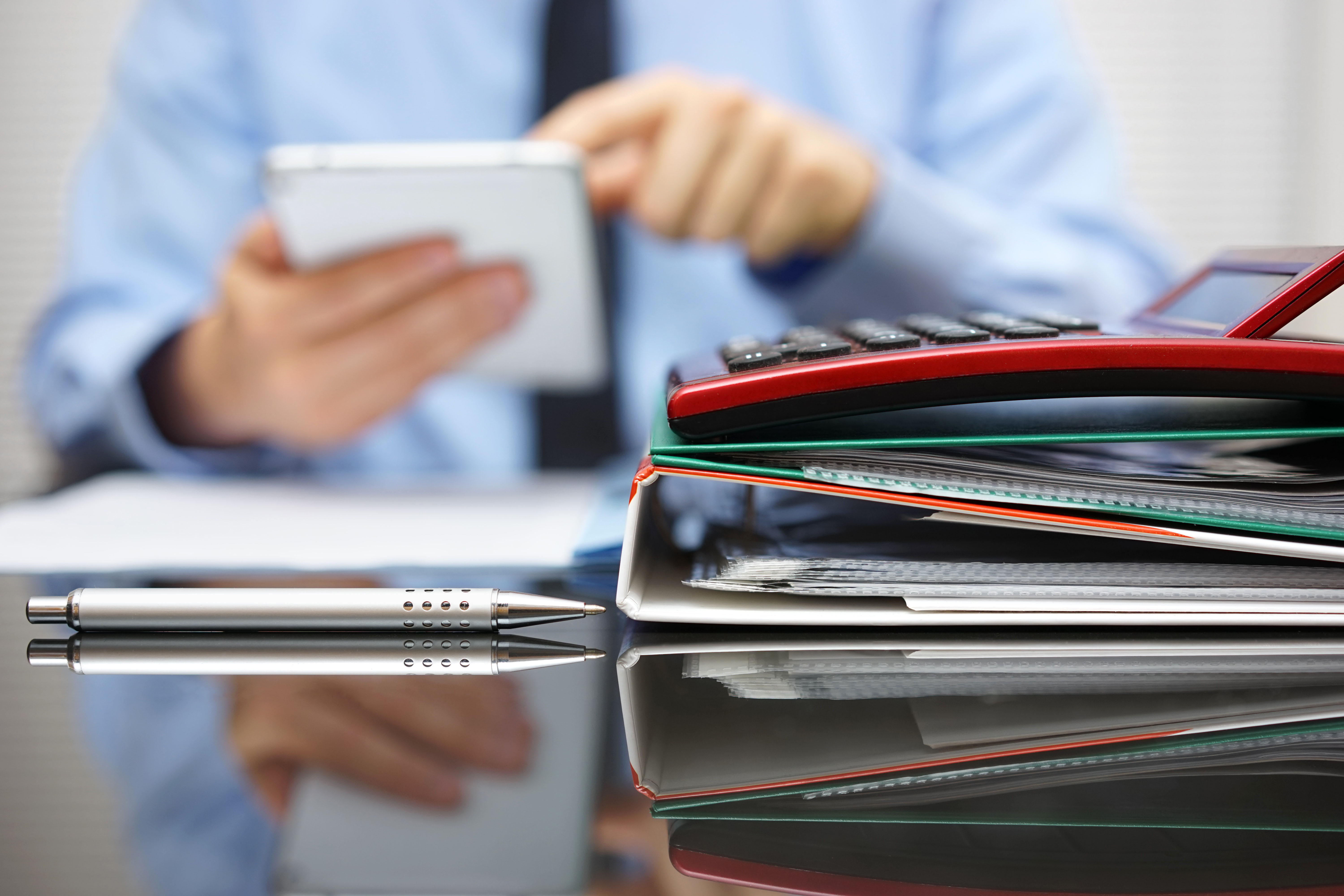 Consider your contracting strategy
Did you know that contracting with complementary payers is a great way to broaden your opportunities for revenue? But first you might be asking just what a complementary payer is.
A complementary payer is a payer that offers either or both primary and direct network contracts and/or secondary out-of-network contracts that are complementary to your existing payer contracts. Both are typically complementary to commercial payer contracts. The best way to think about how complementary payers are different and about complementary to primary payer networks is by understanding the included diagram.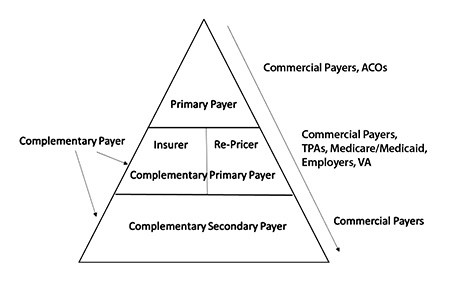 A Hierarchy of Needs
In the diagram, the top part of the triangle represents the usual primary payers that you likely contract with, such as Blue Cross Blue Shield, United Health Care, Aetna, Cigna, et al.
The middle level of the triangle represents other primary payers who put in place complementary direct preferred provider organizations (PPO) agreements, Veterans Care agreements, Medicare and Medicaid agreements and third party administrators (TPAs). The companies that fall into this category are often not as well known, but may have substantial networks and membership coverage. These are typically "re-pricers" that sell their networks to payers who pay claims. For example, there is one such payer that covers as many as 2 million people nationwide, with as many as 400,000 beneficiaries in a single state.
The bottom level, complementary secondary payer, is an out-of-network agreement that will take effect only if you do not have an existing complementary primary payer or primary payer agreement in place. There is one payer in this category that reports covering 65 million people. As in Maslow's hierarchy of needs—where the bottom portion of the triangle represents basic physiological needs like food—in the payer contracting hierarchy, it is a good idea to have secondary payer agreements in place to cover situations where you do not have a primary payer agreement in place. This approach helps complete the gaps in your contracting strategy.
Usually, there will be a logo on a patient's health insurance identification card indicating participation in a specific secondary network. You will need to verify their member benefits to be sure that the secondary network benefits are in place.
If you do not have an agreement with a direct payer or are having difficulty obtaining an agreement, a complementary primary payer agreement may be a good solution. Access to payers includes but is not limited to independent physician associations, accountable care organizations, large employers and primary payer health insurance companies. You may be able to access some or most of a primary payer's network by signing on with a complementary primary payer. The complementary primary payer acts as an intermediary and will re-price the claims and pass them onto the health insurance company, which adjudicates claims.
A common question is: "If I contract with a complementary primary payer, am I locking myself out of the primary payer's network?" The answer is usually no. That is, the hierarchy takes effect. Direct payer contracts already in place almost always supersede the complementary primary payer's contract as soon as an agreement is in place. Therefore, this is not an either-or scenario; rather, it's a both-and scenario.
Types of Complementary Payer Networks
There are complementary primary payer networks that are direct PPO or health maintenance organization (HMO) plans, as well as Medicare, Medicaid and Veterans Affairs plans. You should deliberately build out your complementary payer network contracts to include a mix of the plans that are best for you.
For example, you may determine that there is a collection of large self-insured employers in your area and many elderly patients who utilize your products and/or services. In this scenario, you would want to contract with both complementary PPO/HMO primary payers and secondary PPO/HMO out-of-network payers. You may also want to contract with complementary payers who process Medicare and Medicaid claims. Remember, the complementary payer may be a health insurance company or a re-pricer of claims, in which case the payer that the complementary payer's claim applies to, would adjudicate the claim(s).
Reimbursement outcomes will vary based on the patient's benefits, the payer and the state the patient is filing in. The complementary primary payer plan will usually mirror a primary plan and pay around 80%, while the patient will be responsible for 20%. Also, as with any plan, the maximum out-of-pocket expenses, patient deductibles and coinsurance payments will apply.
The other benefit of contracting with complementary payers is that the reimbursement terms are usually very favorable compared to direct contracts. This does not mean you should not have direct contracts; rather, use complementary payers to get access to patients not covered by your direct contracts. Direct contracts will assure the most patient access.
Health Insurance Companies Versus Re-Pricers
While complementary direct payers may be health insurance companies (or health plans) or re-pricers who sell their networks to health plans while the payers pay the claims, it is important to understand this distinction so that, when the time comes to get your claims paid, you will have a clear path to working with the payer and/or complementary network manager to get reimbursed. It is important to recognize complementary payers who are re-pricers, since re-pricers lease their networks to payers. There are many benefits to providers including broader network access and higher percentages of payments derived from members. Members of complementary networks benefit since they have broader network access at discounted provider rates.
Also, while some of the complementary agreements are priced as a percentage of billed charges, there are often upper limits defined by the direct payer that the complementary network connects to.
Complementary Payers as Part of a Contracting Strategy
Lewis Carroll wrote, "If you don't know where you're going, any road will get you there." How true this is when it comes to payer contracting. Before you dive into contracting with any payers, whether direct or complementary, you must first step back and define your contracting strategy. Then, like puzzle pieces fitting together perfectly, complementary payers can be a part of the contracting plan. It would be a very rare case where the only contracts that you would choose to put in place would be complementary payers.
Complementary payers are a key part of a complete payer contracting strategy and plan. They may be used to plug gaps where you were unable to get primary payer agreements and/or may be put in place to complement existing agreements to broaden your network participation and generate a greater volume of customers.