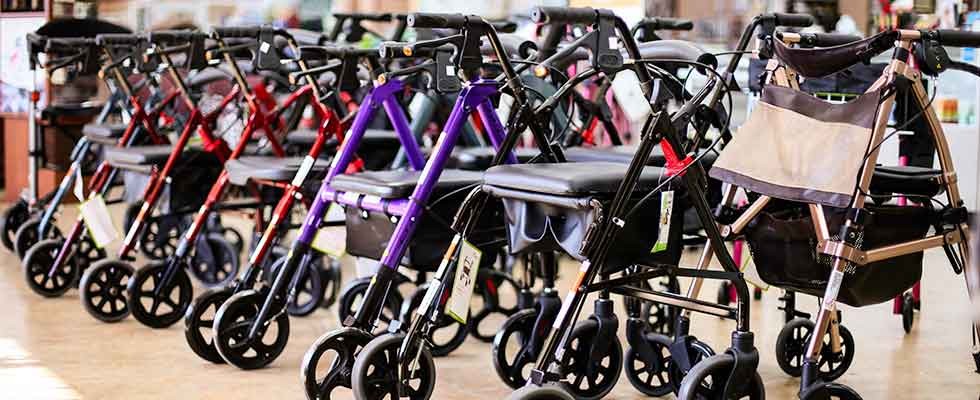 Spring Branch Medical Supply shares the art of caring for retail customers
Tuesday, November 26, 2019
Faisal "RJ" Poonawala, Spring Branch Medical Supply
When Faisal "RJ" Poonawala's parents were starting their home medical equipment (HME) business, his father suffered a significant back injury and required surgery. His mother visited a local medical supply store to find out what kind of needs he may be facing and to pick up equipment. It didn't go well.
"I don't know what happened next, but whoever she was dealing with said something that made her run out of the store with my sister and I in tow," said Poonawala, who was a child at the time.
Today, Poonawala uses that incident as a touchstone as he runs the family business, Spring Branch Medical Supply in Houston, Texas.
"Each person who walks through our doors may be my mother, my grandmother—they may be someone in my family who doesn't know what to do," Poonawala said. "I want my family member to be taken care of so that way they can take care of me as best they can. I want to make sure everyone can have that type of experience."
That commitment to compassionate customer service has helped Poonawala transition Spring Branch from a 50/50 blend of third-party and retail sales to a company that's now more than 95% retail and self-pay. The company has a slew of positive reviews online that compliment Spring Branch's hands-on service.
A Culture of Service
To ensure this level of service is maintained, Poonawala trains his staff on the product lines Spring Branch carries. This includes visits from vendor partners that can bring in valuable information about new products. After all, Poonawala says he learned to pop a wheelie in a wheelchair before he could ride a bike—an experience he said leads to better mobility education for his clients.
"If I overhear or see an interaction that's not to my liking, I'll wait until the interaction is over and then go to the employee and say, 'That person might be you in the future or might have been you in the past,'" said Poonawala. "We do have to exercise a certain level of care, attention, sympathy and empathy for people that you might not have to in other retail environments."
The company has been offering home safety for more than 30 years, with adjustable beds at the top of the list. Included in that are fall pads and bed rails for people at risk of falling. Bathroom safety is also top of mind, and Spring Branch practices the art of "upcaring," or enhancing the use of the product through additional services. Handheld shower heads make it easier for caregivers to bathe loved ones, while liners for bedside commodes help with cleanup and safety, Poonawala said. In mobility, Spring Branch offers high-end wheelchairs, lightweight transport chairs and scooters, as well as canes, crutches and walkers.
Competing Against Online Companies
Poonawala believes there's no value in selling a customer an item they cannot use.
"We have customers come in with mobility items they can't load into their cars. They'll say, 'You told me you didn't carry it, so I ordered it online,'" said Poonawala.
HME employees have an opportunity to observe their potential customers in a way that online retailers can't, Poonawala said. In person, there are visual cues, such as how a person is walking and where their aches and pains are. A customer may want a folding scooter, for example, but if they're frail, it's obvious they'll be unable to lift it. In that case, a vehicle lift is a better option than something that might lead to the customer injuring themselves.
In addition, Poonawala said, brick and mortar retailers have a duty to inspect their merchandise before selling it, as damage may occur during shipping.
"A customer may not realize they have a damaged or defective product," said Poonawala about online orders. "This increases the risk of injury."
Many customers also don't want to deal with the hassle of a return if an item arrives damaged, but Poonawala's vendor partners handle that before a customer even sees the product on the showroom floor.
Facing Regulatory Changes
The HME industry has lost 38.5% of its independent suppliers, according to a September 2019 analysis from the American Association of Homecare. Pressure from the Centers for Medicare & Medicaid Services' (CMS) competitive bidding program coupled with third-party reimbursement issues have made rates unsustainable for many in the business.
When Poonawala's parents, Ali and Ana Poonawala, started the business as Pulmonary Assistance in 1985, they offered hospital beds and home oxygen services with next-day delivery guaranteed. The company continued to operate on reimbursement for a while, but retail products struck a chord. Spring Branch Medical Supply chose to fully transition to retail with Round 2 of competitive bidding and continues to evaluate the market for changes.
"In the late 2000s, we didn't know what competitive bidding was going to be," said Poonawala. "We didn't know what was going to be required of us. We didn't know if it was going to happen, what it would consist of. Instead of sitting and waiting, and trying to react and respond to the requirements, we decided to try to insulate ourselves from a possible apocalypse of the industry."
At the time, Poonawala was also putting himself through college and saw that evaluating payer sources and bidding contracts was not a good use of his time.
"I thought, let's make it easy for all of us and do away with [reimbursement] and offer a better product that won't qualify but someone would find value in and purchase from us," he said. "By the time I got out of college, Round 2 was knocking at the door and we were prepared for it."
CMS also requires additional documentation from HME providers and their referral partners, which can delay customers getting needed medical equipment. Poonawala said that in the past, HME providers supplied equipment and worried about documentation later—but that's not an option under current rules. Education is key to keeping those referral lines open.
"What I've noticed is that physician offices want to push back and say, 'Why do I have do this now?' We have to respond and say these were always the rules and we bent them as much as possible to make you happy, but we can longer do that," said Poonawala.
And when physicians fail to provide that paperwork, family members come to Spring Branch looking for help and answers.
"There are certain steps to get what they feel like they need at home and if their family member doesn't qualify based on the coverage criteria that's been written or their referral source is not offering the proof in written documentation of what they need, then they can't just have it now and hope the paperwork gets filed later," said Poonawala. He encourages customers to work with providers, and if a solution can't be reached, equipment is available for rent or at a fair purchase price from Spring Branch.
"We want patients to get on with their lives," he said.
Advocating for Change
Poonawala is active in advocating for the industry with AAHomecare and other organizations. He is an active presence at Medtrade and offers education to fellow HME dealers, as well.
In looking to future changes for the homecare industry, Poonawala said he would like to see more open markets for consumers.
"A walker isn't just a walker," Poonawala said. "Let a family choose what specific brand or model is most suitable for them and offer providers some type of formulary that's easy for us to understand how they can qualify and receive fair market value, similar to the market pricing program we were discussing several years ago."
Poonawala also wishes that CMS would open up more reimbursement for preventative care. Many bathroom safety products, for example, are not medical in nature, according to CMS.
"The rest of us understand that a penny's worth of investment in bathroom safety can yield a pound of prevention of a possible injury and the several months of recovery that the person would have to go through," said Poonawala. "And if we could reduce that risk by just spending a few cents relatively speaking, then we may be able to see some significant savings across the board for CMS and third-party sources."
Meanwhile, Poonawala continues to apply the theory that everything his business does is only good enough for his clients if it's good enough for his family. After all, his mother is still one of the company's five employees; although semi-retired, she handles administrative tasks and is accreditation and compliance officer—and keeps him from overspending on new products.
"I feel one of the ways we are able to accomplish [things] is by being a true family business and a true community-focused business," Poonawala said. "We have good times together we have bad times, but at the end of the day we treat each other like family, and we stick by each other as we work to enable and empower each customer to provide the best care possible for their loved one at home."