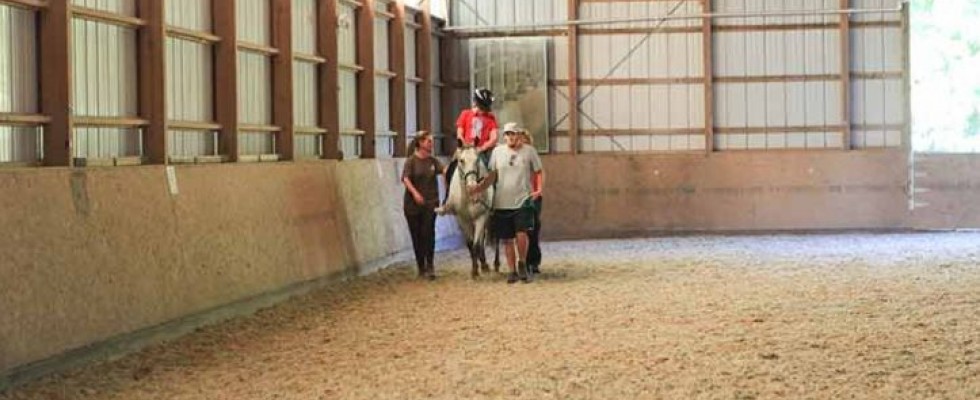 Resources offer options for families and respite organizations
Monday, December 10, 2018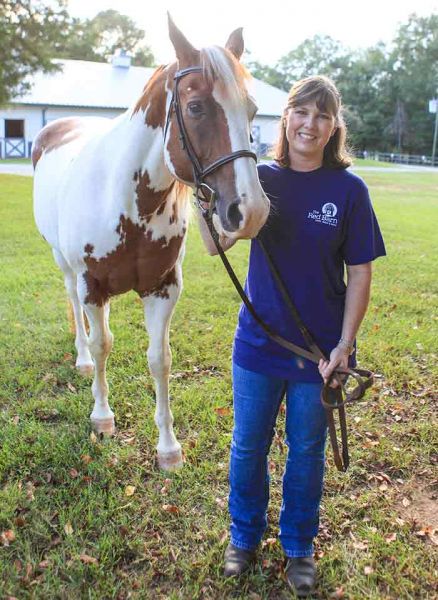 Joy O'Neal, pictured with Zeus. The equestrian program at The Red Barn in Leeds, Alabama, provides a heart-centered experience for individuals and families. (Photos by Kelly Cavin Photography
Ask Joy O'Neal about her decision to found The Red Barn in 2012, and she'll say that she can barely remember a day without horses in her presence. Her family had them at their farm in Leeds, Alabama, her children rode horses, and she's been a volunteer for Special Equestrians.
"It had been so good for me and my family, and I wanted to make it possible for those who couldn't ride," she said.
The Red Barn came from a vision that O'Neal shared with her close friend, Anita Cowart, whose daughter, Love, was killed in a car accident in the 1960s. They wanted to form a place where children could learn about love through equine-assisted therapy. O'Neal also had another inspiration from her childhood: a young man named Billy Joe Young.
Young was paralyzed from the neck down in an accident while playing football in his sophomore year at Brookwood High School in 1951. When O'Neal was a child, she and her family would visit his namesake baseball park in Abernant, Alabama. O'Neal recalls his mother bringing him out to the field and unloading his hospital bed behind home plate onto a special concrete slab built to be just the height of her Chevrolet Suburban.
"There was a microphone hanging down, and Billy Joe would announce the games," O'Neal said. "All of us younger girls thought it was an honor when he would let us feed him, flap flies away and teach us how to keep the score books. We literally fought over who would feed him. For me, it demystified what it was like to work with people with disabilities."
At The Red Barn, which offers horseback riding classes and other courses targeting children with physical, cognitive and emotional disabilities, O'Neal said she and her staff are doing something she didn't realize her own family was doing at the ballpark. "We were giving his mom a break," she said. "That's what we offer. We give the caregivers what they need at the time. It's a chance for them to watch the children learn and grow."
Forms of respite care, such as what The Red Barn offers, have garnered more attention from lobbyists and lawmakers after research revealed how respite care reduces stress and helps restores energy and balance for caregivers.
"If family caregivers don't take the time needed to care for themselves, we will face an additional health care crisis," says Lily Sarafan, CEO of California-based Home Care Assistance, as quoted on the website nextavenue.org.
"Caregiver burnout can be associated with serious health issues including depression, and yet burnout is still not recognized as a real health issue in the eyes of many caregivers," according to Sarafan. "Families and communities need to develop sustainable care plans that do not just rely on a single individual."
The Red Barn, which has a staff of 16 and around 70 volunteers a week, assists children with conditions such as autism, traumatic brain injury, developmental delay and attachment disorders.
"Our fees are on a sliding scale. Eighty percent of the families don't pay anything, and some of the kids qualify for a scholarship," O'Neal said.
Thanks to recent legislation, organizations such as The Red Barn may soon be getting more funding and support. In August 2018, the National Association for Home Care and Hospice reported that the Senate announced increased funding for the following homecare programs:
National Family Caregiver Support Program—$180 million. While mostly intended to support family caregivers, funding for this program is also allowable for respite care.
 
Lifespan Respite Care Program—$4 million. Funding will be granted to states to provide respite care for family caregivers, as well for improving coordination and training of respite care providers.
 
Independent Living—$113 million. This program helps keep individuals with disabilities independent and active in their communities. Funds are allowable for personal care assistants, among other services.
The Red Barn offers three tours a month, where parents or caregivers can come in and see what is offered, including riding lessons, classes and occupational therapy. After filling out an application and going through an evaluation, the team of trainers, social workers and occupational therapists funnel participants to the right program.
"Our team gets together and brainstorms ideas," O'Neal said.
The Red Barn has 16 horses, all used exclusively for the property, including Black Flight (who has been there the longest), Ziggy, Ellie, Dottie and Jessie. One horse, Keswick, is the favorite of 10-year-old Kate.
"She was very shy when she entered junior high. She would often hide behind things," O'Neal said. "It's amazing when she comes out with the horse. The simplest things mean so much to her. The most special thing is often the most mundane."
O'Neal said she loves knowing that The Red Barn is helping to relieve the stress of the caregiver. Some people take time to sit by the pond or to sleep in the hammock, while others bond with other parents, forming friendships and fostering empathy.
"They get to see the hope of being around a community of people who understand," she said. "I'm grateful to have grown up in a family and community that taught the value of acceptance and that everyone has something to contribute. I didn't realize at the time how much those memories at the ballpark would shape my life."
Resources Available to Help Consumers Find and Arrange Respite Care
AARP offers a step-by-step guide for finding and paying for respite care. Area Agencies on Aging (AAAs) provide a resource to help consumers connect with visiting companions, hourly in-home respite care, adult day care and overnight respite providers.
AAAs can also help determine if there are local no-cost or low-cost programs, if the state Medicare program will cover some of the cost and if financial assistance is available.
Funding for respite care can come from a variety of sources, including the federal government, state governments or other sources such as private foundations.
The Medicare hospice benefit pays for some respite care, which may also be covered by insurance or an agency such as the Department of Veterans Affairs.
Using the Medicare benefit, a patient may need to pay 5 percent of the Medicare-approved amount for inpatient respite care, such as in a hospice facility, hospital or nursing home. Volunteer respite help is available too.
When arranging for respite care, some questions to consider beforehand include:
What care is needed?
 
What financial resources are available?
 
What are the caregiver's needs?
 
What roles can others in the care circle fill?
 
What type of respite is best in your situation?
 
Additionally, some Medicare Advantage plans have expanded their plans to include more respite care hours.
---
Care for the Primary Caregiver
It's unrealistic to assume that a primary caregiver can handle ongoing care without a break. Respite care provides short-term relief for primary caregivers. A respite break can be as short as a few hours or as long as several days.
Respite care can be provided at home, in a health care facility or at an adult day center, and whether it is planned or emergency care, respite care offers a much-needed break for committed caregivers.
Programs have been developed around the U.S. to assist in the development of respite care infrastructures at the state and local levels.
Respite care, however, is often out of reach. Caregivers may feel guilty for taking a break. Cost and benefit funding may be factors. Identifying quality care may be another factor for the caregiver.
Work is ongoing to make sure the Lifespan Respite Care Program and the National Family Caregiver Support Program (NFCSP) continue to be funded.
Additionally, in January 2018, Congress passed, and President Donald Trump signed, the RAISE Family Caregivers Act into law, which, among other goals, seeks to recognize and support family caregivers in a manner that reflects their diverse needs and respects care transitions, care coordination, workplace issues and financial security—and respite options.