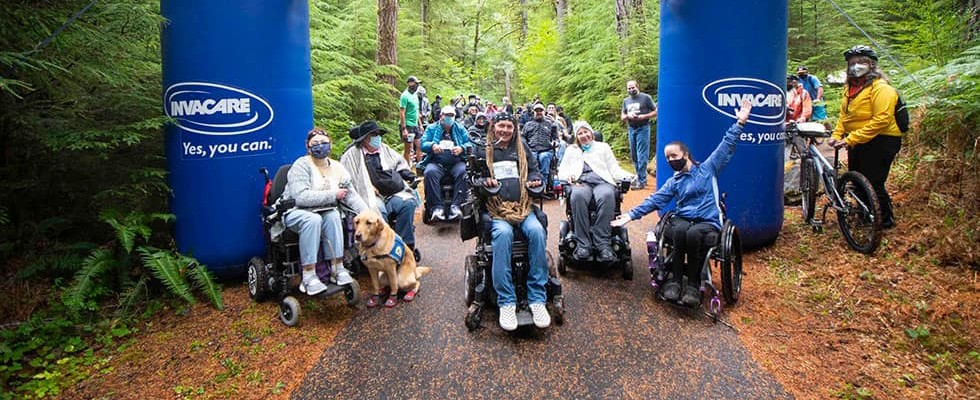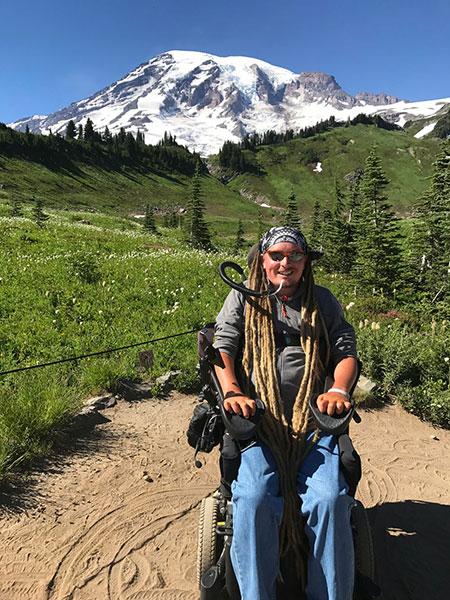 On June 4, 2008, 26-year-old Ian Mackay was riding his bike home from a study group on the campus of the University of California Santa Cruz, when he hit a patch of sand in a turn and lost control.
"I was wearing a helmet, which most likely saved my life, and went headfirst into a tree," Mackay related on his website, iansride.com.
He learned in the hospital that he had a C2 spinal injury and was a quadriplegic. While in the hospital, he lost the ability to breathe on his own, and had a tracheostomy to allow him to breathe on a ventilator.
A year after the crash, after a lot of rehab and work, he regained the ability to speak and breathe without the ventilator. Four years later, he rekindled his love of the outdoors, taking his Invacare TDX SP2 power chair, which uses a mouth control, on the Olympic Discovery Trail for long distances.
That led to the creation of a nonprofit designed to others to stretch their comfort zone and an eventual world record.
A World Record
In 2016, Mackay began taking even longer rides on the trail, traversing Washington state from Canada down to Portland, Oregon, and from the Idaho border to the Pacific Ocean. While these trips covered great distances, Mackay wanted to do more. So, he turned to the Guinness Book of World Records to see what others had done.
In 2008, Chang-Hyun Choi of South Korea travelled 17,398 miles in his mouth-controlled wheelchair, covering 35 countries in Europe and the Middle East.
"This was an 18-month journey," said Mackay. "And you know, there's no [accessibility] and you're going over some gnarly terrain and it's all seasons ... And I was like, okay, I'm not pursuing that."
But Choi also held the record for furthest distance traveled in 24 hours—174 miles—which he set in 2017. And 24 hours seemed doable, Mackay said.
"I've got an amazing support team ... that has joined me for all these other cool, long rides. So I reached out to everybody and started figuring out what needed to be done, what kind of logistics had to happen," he said.
That meant extra batteries and some NASCAR-like moves to swap them on the trail. Choi set his record by transferring chairs, but the battery swap made more sense to Mackay's team. On June 21, 2022, he went 184.4 miles, breaking Choi's record.
Sea to Sound
Mackay's longer rides led to the founding of Ian's Ride, a nonprofit dedicated to getting people of all abilities outdoors.
In 2019, the nonprofit started Sea to Sound, a 74-mile, three-day, multi-modal group ride that covers the entire length of the Olympic Discovery Trail, which is paved and accessible along its full length. This year's event will take place Aug. 26-28.
There are aid stations and support along the full route, with vans that can transport wheelchair users if they choose not to complete the full trail. Each day, Mackay said, there is a five-mile section that participants are highly encouraged to do, and the vans will provide transport.
"It's a cool opportunity to interact and allow the cycling or the running community to get some time with people in chairs and see people that also have a passion to be outside that are just maybe enjoying it in a different way," Mackay said.
Maintenance Concerns
Mackay tries to average 3,000 miles a year out on the trails around his home—but he said he's already hit that in 2022. His current chair has nearly 7,000 miles on it and his previous (and now backup) chair has over 10,000 miles. He said he hasn't missed a day outside—rain or shine—since October 31, 2016.
"I am extremely fortunate, again, to have this wonderful support team around me. And my stepdad is this great mechanic. And he's able to swap out casters as the bearings fail or fix something. But to be honest, the motors have never become a problem," he said. "I lost a motor controller one time, when I was spending the whole day out in the rain and it got soaked. But for the most part I've been really impressed with the Invacare wheelchairs, and I've stuck with them because they seem to really hold up to the weather and the miles."
For DME Providers
Mackay's wheelchair has performance motors added, which he had to cover out-of-pocket while Medicare covered the stock options. He said if he wanted to see one thing from durable medical equipment providers, it would be a push from the industry to have chairs designed around lifestyle and quality of life paid for by Medicare, Medicaid and insurance. 
"I do all sorts of support groups and you're gonna see the same three chairs … and that's fine, but let us soup 'em up in some way—give us a way to get some of those fancier tires and better suspension, better batteries, you know, better motors. Have these options available for add-ons," he said, adding that he would also like to see nonprofits able to set up grants or sponsorships and the option for payment plans on add-on options. 
"These are just daily quality of life things," said Mackay. "And people definitely shouldn't have to fight to have that kind of access."