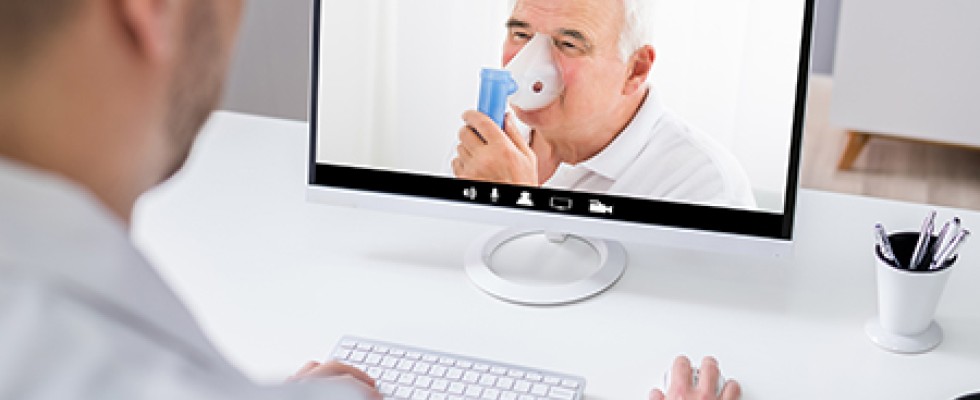 How a TeleRespiratory program improves outcomes for patients & providers
One of the many byproducts of the COVID-19 pandemic in the United States has been a rapid expansion in the utilization of telehealth services, including use by older adults (ages 65 and up). A recently published Pew Research Center survey of more than 1,500 U.S. adults demonstrated that older Americans have made great strides in technology adoption over the past decade—and a large part of that happened since the start of the pandemic.
The survey, which was conducted in 2021 and just published this year, found that 61% of adults aged 65-plus own a smartphone. This is a 33% increase from 2018 (46%), and a 369% increase since 2012 (13%). Three quarters of respondents over age 65 also reported using the internet and 64% reported having home broadband service.
While it has been noted in prior research that technology access disparities still exist for patients who live in lower socio-economic conditions and/or rural areas, the trending data indicates that a substantial percentage of current and future retirees now have the infrastructure in place to successfully participate in remote telehealth programs.
Telehealth for Respiratory Needs
Many industries have rapidly moved to telehealth over the last few years, but home medical equipment (HME) providers have been slower to adopt telehealth strategies during the pandemic. Now, providers are faced with a new obstacle: The respiratory therapist (RT) staffing issue has become a crisis. This clinical staffing shortage has the potential to most negatively impact those patients who require advanced therapies. Advanced therapy patients, such as those on noninvasive ventilation (NIV), are typically seen live by appointment in their home by an RT on a predetermined schedule and also on an as-needed basis when unexpected issues arise.
Rather than attempting to replace the benefit that patients receive by having live RT interaction in the home, a properly implemented, respiratory therapy-focused telehealth program can assist an HME provider's RT staff in the scope and reach of the clinical services that they provide to their patient base.
This specialized combination of telehealth and respiratory care is called TeleRespiratory Services (TRS). TRS is the delivery of respiratory therapy using telecommunication technologies without a respiratory therapist physically present at the point of care. These respiratory navigators create exceptional engagement that helps patients manage their respiratory care from the comfort of their own home.
Successful TeleRespiratory Care
The most successful NIV TRS programs are those that focus not just on patient device compliance monitoring, but also incorporate disease-specific clinical outcomes-focused assessments and metrics.
Such programs might include some aspects of the following elements in their workflows:
Live telehealth engagements with the patient starting shortly after in-person NIV setup by the RT. Several of these engagements would occur in quick succession over the initial 30 to 60 days of usage to help drive patient adherence and acceptance of therapy.
During these initial engagements, a personalized plan of care would be developed that includes personalized motivational goals to help the patient recognize the benefit they were receiving from the NIV therapy.
Disease-specific clinical assessments performed on a regular schedule that would be supported by targeted clinical reporting to allow for physician collaboration in the ongoing management of the patient.
Disease-specific education and symptom management techniques would be provided to the patient to help them better manage the day-to-day variability that patients often encounter with chronic lung disease.
Modern technology allows for the remote documentation of settings and regular monitoring of device usage. Providers can proactively reach out to patients who are starting to fall away from therapy adherence, and if they can't resolve specific issues through remote means, can let the HME RT know a live home visit is needed.
Depending on the TeleRespiratory platform and program used, individual and group population outcomes data can be compiled and reported back to physicians, health systems and/or payers to demonstrate the effectiveness of the HME provider's clinical services.
When designed and implemented properly, a comprehensive TRS program not only provides clinical benefit to the patient and provider, but also helps alleviate the operational capacity strain that many HME clinical service teams currently face. TRS programs allow the in-house RT teams to focus on revenue-generating new device setups and on emergent patient needs without sacrificing clinical patient care. This allows the RT team to manage a much larger NIV patient population than they could previously in models dependent upon ongoing live in-home visits. HME organizations can focus on opportunities to grow their NIV programs without the pressure of scaling the in-house clinical support team at the same growth rate, which is particularly challenging in today's constrained labor market.
Other Opportunities
Other utilizations of TRS models include sleep therapy and, most recently, the emergence of chronic obstructive pulmonary disease (COPD) and oxygen patient management programs. Sleep therapy is the one area that telehealth services has been the most widely accepted in the industry and has had rapid adoption over the last several years by HME providers and by manufacturers providing the service and products to HME providers.
COPD and oxygen management models have been birthed by access to data analytics and the rapid evolution of health care into newer models that are based on quality and outcomes, often referred to as value-based care.
These programs seek to improve care coordination and results while reducing utilization and hospital readmissions. Providing TRS for patients with COPD and oxygen allows home medical equipment providers to venture into value-based care models and grow their market share by selling a holistic approach to care. These models can yield reductions in hospitalizations by more than 60% in a combined TeleRespiratory approach.
Finally, one of the most important strategies for the HME provider managing oxygen patients—even in the absence of sustainable reimbursement—is the understanding that today's oxygen patients are the future's advanced therapies patients who will end up on ventilation or airway clearance devices.
Proactively managing these patients now means better patient outcomes and earlier identification of the need for advanced therapies. A recent study found that hypercapnia may develop in up to 33% of advanced COPD patients and is associated with increased morbidity and mortality. A separate study demonstrated that up to 49% of Stage 3 and 59% of Stage 4 COPD patients may have underlying bronchiectasis.
This type of model aims to get the right patient on the right therapy at the right time, thus reducing hospitalizations and overall health care utilization.