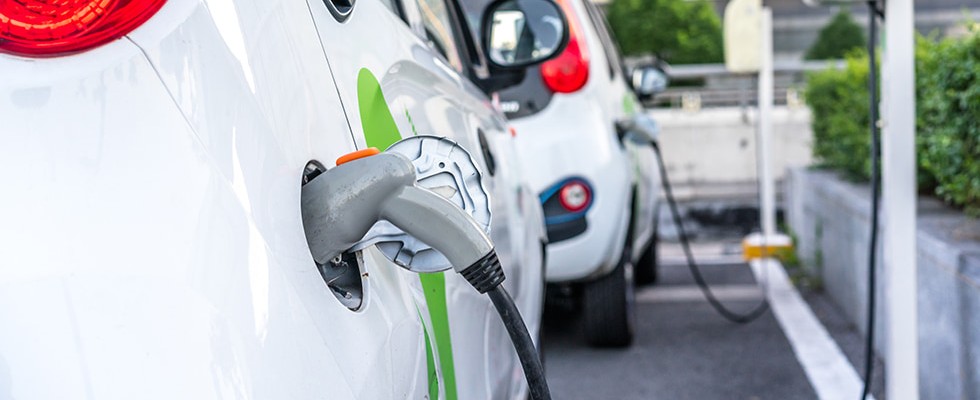 Weigh the risks & benefits before you start
Electric vehicles (EVs) are a hot topic for homecare fleets of all sizes. Some companies are looking to electrify to meet environmental and social governance goals, while others are intrigued by potential cost savings, air quality advantages or the reputation boost that can come from driving electric. With gas prices around the country making headlines this summer, EVs are an attractive option. Whether your fleet is ready to electrify or you're just kicking the tires, it's time to make a plan.
Merge Electric Fleet Solutions has helped fleets consider the costs, vehicles and charging infrastructure needed to electrify, including Solace Pediatric Healthcare, a Denver-based home health company that is currently running a pilot program with four EVs. In this article, we're sharing four steps that homecare companies should consider as they add EVs to their fleets.
1. Investigate upcoming vehicles.
There are EVs shipping to customers right now that may be an electric replacement for your current fleet vehicles. Some homecare fleet needs can be met by passenger vehicles, including sedans and SUVs, while medical equipment delivery may require a commercial van. Here are some model options to consider:
The Volkswagen ID.4: This small SUV with an all-wheel drive option boasts a range of approximately 240 miles depending on the trim level, and charges from 20% to 80% in about 30 minutes, ideal for clinicians who may see patients on high-mileage routes. The starting manufacturer suggested retail price (MSRP) is $41,230.
The Ford E-Transit: Built especially for commercial applications, the E-Transit is available in different roof heights and lengths and has a range of up to 126 miles. The starting MSRP is $46,295.
There are a number of other all-electric passenger vehicles that are widely available and cost-effective options for homecare providers; your fleet vehicle provider can help you make the best choice.
Solace Pediatric Healthcare is conducting a pilot program with four clinicians who are driving the Volkswagen ID.4. The pilot will run for six months, and telematics devices will collect data about routes, utilization, costs and charging efficiency so Solace can take a data-driven approach before committing to purchasing electric fleet vehicles.
2. Plan for charging infrastructure.
While an electric fleet will save you the hassle of managing gas cards and paying high fuel prices, charging infrastructure is one hurdle to consider as you plan. Homecare decision-makers should ask themselves these questions:
When will the vehicles charge? Overnight, during the work day or both?
Where will they charge? At employees' homes, at offices, at public chargers or a combination of these?
Are my offices and/or employees' homes ready for an EV charger? Will I need to upgrade the electrical panel or service?
Compared to my current fuel budget, what will EV charging cost?
The answers to these questions will vary with each homecare fleet. For example, Solace Pediatric Healthcare is taking a hybrid approach to charging during their EV pilot program. Each clinician in the pilot program will be able to charge at home on a Level 1 or Level 2 charger that our company will install, and at public fast-charging stations. With thoughtful planning and a targeted approach, homecare companies can plan for charging, provide access to public chargers and make the right decisions for their fleets.
3. Use your data.
The nature of homecare means your clinicians are probably covering a different route each day; patients come and go, and schedules may change weekly. This means that gathering telematics data is a crucial step to finding out which routes, vehicles and drivers might be a good fit for an electric vehicle.
We at Merge recommend using telematics data to explore operational fit, economic impact and environmental benefits on a vehicle-by-vehicle basis. For example, you may find that one clinician serving patients in a rural area drives too far each day without access to mid-day charging, while another in an urban center may not run their battery down and can easily charge up each night. Data can also help assess the environmental impact of an EV fleet, including the reduction in greenhouse gas emissions. In a data analysis for a fleet in the Dallas area, our company found that converting 12 cargo vans to electric versions would save 107 metric tons of carbon dioxide emissions each year—the equivalent of growing 1,769 trees for 10 years!
If you aren't currently collecting telematics data to assess utilization, driving patterns and costs for your fleet, now is the time to take action. Installing telematics devices in your fleet vehicle alongside a fleet electrification services partner can help you collect data and ensure your electrification plan is practical and possible.
4. Consider an EV pilot program.
It's no secret that vehicles are hard to come by at the moment. Empty car lots and long waiting lists are common for both electric and gas vehicles. A smaller scale pilot program is a great way to "try before you buy" when it comes to an electric fleet.
Solace Pediatric Healthcare's pilot program kicked off in May with four clinicians who volunteered for the program. Each is driving their Volkswagen ID.4 to patient visits, and they agreed to allow telematics data collection as they go about their work. The program will also assess cultural fit through driver surveys, along with analyzing the operational impacts of electrifying more fleet vehicles in the coming years. Merge owns the four ID.4s Solace is using, so the customer is able to get the benefits of a small pilot program without committing to vehicle purchasing.
Early data shows the drivers are able to charge fully overnight at home and that they enjoy the experience of driving an electric car. One pilot participant told us, "I don't know if I can ever drive another gas car. I'll never go back!"
As you consider the electric vehicle options available for your homecare fleet, we hope these steps will help you make data-driven decisions that make sense for your business, your employees and your patients.