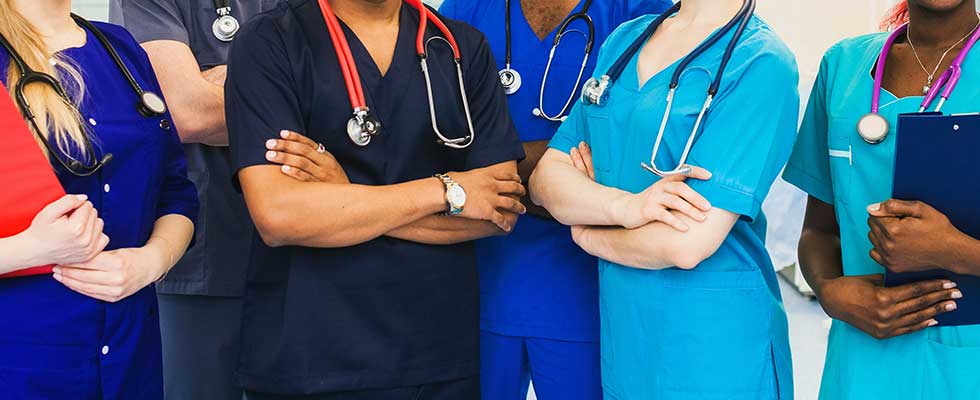 Traditional nurse hiring tactics don't work
Thursday, August 12, 2021
Nurses have always suffered high levels of burnout. They endure heavy, high-stress workloads and face life and death situations every day. Now, after nurses have spent a year confronting COVID-19 on the front lines, burnout has become an epidemic.
In 2014, the American Association of Colleges of Nursing projected that there would be a shortage of 260,000 registered nurses by 2025. Today, the number is actually much higher.
In 2020, a staggering number of nurses left the workforce for a variety of reasons. Many left to care for their suddenly homeschooled kids or simply burned out. And they didn't return. Competitive hiring sprees at hospitals, testing sites and mass vaccination clinics, meanwhile, enticed employed nurses into temporary but lucrative assignments. As those contracts come to an end, a whopping 29% of exhausted health care workers say they're considering leaving the profession altogether and a retirement surge is expected.
Home health care companies have long struggled to find enough skilled caregivers to fulfill their workloads, and COVID-19 has made that already challenging situation worse. Competition for caregivers is fierce and it's not going to get any better.
Here's the good news: The recruitment strategies most companies use are antiquated and don't live up to today's digital standards. By shifting your game plan, you can reach, attract and hire your ideal candidates before they're even on your competitors' radar. Let's dig into how.
Why Traditional Tactics Aren't Working Anymore
If I had to guess, I'd say your organization is probably focusing recruitment efforts in one of three areas: job boards, outsourced recruitment or internal recruiters.
These methods have worked in the past, and you'll continue to see some success today, but that will dwindle and impact your organization's bottom line. Here's why:
1. Posting to Job Boards
In posting to job boards, you're only going to attract candidates who are actively seeking new opportunities. When an active candidate starts visiting job boards, they may see your job posting (if you pay enough to have it sponsored), but they're also going to see job postings from every single one of your competitors at the same time. A top candidate is only on the market for an average of 10 days before they're snatched up. Potential candidates typically need around 12–18 touchpoints with an organization before making a decision to apply. That's a lot of pressure to get every detail right, especially when the competition is nipping at your heels.
2. Outsourced Recruitment
Recruitment agencies can charge you an arm and a leg to find the talent you need. With reimbursement rates significantly lower in home health care than in hospitals, this solution just isn't viable.
3. Internal Recruiters
Have you ever tested how quickly your competitors respond to new applicants? We often audit this process for clients and the speed at which some organizations can move candidates through hiring is astounding. If you have internal recruiters, they need to be hyperfocused on getting applicants hired and onboarded before they have the opportunity to go elsewhere. They need to be specialized recruitment professionals, not digital marketers, meaning they won't have the time or savvy to find potential candidates and coerce them with the perfect messaging. Instead, they should be diligently working with candidates who have already applied. With 78% of job candidates saying the overall hiring experience is an indicator of how a company values its people, getting it right is critical.
Why Connecting With Passive Candidates Matters Most
Did you know that 70% of the workforce consists of passive candidates? This means they aren't actively looking for a new job and, for the most part, are already gainfully employed.
That doesn't mean they're not open to the idea of a new opportunity.
But, as we know, by the time a candidate gets to the open job market, it's too late. You'll be just one of hundreds of job descriptions they're exposed to. Plus, if it's the first time candidates are seeing your brand, you're already at a disadvantage. That's because candidates naturally gravitate towards brands they know, like and trust.
If you're going to win the attention of passive candidates, you have to look beyond job boards like Indeed, Glassdoor and ZipRecruiter. Passive candidates won't be there because they're not actively searching for a job.
Instead, you need to target the exact type of person you're looking to hire in the places they spend most of their time—whether that's on social media, playing games on their cellphone, shopping online, watching videos or listening to podcasts.
More than simply targeting them with job listings, subtly showcase your thriving culture and top-of-the-line benefits to ensure you're only attracting talent that aligns with your values. This will ultimately lead to higher retention rates and patient satisfaction scores.
The Importance of Understanding Your Applicant Journey
Let's be real. Recruitment strategies aren't super sexy. And, in all likelihood, it's probably been a while since you've done a deep dive into what the experience is actually like for a prospective caregiver. What are they seeing from your competitors? Is your process keeping them from applying? All these things matter when you're vying for high-demand caregivers.
You're probably doing the same thing you've done for years—if not decades. Most of your competitors are, too. This means there are huge opportunities for improvement. Evaluate and critique your process. If you can, get fresh external eyes on it. You'll absolutely stand out by learning what your competitors are doing, then improving your processes.
Why Your Message Needs a Facelift
Once you've taken a deep dive into what your competitors are doing, it's important to reevaluate your benefits and message strategy. Are your offers and benefits competitive? If not, why do your current caregivers say they love working for your company? Interview them and find out! Then highlight the core themes in your message strategy.
You also need to stop making it all about you. Every word, image and benefit should be tailored to speak directly to your new prospective caregiver. For example, most job descriptions begin by outlining the mission of a company and what it's looking for in applicants. Flip that on its head.
Make your job descriptions start with what you have to offer caregivers. Why should they care about this role? What makes it different? What can your company do to improve their lives? What does a day in the life of a caregiver working at your organization look like? Do you have a video of current caregivers sharing why they love working with you? This is all valuable content you can share.
Tracking Your Recruitment Efforts
One of the most common things I see is a lack of tracking for recruitment metrics. Information such as how many candidates apply each month, how long it takes for an applicant to become a hire and what channels are driving the most hires are simply unknown. To actually reach your hiring goals, these metrics must be measured and reviewed regularly.
I promise you; put this advice into action and you'll truly stand out in a sea of dull, outdated recruitment tactics. The best part? You'll gain great exposure for a fraction of standard recruitment costs.