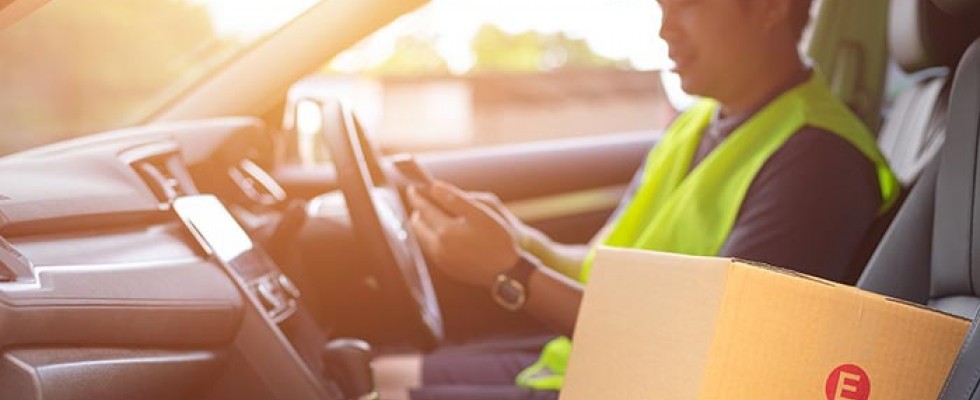 Monitor loads and bring drivers on board with logging logistics
Thursday, August 15th, 2019
Fleet management has never been easier—and never as fraught with potential headaches for third-party logistics providers, brokers and fleet managers. Fleet management solutions have been in use for nearly two decades, starting with special purpose and in-cab telematics devices and sensor data recorders that provided GPS feedback and allowed for charting asset location, generating logistics alerts and helping with periodic maintenance of vehicles. With a federal mandate requiring all drivers to have electronic logging devices (ELDs) in place by December 2019, most vehicle owners have installed more GPS devices in their vehicles. Yet for the most part none of them really help third-party logistics providers (3PLs) and brokers keep tabs on their customers' freight. Fortunately, most drivers already have the solution sitting in their pocket—that tiny supercomputer with built-in GPS known as a smartphone.
Fleet Management for HMEs
Home medical equipment (HME) providers manage deliveries of medical products for rental and sale across 50 states. Some manage deliveries via in-house teams while others may outsource part of the delivery to 3PLs. Integrating sales customer relationship management and delivery scheduling systems with a field service management (FSM) system is essential to improving productivity and client satisfaction. Modern FSM platforms integrate with scheduling systems to retrieve daily work orders or delivery tasks and dispatch information to field employees via a mobile app that can start tracking drivers' routes and activities at the start of the day's shift. The back office can monitor the team via dashboard, email or text alerts, and the platform generates reports at the end of the day with miles driven, hours worked and notes—which can be integrated back into your systems to help with future planning and route optimization.
Bringing Drivers on Board
The latest generation of logistics automation solutions are fueled by smartphones that provide app-based field data collection, document management, dispatch messaging, API connectors to external data sources (including weather and traffic) and machine learning for predictive insights into overall operations. But they're not headache-free. While the emergence of new technology solutions helps various stakeholders in the supply chain, many drivers are reluctant to install load-tracking apps. There's also a growing shortage of drivers that is further hobbling the country's transportation industry; according to the American Trucking Association, there's projected to be a shortage of 100,000 drivers in just a few years. With drivers in such high demand, many companies find themselves unable to push drivers to use app-based solutions through punitive measures such as fines or withholding loads. Overall, driver adoption of app-based fleet management solutions has been low for many companies—sometimes lower than 25%.
What to Look For
In order to improve driver adoption of app-based logistics solutions, the following best practices are needed to put more power into drivers' hands and make it easier for them.
Service Flexibility:
More than one option: Look for services that are flexible, giving your business more than one way to access your load-tracking information. Options might include apps, text-based location services and even ELD feeds. App design and use: Apps should be easy to install and easy to use and have little impact on a driver's phone. Some can even be configured to start more or less automatically once a load is accepted and the driver is ready to roll. Customization: Look for platform flexibility that lets you configure a service to fit your company's structure and needs. That includes transport management system support, custom reporting, alerts, unique account log-ins for different groups within your company, automatic customer updates and more. Future proof: A well-designed service should also be able to meet other needs, like capturing proof-of-delivery information, document handling and other features that help your business. Compliance: The service should also comply with privacy requirements and cybersecurity guidelines and best practices.
Driver Control & Incentives:
Cross-carrier flexibility: Drivers should be able to use the same app while running loads for different carriers; a good system should automatically load route status updates to any relevant carrier or 3PL. Control and privacy: Drivers should be able to control when tracking starts and stops and be assured that when the run is done, the service stops tracking. Communications: Dispatch teams should be able to communicate seamlessly with the driver via the app. No-app solution: For certain loads (such as short hauls or one-time contracts), drivers may prefer a no-app solution. In those cases, text messages with links can be sent to a driver so they can click on the link during normal stops to provide their current location. Incentives: New incentives such as rapid invoicing and payments may help with driver adoption. Other incentives could include a cash bonus or fuel card bonus for actually using a load tracking service across an end-to-end trip. In today's era of smartphones and software solutions, you don't have to adopt a complex supply chain management system to reap the cost savings and productivity gains that come from automating your logistics operations. Sometimes just knowing when your drivers actually started and stopped a load run can save thousands of dollars in billable hours and payroll expenses—and getting your drivers on your side is the key to that.
---
What an FSM Does:
The FSM platform monitors delivery personnel activities against assigned tasks and creates alerts for operations managers and clients based on business requirements. It can:
Send an alert to a customer when equipment delivery is set to arrive;
Create exception alerts when arrival time is delayed;
Record drop-offs of equipment by automatically logging entries into geofenced delivery addresses;
Receive updated work order dispatches when headquarters changes assignments;
Collect proof of delivery via mobile forms and signatures;
Scan equipment pick-ups (such as pre-packaged Fedex or USPS barcodes) to log shipments; and
Fill out invoices upon delivery and even collect payments via the FSM mobile app.