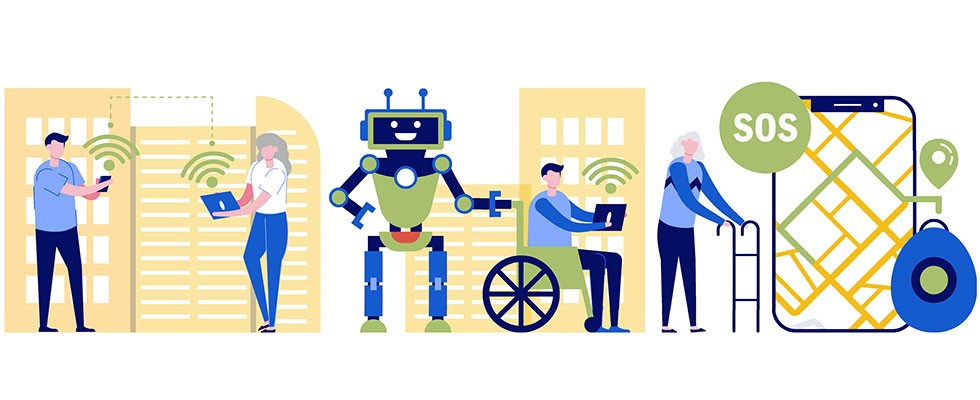 Deploying connected care products can make staff happier
The health care industry is currently faced with a sizable caregiver shortage that is only expected to worsen in the coming decades. A report released in July by the Global Coalition on Aging indicated that there will be a national caregiver shortage of 155,000 workers by 2030 and a shortage of 355,000 workers by 2040.    
Even before the outbreak of COVID-19, the caregiver shortfall hit patients and providers. A Genworth survey conducted in 2019 found that costs of homecare services rose more than 7% year over year, due in part to the scarcity of caregivers. This dynamic was accelerated by the pandemic, which strained the already tight health
care labor force and burned out many frontline workers.
The lack of available caregivers has increased the cost of care while leaving senior patients more vulnerable to decline—and to future public health crises.
And controversy around the implementation of vaccine mandates has only added to the complexity of the situation, as thousands of health care workers have been laid off or left their positions. The American Hospital Association warned in early September that the Biden administration's COVID-19 action plan "may result in exacerbating the severe workforce shortage problems that currently exist."
A recent Supreme Court ruling struck down the administration's vaccine requirement for employers with more than 100 employees but upheld the mandate that health care workers had to be vaccinated by March 15.
This latest development is likely to have a significant impact on the existing workforce issues facing the industry, especially for the homecare sector. Leaders in this area should realize that there are mounting issues facing their operations and that all available solutions need to be considered.
Those providing homecare services with severely limited resources are faced with a long list of labor challenges they can't simply raise employee salaries to repair. However, deploying reliable technology could offer a lift in a meaningful way for both providers and patients.
As America continues to endure uncertainty when it comes to the health care system, executives must recognize that connected care technology can play an important role in mitigating the caregiver shortage while also providing crucial care to vulnerable patient populations.
A Trusted Platform
Having a connected care platform such as a remote patient monitoring (RPM) program or personal emergency response service (PERS) that links patients in their homes to their providers or caregivers is critical going forward, even in a post-COVID-19 world. It's important to have a care delivery model where an individual can remain in their home safely and receive the timely care
they need.
While some may wonder how feasible these care solutions could be for reducing the burden on health care, they underestimate how popular technology already is among senior adult patients.
In 2019, two health professors at Texas A&M University and one from the University of California, Berkeley published an article titled "How Technology Could Be a Solution to Caregiver Shortage for Seniors." In the piece, the authors note that senior patients are more dependent on technology than ever before and enjoy using these innovative services to connect with friends and family.
Since all baby boomers will be age 65 or older by 2030, according to the U.S. Census Bureau, and the number of caregivers is unlikely to keep pace with the retirement growth rate, the authors suggest investing in technological solutions. They contend that this strategy offers health care organizations the best chance to get ahead of the curve with services that are already popular with their targeted patient populations.
"What forces will propel more attention to technological solutions for addressing the needs of older persons? Certainly, it's the sheer numbers of projected older adults worldwide, and a recognition that technology will be needed to help maintain older people's health and independence given the shrinking population of available caregivers," the authors write.
By leaning into a known commodity that has popularity among targeted populations, health care executives can implement a reliable remedy in short order.
Proven Track Record
One of the most welcome benefits to RPM, PERS or other connected care products is that they aren't emerging technologies. These are established, proven methods for interested health care organizations to better connect their patients to treatment and manage caregivers more efficiently.
Instead of solely trying to secure homecare workers, which can be a time consuming and expensive proposition, connected care technology complements this effort by allowing health systems a reliable pipeline into the home, where patients are most comfortable. Connected care is also not as complex as other technological solutions, streamlining information in a way that ensures it remains accessible and easier for providers and patients alike.
A recent survey conducted by PricewaterhouseCoopers' Health Research Institute found that more than 75% of patients would like to receive care in their homes. RPM, PERS and telehealth make these care preferences possible while also relieving organizations of an expensive hunt for additional talent.
Connected care not only benefits the patients who are receiving treatment but also the paid, professionally trained staff and clinicians who use it. By having real-time insights into a patient's health, decisions can be made and treatment can be administered without requiring return trips to the hospital or a clinic. This has a meaningful impact on the clinical side of the equation as well as on the bottom line, reducing the number of costly readmissions or visits to the emergency room.
In the absence of available in-person care in the home, technology can fill the gaps to ensure that treatment isn't being sacrificed. Vitals are monitored and staff can take a more proactive approach to care.
It's difficult to understate the importance of caregivers for homecare and hospice, which is why executives should empower them with adequate tools and resources. The potential remedies for the larger caregiver shortage will take significant investments of time and money to be effective, but connected care technology offers an immediate solution with proven results.