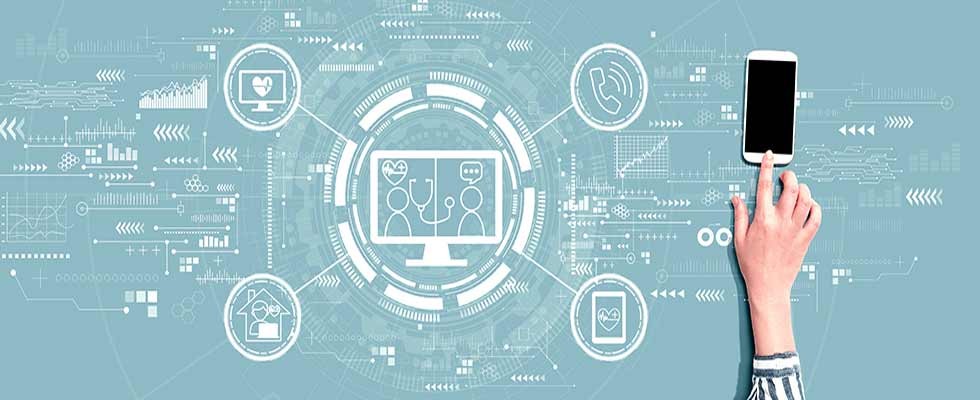 How to find the right mix for your business
Telehealth is no longer a trendy buzzword; it has become a part of the fabric of daily life, from online doctor visits to managing the health data available on smartwatches.
The shift toward telehealth had already begun before the COVID-19 pandemic hit. But in the months that followed the first coronavirus cases in the United States, health care providers quickly transformed how they served their patients, especially those who required more touch points or specialty care.
In April 2020, Forrester Research analysts predicted that virtual health care visits in the United States would soar to more than 1 billion in 2020—and that 900 million of those visits would be related to COVID-19.
Oxygen therapy continues to be one of the key courses of COVID-19 treatment, both in the hospital and after discharge when patients return home. Providers have been left scrambling to deliver not only an at-home care solution, but also an additional portable option that will serve the patient's increasing need to ambulate as they recover while they are receiving their prescribed therapeutic oxygen.
Nondelivery solutions, such as pairing a stationary and a portable oxygen concentrator (POC), have long been the go-to for providers to satisfy these equipment needs in a low-contact way. When serving new oxygen patients—whether they are COVID-19 long-haulers, those who still experience complications after infection, or have been diagnosed with Chronic Obstructive Pulmonary Disease after hospital discharge—what comes next? How does the provider ensure that the oxygen patient receives the therapy they need while staying updated on any ongoing needs or maintenance the equipment might require?
A Technological Evolution
For more than a decade, the manufacturers of oxygen concentrators have been developing ways to allow providers to more efficiently service and maintain their oxygen concentrator fleets. Some of you might remember the early diagnostic tools that required a technician to connect a USB cord between the POC and a laptop equipped with specialized software to perform a quick check and identify essential service and repair needs.
That was a far cry from the technologies that have rolled out over the last five years on next-generation POCs. Advancements have been a real game changer for providers, who can now review equipment data from the cloud via their computer dashboard and determine the next steps for a patient visit, device use and any required maintenance.
Provider adoption of telehealth connectivity on oxygen equipment continues to increase due to the overall benefit to the provider in creating operational efficiencies, and for patients, who have shown an increased desire to actively manage their health care.
Because of this, there has never been a better time for providers to implement a telehealth solution for their oxygen equipment fleets. With this one step, they can harness the technology to remotely access equipment data 24/7—giving them the power to transform the care they provide their patients by not only being able to identify issues from the convenience of a remote dashboard, but also by offering another layer of accessibility to receive service requests from patients in real time. The benefits to patients are sure to be attractive to clinical referral sources who want the best care available, and to patients who are looking for open lines of communication as they transition back to self care following their serious illness and/or hospital stay.
What to Look for
With a crowded marketplace of remote telehealth solutions, here are some things to keep in mind as you research the possibilities:
1. Connectivity to a Broad Portfolio
When selecting your oxygen therapy equipment manufacturer, keep in mind that their telehealth solution is more than likely specific to their portfolio. You will not only be implementing a new telehealth platform, but you might also be adding new equipment to your fleet. Review the portfolio of equipment from the manufacturer. Do they offer portable, transportable and stationary oxygen concentrators with wireless connectivity?
Choosing a telehealth solution that offers wireless rather than cellular connectivity offers greater flexibility for the provider and does not lock them into monthly or annual fees. And with rapidly changing technology, it may extend the use life of the device.
Does the equipment cover a broad spectrum of prescriptions for patients' at-home and mobile needs? Do the devices offer smart oxygen delivery features to ensure effective saturation and flexibility
as the oxygen users' needs change? Selecting a manufacturer with a broad portfolio can immediately create efficiency in fleet management.
2. Relevant Data That Improves Care
Let's face it: Technology offers numerous options to view a vast amount of data on customizable, sophisticated dashboards. Identifying the data points important to serving the oxygen patient can help cut through all the bells and whistles that a platform can offer by drilling down to the essentials. Accessing critical data points for these patients can help the provider avoid becoming bogged down with a cumbersome platform and data overload.
There are a couple of key data points to follow that help provide exceptional care for the long-term oxygen therapy patient, as well as features sure to improve patient confidence and satisfaction:
Ease of use
The ability to view usage hours and flow settings
Added support with caregiver access
Device notifications
Remote troubleshooting
Access to device features and user manual
The ability to request service
These features help providers determine who is on track and who might need additional support or a service call. They also help the patient become more comfortable and confident with their oxygen therapy—which ultimately means a more mobile, active patient.
3. Safe & Secure Cloud-based Technology
With all the regulation around privacy and patient health information, there are legitimate concerns regarding additional layers of administration processes. Be sure to select a telehealth solution that gives you the ability to protect your customer data by setting employee administrative access based on their role, access needs and branch location.
The right telehealth solution offers the ability to filter data to quickly identify any required touchpoints, as well as essential equipment diagnostic data to troubleshoot remotely.
In Conclusion
Today is an excellent day to schedule a call with your oxygen therapy manufacturer or distributor to talk about your oxygen concentrator fleet, how your equipment is meeting the current demand and needs of new patients, and how to plan for the future and ensure coverage.
Advancements in smart oxygen delivery technologies and evolving features on portable oxygen concentrators go hand in hand with the continued expansion of back-end offerings—from wireless connectivity to telehealth solutions—designed to enhance provider support to patients. This added layer of support is an important step in closing the loop of care between the provider, clinician and patient, promising greater peace of mind for all.