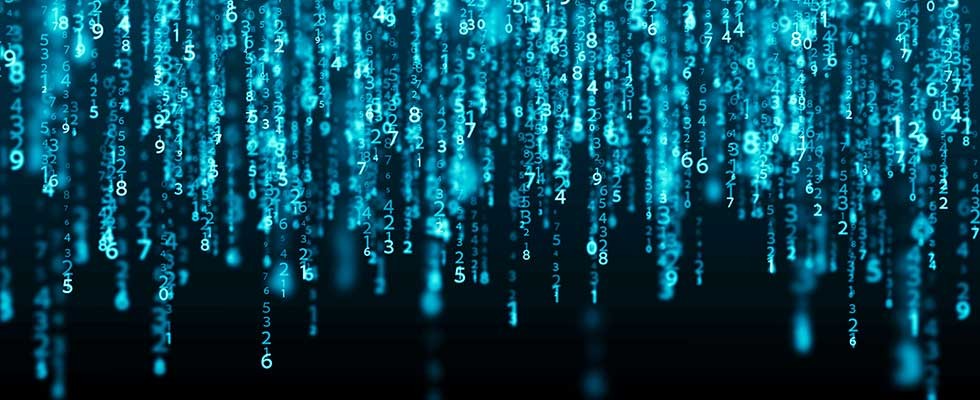 Better position your agency with these offerings
Every industry faced its own unique challenges created by COVID-19, but the common solution that kept business operations up and running was the use of sophisticated technology. Prior to the pandemic, many homecare providers had already incorporated high-tech devices into client care plans to address the shortage of home health aides, personal care attendants and nurses. Now insiders predict that technology will play an even greater role in serving the surging senior population that seeks to age in place.
According to the United States Census Bureau's 2017 National Population Projections, by 2030 all baby boomers will be over the age of 65. This means that one in five people will be retirement age. Inevitably, most will require assistance with the activities of daily living at some point. Innovative technological solutions will be the only way to meet this unprecedented demand for care; many are available now.
"The sheer volume of smart home and assistive devices currently on the market is astounding," said Nick D'Aquila, vice president of our company, Assisted Living Technologies, Inc. (ALT), which provides products to promote aging in place and increased independence for the elderly and those with special needs. "New products help create a virtual safety net that provides peace of mind for clients, their families and caregivers," D'Aquila added.
D'Aquila notes that wasn't the case 10 years ago when his father, Ron D'Aquila—the co-founder of Assisted Living Services, Inc. (ALS), a family-owned homecare agency based in Connecticut—recognized how technology could enhance care and safety. Back then, it was hard to find products that met the company's standards, so Ron formed subsidiary ALT as a one-stop shop for other providers.
This also led to the creation of the award-winning ALS CarePlus program that blends personal care from a caregiver with sensor-based technology. Assisted Living Technologies provides one device free of charge, based on each client's care and safety needs. That might include electronic medication dispensers that remind patients to take medication, mobile emergency devices that help seniors feel comfortable leaving the house, personal emergency response systems (PERS) with fall detection technology that can automatically call for emergency help if the person is unable to dial the phone, and electronic cooking and fire monitors that will automatically turn off an electric stove that is left unattended.
D'Aquila said that an additional benefit of using technology is client retention, by allowing an elderly person to return to independent living at home after a health crisis. Employee retention is also boosted by reducing the stress of caregiving, since many devices monitor client behavior and provide alerts.
"If there are any positive outcomes from this past year, it's the acceptance of technology by seniors as a tool that keeps them happy and healthy in their own homes," said D'Aquila.
Here are some of the most popular categories of tech products for seniors that we offer at ALT, and which might be useful for your agency:
1. Fall Detection
Walabot HOME is the first and only automated fall alert system developed specifically for the bathroom, where 80% of falls take place. It is also one of the few fall detection devices that does not require a wearable necklace or bracelet. It is automatically activated without pushing a button.
Walabot HOME learns a home's bathroom, then continuously monitors it for a fall using the world's most advanced radio frequency sensors. It delivers four times more accuracy than other automatic fall alert systems while ensuring privacy. If a person falls, the designated emergency contact is notified through a two-way voice call and a text message. The alarm can be disabled simply by standing up.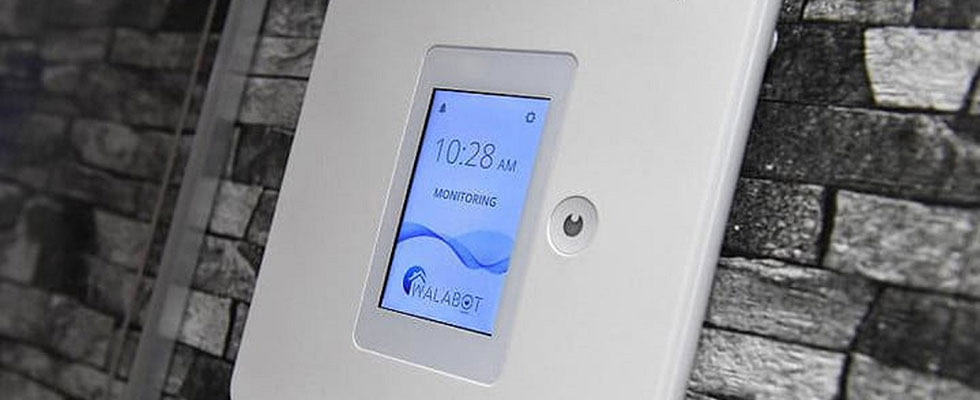 2. Medication Management
ALS has achieved a 95% medication compliance rate for clients using electronic automated medication dispensers.
MedMinder provides both visual and auditory cueing, and can even send a call to the patient as a reminder, as well as notify caregivers if a regimen is not being followed. Styles range from simple pillboxes to a monthly model that can include pharmacist pre-filled medication inserts shipped directly to the client's home. Many models only open one correct compartment and lock the others to avoid accidental overdose.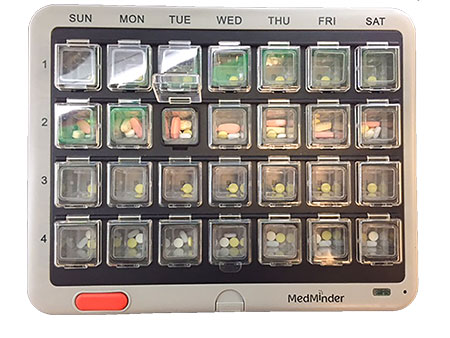 3. Fire Prevention
Stovetop sensors automatically turn off an electric stove to prevent food from catching fire and potentially causing a house fire. Our favorite brands, FireAvert and CookStop, monitor for motion and unattended pots or are triggered by smoke.
Unattended and improper use of microwave ovens cause more than 7,000 home fires every year. Microwaves are also responsible for more emergency room injury visits than any other cooking device. Safe T Sensor is engineered to help prevent microwave fires by interrupting power to the microwave at the first sign of smoke.
SmartRange is the ideal safety solution for all glass top electric ranges. SmartRange monitors changes in the range's cooking temperature; if it detects a fire risk, it will signal a pre-alarm. If the pre-alarm is left unattended, the device will automatically shut off the range.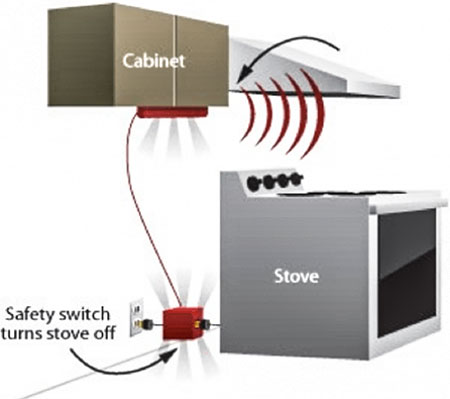 4. Emergency Response
MyHelp 4G LTE Cellular PERS works without a landline to allow a senior to call for help with just a push of a button. Simply press the waterproof pendant or wristband to reach an emergency medical dispatch-certified monitoring center to report any type of emergency.
MyHelp Go and MyHelp Go + GPS are part of a new line of mobile personal emergency response (mPERS) devices that offer help while away from home. The MyHelp Go can be tracked and located by local emergency services via cell tower triangulation. The MyHelp Go + GPS can be tracked and located by local emergency services via cell tower triangulation, Wi-Fi or GPS. It also has a mobile app that can be downloaded by loved ones to track the device.
5. Remote Monitoring
The Wellness Remote Monitoring System offers peace of mind and independence to both the caregiver and the individual. Discreet wireless sensors with multi-year batteries can be placed on beds, chairs, wheelchairs, and throughout the home on doors and windows without drilling. A private web dashboard allows caregivers to stay in touch, set reminders and track wellness.
6. Home Safety
The Nest IQ indoor and outdoor video surveillance solution has an added level of security—a "familiar face recognition" technology that knows who should be in the home and who should not. The easy-to-use app can monitor in real time and receive a photo alert of a person 50 feet away. The Nest Hello Doorbell allows a full view of the doorstep.